The American poet Jack Gilbert was born 18 February 1925, and raised in Pittsburgh, Pennsylvania. He graduated from the University of Pittsburgh, and then spent some time in Paris and several years in Italy. From 1956 to the mid-1960s, Gilbert made his home in the San Francisco Bay area. during which time he worked with photographer Ansel Adams and took Jack Spicer's Poetry as Magic workshop at San Francisco State College.
In the late 1950s or very early in the 1960s, Gilbert rented a house in Ajijic, Mexico, while working on Views of Jeopardy (published in 1962). Views of Jeopardy won the 1962 Yale Series of Younger Poets Competition and was nominated for that year's Pulitzer Prize for Poetry.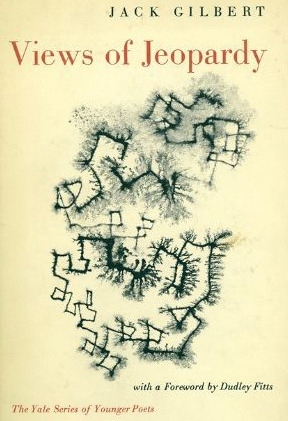 After Gilbert won the Yale prize, Gordon Lish, the editor of the literary journal Genesis West devoted an entire issue of the journal to him.
Gilbert is sometimes considered as one of the Beat poets, a loose group also including Allen Ginsberg, Kenneth Rexroth and ruth weiss. However, in this 1962 interview with Lish, Gilbert makes it abundantly clear that he was not:
– Lish: But you're not part of the Beat Movement?
– Gilbert: God, no! And I don't go in for freakish behavior nor esoteric knowledge.
It remains unclear precisely when Gilbert was in Ajijic working on Views of Jeopardy, and whether or not he was accompanied by his then partner, poet Laura Ulewicz (1930–2007), to whom the book is dedicated. ("To Laura Ulewicz, a kind of dragon"). Her Wikipedia biography records her as living in Europe from 1960-65, so if the two were together in Ajijic, then this was presumably in the late 1950s rather than the early 1960s.
Gilbert at first enjoyed his fame, but, "After about six months, I found it boring. There were so many things to do, to live. I didn't want to be praised all the time." He accepted a Guggenheim Fellowship in 1964 and spent much of the next two decades living and traveling in Europe.
While Gilbert's work often reflects places he lived or visited (Pittsburgh, San Francisco, Mexico, Greece, Denmark, Paris), none of his published poems can definitely be linked to Ajijic.
However, he did compose at least two poems related, via their titles and subject matter, to the nearby city of Guadalajara. For example a seven-line poem entitled "Elephant Hunt in Guadalajara" appeared in Monolithos: Poems 1962 and 1982, his second book of poetry published in 1984. That poem describes a floor show in a nightclub called El Serape where, when the lights went off, "strong girls came like tin moths" to dance with the patrons. Monolithos won the Stanley Kunitz Prize and an award from the American Poetry Review.
In 2009, Gilbert's poetry collection The Dance Most of All: poems included "Searching for it in a Guadalajara Dance Hall", in which Gilbert describes how in "an empty, concrete one-room building", men and women sit in straight lines of chairs on the opposite sides of the room. The dancing is not a prelude to anything romantic:
Nothing is sexual.
There are proprieties.
No rubbing against anyone. No touching
at all. When the music starts, the men
go stiffly over to the women…
From 1964-1970 or thereabouts, Gilbert was living in Greece with his former student and fellow poet Linda Gregg; the two remained close until his death. During that period, he co-authored with Jean Maclean, under the joint pseudonym Tor Kung, two erotic novels: My Mother Taught Me (1964) and Forever Ecstasy (1968).
In the 1970s, Gilbert lived in Japan with another former student, the sculptor Michiko Nogami. She died in 1982, the same year his second book of poetry was published.
Gilbert went on to publish several more poetry books including The Great Fires: Poems 1982-1992 (1994); Refusing Heaven (2005); Tough Heaven: Poems of Pittsburgh (2006); Transgressions: Selected Poems (2006); The Dance Most of All (2009); and Collected Poems (2012). He was also a regular contributor to The American Poetry Review, Genesis West, The Quarterly, Poetry, Ironwood, The Kenyon Review, and The New Yorker.
The great American poet Jack Gilbert, who early in his career lived for a time in Ajijic, died in Berkeley, California, 13 November 2012.
Sombrero Books welcomes comments, corrections or additional material related to any of the writers and artists featured in our series of mini-bios. Please use the comments feature at the bottom of individual posts, or email us.

Tony Burton's books include "Lake Chapala: A Postcard History" (2022), "Foreign Footprints in Ajijic" (2022), "If Walls Could Talk: Chapala's historic buildings and their former occupants" (2020), (available in translation as "Si Las Paredes Hablaran"), "Mexican Kaleidoscope" (2016), and "Lake Chapala Through the Ages" (2008).