Orville Charles Goldner (1906-1985) was an art director, puppeteer and special-effects artist who visited Ajijic with his wife Dorothy Goldner in the early 1970s.
Goldner was born in Toledo, Ohio, on 18 May 1906 and died on 28 February 1985. He studied at the Toledo Museum School of Design in his native town before moving to Oakland, California, to study at the California College of Arts and Crafts in Berkeley (now California College of the Arts). Here, he met Dorothy ("Dot") Thompson Goldner (1906-2005); the couple married in October 1925 and had two children.
Soon after their marriage, the young couple moved to Hollywood. In the late-1920s, they were members of a traveling Shakespeare Theater Group and peripatetic marionette show (1926-1930). Goldner's long and varied career in the movie business began in 1927 when he worked at Kinex Studio in Hollywood as a technical director, designer, and creator of animated films and special effects.
In the early 1930s, Goldner worked for RKO Studios on such films as The Most Dangerous Game (1932) and King Kong (1933). Orville Goldner later co-authored (with George E. Turner) The Making of King Kong: The Story Behind A Film Classic (1975).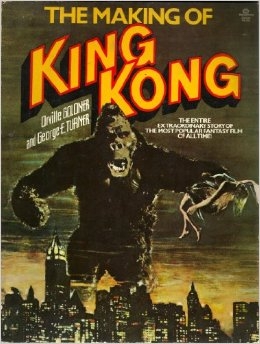 In the late 1930s, Goldner and his wife made many educational films for the state of California. One of his lasting legacies is an astonishingly powerful collection of photographs of migrant farm workers in California and their children. He spent the first few months of 1940 documenting families on behalf of the California Department of Education and later also photographed Hupa Indian students and their lifestyles on the Hoopa Valley Indian Reservation in Humboldt County. See Picturing California's Migrant Children: Orville Goldner's Photographic Trek of 1940 for more details.
In 1935, Goldner had worked as an art director at the California-Pacific International Expo and he was given a similar role at the Golden Gate International Exposition of 1939-1940.
A series of four short, silent, color movies taken at the Golden Gate International Exposition on Treasure Island in San Francisco (1939/40), by Orville Goldner, can be viewed online via this web page. The movies comprise the "Dorothy Goldner Collection", now housed in the San Francisco Bay Area Television Archive.
From our perspective, the most interesting by far is that relating to the "Art in Action" exhibition which includes footage showing Diego Rivera painting the Pan American Unity Mural at that event. It also portrays several other artists demonstrating their techniques in sculpture, mosaics, printing, doll making, weaving, pottery and axe carving. The Mexican pavilion at the Golden Gate International Exposition is shown in the film entitled "Pavilions, parades & soap box derby at Golden Gate Exposition".
Other artists associated with both Lake Chapala and the Golden Gate International Exposition include John Langley Howard (1902-1999), Louis Ernest Lenshaw (1892-1988), Robert Pearson McChesney (1913-2008), Ann Sonia Medalie (1896-1991), Max Pollak (1886-1970) and Charles Frederick Surendorf (1906-1979)..
When the U.S. entered the second world war, Goldner joined the U.S. Navy, where he headed the U.S. Navy's Training Films and Motion Picture branch from 1942 to 1946. His work in this position won him a Commendation Ribbon from the Secretary of the Navy, as well as the award of the Order of the British Empire from the U.K. government for his work with the British Armed Forces.
After the second world war, the Goldners went to Europe and lived for several years in France before returning to San Francisco. For the remainder of his career, Goldner focused on the production of documentary films and visual material for educational purposes. He was Director of Production (1946-49) and later an overseas film producer (1949-52) for Curriculum Films in New York.
Goldner then directed the Audio-Visual Center at San Francisco State University from 1954 to 1960, before returning to commercial film making as Director of Audio-Visual Services for the Panorama colorslide program at Columbia Record Club. Panorama series included "Guided Tours of the World," "Adventures in Nature and Science" and "Guided Tours of the World's Great Museums."
Orville Goldner worked with his wife on numerous documentary film strips including A Colorslide Tour of Mexico Land of Sun and Laughter South of the Border (1961). This publication, with 32 color slides and a 33 1/3rpm record narrated by Cesar Romero, was edited by Darlene Geis and published by Columbia Record Club, New York in 1961.
The Goldners also made Doña Rosa: Potter of Coyotepec, a 10-minute color film released in 1959, which shows Doña Rosa de Nieto, from San Bartolo Coyotepec in Oaxaca making a pot (olla) and firing her creations in an underground kiln.
From 1967 to 1971, Goldner was a professor of Mass Communications and Director of the Audio-Visual Center at Chico State College.
In 1968, Orville and Dorothy Goldner formed the film production company Visual Americana. Their best-known collaboration from this time was on the award-winning ethnographic film Three Stone Blades, for which Ira Latour was cinematographer and Valerie L. Smith was anthropology consultant. The film was awarded a bronze medal at the New York Film Festival. It recreates a folktale of the Inupiat (Eskimo) people of Point Hope, Alaska, the farthest northwest village in North America, about the fate of a widow and her children in the Arctic. The Port Hope area has now been abandoned because of flooding by melting ice.
[Ira Latour, a student of legendary photographers Ansel Adams and Edward Weston, was, coincidentally, also at the Golden Gate International Exposition. He had been commissioned by the National Railways of Mexico to paint an 18-foot mural for the Mexican Pavilion at the 1939–1940 Golden Gate International Exposition on Treasure Island in the Bay Area.]
It was very shortly after completing Three Stone Blades that the Goldners visited Chapala:
"Goldner, head of Visual Americana, is visiting friends here prior to putting the finishing touches on his latest film, a study of an Eskimo legend filmed in Alaska. After  preparing the film for distribution, Goldner and his wife, Dorothy, will go to Chapala, Mexico, for an extended stay." (Amarillo Globe-Times, 12 November 1970).
Sources:
Documents relating to Orville Goldner's career can be found in two university archives. Parks Library at Iowa State University houses a collection of his papers from 1926-1982 while California State University, Chico, has materials relating to the period between 1935 and 1957 (mainly related to his photographic study of migrant farm workers in California and their children).
Amarillo Globe-Times, Amarillo, Texas, 12 November 1970, p 43
Sombrero Books welcomes comments, corrections or additional material related to any of the writers and artists featured in our series of mini-bios. Please use the comments feature at the bottom of individual posts, or email us.