Howard Fryer's memoir, El Nitty Gritty, published in 2010, is perhaps the most deliberately provocative account of life at Lake Chapala ever written. Who was Howard Fryer, and what did he write?
Who was Howard Fryer?
Born in Reading, UK, on 11 March 1941, Fryer was only a young child when he moved with his mother to Toronto in 1947. His mother and stepfather subsequently renovated the historic Aberfoyle Mill into a fine restaurant. Howard's half brother, Peter Owens, was a hot air balloon pilot who held several ballooning world records.
Fryer trained as an industrial engineer, and worked for Continental Can Company, before starting his own company, Howard Fry and Associates, to invent and market products. The numerous patents registered to Fryer and his company include one for lightweight, washable, "inflatable, double-walled resilient sleeves for use in forming surgical casts," and for a wearable "game playing apparatus."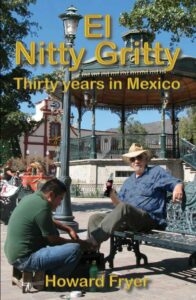 According to an article in El Ojo del Lago, Fryer was an amateur sculptor and held three solo exhibits of works in stone and steel in Toronto. (If anyone can supply further details of any of these exhibitions, please get in touch!)
Fryer first arrived in Mexico, driving a new Honda, in early 1977, and headed straight for Roca Azul, near Jocotepec, where his mother had retired and built a house a few years earlier.
Fryer fell in love with Mexico, and with a beautiful mexicana: Thelma Yolanda (Yoly) Esqueda Aguilar (1945-2007). When the couple married in Texas in September 1981, their witnesses were Jocotepec-based artists Georg and Phyllis Rauch.
Fryer and his wife joined with Morley Eager (of Posada Ajijic fame) to help run the La Quinta hotel in Jocotepec. When Eager decided to focus exclusively on Posada Ajijic, the Fryers took over managing La Quinta. Fryer then had a specialist pizza oven made in Guadalajara so that he could introduce pizzas to Jocotepec.
After five years, La Quinta closed its doors in December 1984, when the building's owners were only prepared to renew the rental contract at a significantly higher rent. A few years later, the same owners first destroyed the architectural integrity of the historic building, and then demolished it.
Shortly after leaving La Quinta, the Fryers opened "Los Naranjitos" restaurant at Calle Hidalgo #10 in Ajijic, where the main entrance door had previously served as a jail door in Jocotepec. The restaurant became deservedly popular, famed for the best pizzas in the region. Fryer's third foray into restaurants was to run (briefly) the El Faro restaurant at the sports club subdivision in Roca Azul.
After leaving the restaurant business, Fryer was prompted by the then nascent raspberry-growing craze in Jocotepec to start a jam-making business using the fruit that was rejected for export. Fryer and his associates, with their four full-time staff, developed a range of gourmet products under the Jacaranda brand. Fryer became one of the first local businesses to be awarded a contract to supply a major international retailer that had just entered the Guadalajara market: Wal-Mart.
Howard and Yoly were generous givers to the local community in Jocotepec. Their most lasting contribution was to hold a Christmas lunch for the town's old folks, a tradition which continues to this day. They prepared and served a full festive meal to 20 Jocotepec seniors the first year, 100 the following year, and 350 in year three.
What did Howard Fryer write?
El Nitty Gritty is a colorful collection of 66 short pieces—most of them anecdotal, some verging on the bizarre—written with affection and good humor.
Among Fryer's many business cards was one for the (fictitious) "International Society of Freelance Journalists" which named him as a writer for National Geographic! This helped him gain access to some unlikely people and places.
Several characters who would otherwise be forgotten grace the pages of this book. They include Carla Manger, described by Fryer as a former ballet dancer, who had been "one of Hitler's favorites and danced for him on numerous occasions," and "Pipeline" Jimmy, an American who installed the water system in Yelapa and died of a heart attack while driving his Cadillac convertible past Piedra Barrenada. And then there is the tale of an honorary Canadian consul, who, when his wife was out of town, accompanied Fryer for a raucous evening with several young ladies at the infamous Kiko's bar in San Juan Cosalá.
One particularly interesting story explains how the Reina Guadalupe, a faux-paddlesteamer large enough to ferry 350 people and 6 cars across the lake, ended up abandoned on Jocotepec beach. It was still there, rusting away, when I first visited in 1980.
In addition to several stories relating to La Quinta, Fryer includes some self-effacing stories about his numerous business ventures in Mexico, such as making jewelry, preserving insects in gold and silver, hoarding peso coins post-devaluation (hoping to make a fortune out of their metal value), and trading anything from which he thought he might turn a profit—from Mexican orchids, handicrafts and antiquities to Nayarit opals and Chiapas amber.
Howard Fryer, one of Lakeside's more enterprising, talented and extraordinary characters, died in Penticton, BC, on 14 November 2013.
Sources:
El Ojo del Lago, October 1985.
Howard Fryer. 2010. El Nitty Gritty. Thirty years in Mexico. Self published.
Comments, corrections or additional material related to any of the writers and artists featured in our series of mini-bios are welcome. Please use the comments feature at the bottom of individual posts, or email us.