In the 1940s, two superbly written books introduced readers in the U.S. and U.K. to life in the village of Ajijic. Both have remained perennial favorites on the must-read lists of anyone interested in Lake Chapala. Village in the Sun and House in the Sun were both written by "Dane Chandos", who later wrote several travel books.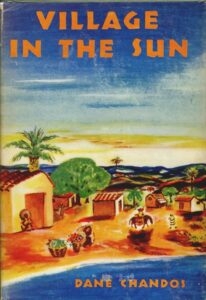 Dane Chandos was not a real person but a pen name of two distinct writing duos. Peter Lilley and Stansbury (later Nigel) Millett wrote the early Dane Chandos books. After Millett's death, Lilley's partner for later Dane Chandos works was Anthony Stansfeld. All three men were well-educated Englishmen with an excellent ear for languages.
Stansbury Girtin Millett was born in London, England, on 23 October 1904.. .
Owing to the unauthorized and uncredited use of material from this post on a third-party website, this article has been removed from public view.
If you have a genuine interest in the subject matter, please contact us via the comments section and we can discuss terms and conditions.
Cover artist
The cover art has a tiny signature (below). If anyone knows who this cover artist is, or anything more about them, please get in touch!
References
Dane Chandos. 1945. Village in the Sun. New York: G. P. Putnam's Sons. Published in London, U.K., with same title by Michael Joseph in 1948. Reissued in London by Country Book Club in 1953. Reissued in Mexico (Tlayacapan Press) in 1998.
Dane Chandos. 1949. House in the Sun. New York: G. P. Putnam's Sons. U.K. edition in 1950 by Michael Joseph. Reissued in Mexico (Tlayacapan Press) in 1999.
Comments, corrections or additional material related to any of the writers and artists featured in our series of mini-bios are welcomed. Please use the comments feature at the bottom of individual posts, or email us.

Tony Burton's books include "Lake Chapala: A Postcard History" (2022), "Foreign Footprints in Ajijic" (2022), "If Walls Could Talk: Chapala's historic buildings and their former occupants" (2020), (available in translation as "Si Las Paredes Hablaran"), "Mexican Kaleidoscope" (2016), and "Lake Chapala Through the Ages" (2008).