In the 1940s, two superbly written books introduced readers in the U.S. and U.K. to life in the village of Ajijic. Both have remained perennial favorites on the must-read lists of anyone interested in Lake Chapala. Village in the Sun and House in the Sun were both written by Dane Chandos, who later wrote several travel books.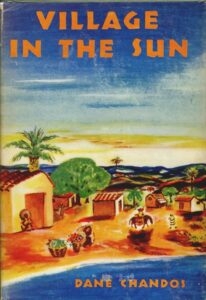 Readers of Village in the Sun and House in the Sun are usually surprised to discover that Dane Chandos was not a real person but a pen name, and not a pen name of a single writer but of two distinct writing duos. Peter Lilley and Stansbury (later Nigel) Millett wrote the early Dane Chandos books. After Millett's death, Lilley's partner for later Dane Chandos works was Anthony Stansfeld. All three men were well-educated Englishmen with an excellent ear for languages.
This post looks at the life of the first of these three men; we will consider the other two in future posts.
Stansbury Girtin Millett was born in London, England, on 23 October 1904 and died (of tuberculosis) in Guadalajara in the early hours of 25 March 1946.
Millett's parents were Mary Frances Barnard (1867-1935) and Henry Stansbury Millett (1867-1947). When Stansbury was in his teens, his father was appointed district auditor for the Ministry of Health in Oxfordshire and the family moved from London to Oxford.
Millett attended Oxford University in the mid-1920s, traveled widely in Europe and spoke several languages fluently. His first novel, written with the pseudonym of Richard Oke, was Frolic Wind, published in London in 1929. The setting was an English house party at the stately pile of Pagnell Bois. Young lovers were cavorting naked in the pond when a flash of lightning killed the mysterious Lady Athaliah in her tower. The resulting revelations entangled young and old alike. A Canadian reviewer gushed that "There have been novels written in the past that are just as brilliant as this, but not many. Between the covers amazing genius has been compressed."
Millett's follow-up books established his reputation as a brilliant young novelist known for his biting, edgy satire. However, he also wrote The Boy From Apulia, a biography of Frederick II, Emperor of Germany.
Like many young men of his time, Millett was also very interested in the stage. He designed the sets and costumes for Hassan, a play performed by the Oxford University Dramatic Society in 1931 and also illustrated the accompanying program.
In 1935, Millett's first novel was adapted by novelist and dramatist Richard Pryce (1864-1942) for the London stage. A made-for-TV version aired in 1955.
In 1937, for reasons unknown, Millett and his father left the U.K. for Mexico. They arrived in Los Angeles on 29 March 1937 and traveled to Ajijic. When they first arrived in the village, they lodged at the small inn run by the Heuer siblings but later stayed at what eventually became known as the Posada Ajijic.
Nigel Millett died in Guadalajara in 1946 and, a year later, on 6 June 1947 his father died in Ajijic. The Milletts have adjoining gravestones in Ajijic cemetery.
Lake Chapala Artists & Authors is reader-supported. Purchases made via links on our site may, at no cost to you, earn us an affiliate commission.
Learn more.
Several chapters of Foreign Footprints in Ajijic: Decades of Change in a Mexican Village offer more details about the history of the literary community in Ajijic.
Cover artist
The cover art has a tiny signature (below). If anyone knows who this cover artist is, or anything more about them, please get in touch!
References
Dane Chandos. 1945. Village in the Sun. New York: G. P. Putnam's Sons. Published in London, U.K., with same title by Michael Joseph in 1948. Reissued in London by Country Book Club in 1953. Reissued in Mexico (Tlayacapan Press) in 1998.
Dane Chandos. 1949. House in the Sun. New York: G. P. Putnam's Sons. U.K. edition in 1950 by Michael Joseph. Reissued in Mexico (Tlayacapan Press) in 1999.
The Gazette (Montreal, Canada), 25 Jan 1930, 13.
Richard Pryce. 1935. Frolic Wind. A play in three acts. (Adapted by Richard Pryce from the novel by Richard Oke.) London: Victor Gollancz.
Comments, corrections or additional material related to any of the writers and artists featured in our series of mini-bios are welcomed. Please use the comments feature at the bottom of individual posts, or email us.

Tony Burton's books include "Lake Chapala: A Postcard History" (2022), "Foreign Footprints in Ajijic" (2022), "If Walls Could Talk: Chapala's historic buildings and their former occupants" (2020), (available in translation as "Si Las Paredes Hablaran"), "Mexican Kaleidoscope" (2016), and "Lake Chapala Through the Ages" (2008).