Anthony Ostroff (1923-1978) was born in Gary, Indiana and educated at Northwestern University, the University of Michigan, the Sorbonne, and the University of Grenoble. Ostroff wrote a short poem entitled: "Lake Chapala" which was published in 1977 in his A Fall in Mexico (Garden City, New York: Doubleday).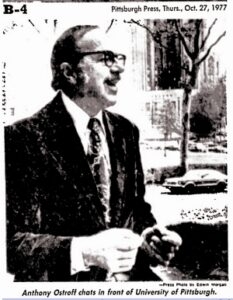 Ostroff traveled widely in Mexico (the date of his visit to Chapala is unclear) but was clearly not impressed by the lake, as evidenced by the last stanza of his poem, which reads:
Farther on
the road descends
to us & ends,
a lake-edge mess
of roots, mud,
tubers. A sludge
moccasin
swims the soup,
his writhing lost
to a straight V.
His arrow head
held lip high,
his nostrils try
the line of cess.
In his notes to the poem, in the back of the book, Ostroff writes:
"The lake, a part of which extends into Michoacán, lies mainly in Jalisco and is, at a distance, quite beautiful. It was once a popular resort area for wealthy Mexicans. Pollution of the lake, however, proceeded at such a rate that by the time of the poem bearing its name it had become a broth of typhoid and amebic dysentery, and the town of Chapala was all but deserted. The village of Ajijic, also on the shores of the lake, had a small, expatriate American colony."
The collection A Fall in Mexico also includes poems titled "In Puerta Vallarta," "Near San Miguel," "The Altar at Teotihuacan," "Monte Alban" and "To Barra de Navidad."
Working mainly in the 1950s and 1960s, his poetry and short fiction was published in such magazines as Harper's, The Paris Review, Atlantic Monthly, Kenyon Review, and Poetry. Ostroff was also the recipient of a grant from the National Association of Educational Broadcasting to produce a series of broadcasts on American Poetry.
Ostroff, whose literary and academic career included spells teaching at the University of California at Berkley (1949-1969) and at Lewis and Clark College in Portland, Oregon (1969-1978), edited The contemporary poet as artist and critic: Eight symposia (Boston: Little, Brown, 1964) and also wrote:
Imperatives (Harcourt Brace & World, 1962)
Islander, selected poems of Anthony Ostroff (Ash Creek Press, 2000)
To build a House; the short stories of Anthony Ostroff (Portland, Ash Creek Press, 2003)
Anthony Ostroff was friends with various poets in the San Francisco region, including Robert Duncan, Thom Gunn, Josephine Miles and Richard Everhart.
Ostroff died in 1978 from a heart attack suffered after hang-gliding on the coast of Oregon.
The Poetry Collection of the State University of New York at Buffalo houses the Anthony Ostroff Collection, 1955-1978, which contains  all of the poet's published and unpublished poems, plays, short stories and articles in manuscript and published form, with thousands of corrections in the poet's hand, as well as tape recordings prepared by Ostroff, including the series of 20 broadcasts about American poetry he directed for the National Association of Educational Broadcasting.
Note: This profile was first published 30 June 2014.
Sources
Anthony Ostroff Collection, 1955-1978
Anthony Ostroff. 1977. A Fall in Mexico. New York: Doubleday.
Comments, corrections or additional material related to any of the writers and artists featured in our series of mini-bios are welcomed. Please email or use the comments feature at the bottom of individual posts.