José López Portillo y Rojas (1850-1923) was born in Guadalajara. He graduated as a lawyer in Guadalajara in 1871, before spending three years traveling in the U.S., Europe and the Middle East. On his return, he published his first book: Egypt and Palestine. Notes from a trip (1874).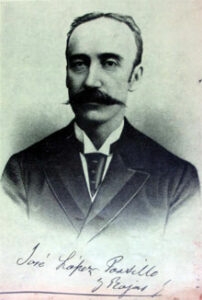 He began an illustrious political career as deputy for Jalisco to the national Congress from 1875-1877. Shortly after that first experience of national politics, he returned to Guadalajara and became a journalist, teacher of law, and member of that city's literary circle.
The group included other young Jalisco writers such as Antonio Zaragoza and Manuel Álvarez del Castillo, one of whose relatives, Jesús, would later start the El Informador newspaper in Guadalajara, which remains one of the city's most important dailies.
In 1880, López Portillo y Rojas returned to Mexico City as a deputy. In 1882, he became a state senator. In 1886, he joined with Manuel Álvarez del Castillo and Esther Tapia de Castellanos to start a new publication in Guadalajara. La República Literaria, a magazine of science, art and literature quickly became nationally famous, but only lasted until 1890.
In 1891, López Portillo published the first transcription, albeit partial, of Father Antonio Tello's invaluable 17th century account relating to Lake Chapala. In 1892, he published his only book of verse Transitory harmonies. By 1902, López Portillo was living in Mexico City and had joined the Partido Científico (Scientific Party). After the fall of Díaz, he held various federal government posts before becoming Governor of the State of Jalisco (1912-1914). For a brief period in 1914, he was appointed as Foreign Relations Secretary in the government of Victoriano Huerta, during the time when the U.S. invaded the port of Veracruz.
He left politics shortly afterwards and dedicated himself to teaching and writing. He left a vast body of work, ranging from travel accounts, poems, and literary criticism to historical and legal essays, short stories and novels. His best known collection of short stories is Stories, tales and short stories (1918). His best known novel, The parcel (1898), relates the fight between two hacienda owners for a worthless parcel of land.
At the time of his death in Mexico City on 22 of May, 1923, he was director of the Academia Mexicana de la Lengua (Mexican Academy of Language). One of López Portillo's grandsons, José López Portillo y Pacheco (1920-2004), served as President of Mexico between 1976 and 1982. In Guadalajara, the Casa-Museo López Portillo, a museum and exhibition space honoring the family, can be visited at Calle Liceo #177.
A short story about Lake Chapala, entitled "José la garza morena" ("José the Great Blue Heron") was published in Cosmos (a monthly magazine published in Mexico City) in June 1912. It is a tale about someone finding a heron that has been shot and wounded, and trying in vain to cure it.
The story starts by remembering the times before Lake Chapala's shores has been altered by civilization:
When I visited the lakeside hamlet of Chapala for the first time, now many years ago, I found everything in an almost primitive state, better than now from some points of view, but worse from others.
The author compares the Chapala of earlier times with the situation during the Porfiriato (when he was active in politics as a supporter of President Díaz):
Not a sign back then of the picturesque villas that today adorn and decorate these shores from the town to El Manglar, which is the house where Don Porfirio Díaz used to stay during the time, happy for him, of his all-embracing command; but everywhere was thick scrub, cheerful orchards with severe rocky places, which were in harmony with that rustic and unspoiled landscape.
The scene is set; the action begins with an evening trip in a rowboat on the lake. The beauty of the lake, as depicted by the author, creates an impression of decadence and morbidity, because there are no signs of life out on the water:
But that scene of glorification seemed dead and desolate, without any bird to make it cheerful; not a stork, nor a crane, nor a duck stained the burnished horizon with its graceful silhouette.
Further on, the author continues:
The lake appeared magnificent and solitary under that divine show, as if it were another asphalt lake, a new Dead Sea. But it was not always thus; and the recollections of better times engraved in my memory transformed this most unhappy spectacle because, before the rising tide of civilization invaded these places with platoons of armed hunters with shining rifles, flocks of ducks would rise suddenly into the air from the marshes as the boat approached.
The second part of the short story is about someone finding a heron that has been shot and wounded, and trying in vain to cure it.
Note: The translations included above are by the author of this post, which was first published 18 June 2014.

Credit and reference:
My sincere thanks to Dr. Wolfgang Vogt of the University of Guadalajara for bringing this short story (and his analysis of it) to my attention.
Vogt, Wolfgang (1989) "El lago de Chapala en la literatura" in Estudios sociales: revista cuatrimestral del Instituto de Estudios Sociales. Universidad de Guadalajara: Year 2, Number 5: 1989, 37-47. Republished in 1994 as pp 163-176 of Vogt (1994) La cultura jalisciense desde la colonia hasta la Revolución (Guadalajara: H. Ayuntamiento).
Please feel free to comment or suggest corrections or additional material related to any post via our comments feature or email.

Tony Burton's books include "Lake Chapala: A Postcard History" (2022), "Foreign Footprints in Ajijic" (2022), "If Walls Could Talk: Chapala's historic buildings and their former occupants" (2020), (available in translation as "Si Las Paredes Hablaran"), "Mexican Kaleidoscope" (2016), and "Lake Chapala Through the Ages" (2008).