Esther Tapia Ruíz de Castellanos was born in Morelia, Michoacán, on 9 May 1842, and died in Guadalajara on 8 January 1897. She married Ignacio Castellanos and wrote what is believed to be the earliest poem of any substance specifically about the lake.
The Castellanos family was one of wealthiest land-owning families on the north side of the lake, and probably the richest family in Ocotlán. Their estates included much of the shore between Ocotlán and Jamay, an area known as the Rivera Castellanos in the latter part of the 19th century. Ignacio Castellanos inherited the family property on the death of his father, Pedro Castellanos, sometime in the middle of the 19th century.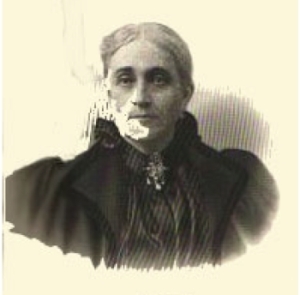 The family seat, complete with stables, was a mansion located opposite the old parish cemetery, extending to the bank of the River Santiago. Castellanos added a mirador, almost as high as the church tower, atop the family home, from where a spectacular view could be enjoyed, encompassing parts of his extensive land holdings, the River Zula, and the "Castellanos" bridge, used by everyone entering and leaving Ocotlán from the east.
After Castellanos married Esther Tapia Ruíz , the couple divided their time between their country home in Ocotlán and a city residence in Guadalajara.
Esther Tapia de Castellanos's very long Lake Chapala poem, inspired by her husband's absence on business, was entitled, "A orillas del lago de Chapala" ("On the shores of Lake Chapala"), and was finished on January 22, 1869. Shortly afterwards, the poem was sent by Mr. Vaca, a family friend from Zamora, to Siglo XIX in Mexico City. It is not known whether it was accepted at that time for publication but, a century later, both the poem and an accompanying letter were published in the January 1969 issue of La Civilización.
The letter describes Mrs. Tapia de Castellanos as living in Ocotlán, a "village located between two powerful rivers and comprised of a small number of homes". The hacienda occupied by Mr. Castellanos and his wife, has "a mirador on top, from where the view dominates Lake Chapala, home of aquatic birds and humble boats," and the cultivated fields of the San Andrés hacienda.
Tapia de Castellanos wrote several volumes of poetry, including Flores silvestres (Wild flowers), published in 1871, Cántico de los niños (Song of the children), and Obras poéticas (Poetic works), as well as several plays. In 1886, she was one of the co-founders of La República Literaria, a magazine of science, art and literature, published in Guadalajara, which rapidly became one of the best known publications in the country. The other co-founders were José López Portillo y Rojas and Manuel Álvarez del Castillo, one of whose relatives founded the El Informador daily in Guadalajara.
In the following fragements of "A orillas del lago de Chapala", Tapia de Castellanos describes the scenery, flora and fauna from a very romantic, idyllic point of view.
On a tranquil afternoon
The sun advances to the west
leaving, as it departs, the clouds
tinted with gold and mother-of-pearl.
Its last rays gild
the clear water of the lake,
which seems, when it moves,
to be flecked with diamonds.
The light, sonorous waves
are teased into gentle undulations
making a tender murmur
that is only understood by the soul.
…
The willow bends its branches
As the warm waves kiss
and a perfumed breeze
jealously removes them.
(Esther Tapia de Castellanos, 1869 "A orillas del lago de Chapala". Translation by Tony Burton.)
This text is a lightly-edited extract from Lake Chapala Through The Ages, an Anthology of Travellers' Tales (Sombrero Books, 2008)
Lake Chapala Artists & Authors is reader-supported. Purchases made via links on our site may, at no cost to you, earn us an affiliate commission.
Learn more.
Related posts (poems about Lake Chapala):

Tony Burton's books include "Lake Chapala: A Postcard History" (2022), "Foreign Footprints in Ajijic" (2022), "If Walls Could Talk: Chapala's historic buildings and their former occupants" (2020), (available in translation as "Si Las Paredes Hablaran"), "Mexican Kaleidoscope" (2016), and "Lake Chapala Through the Ages" (2008).