John Liggett Meigs (1916-2003) was an American artist and designer who was a student of Peter Hurd.
Meigs sought out Hurd in San Patricio, New Mexico, in 1951, and in 1953 began to assist Hurd on his fresco mural in Lubbock, Texas, at the West Texas Museum (now the Holden Hall at the Texas Tech University). The mural depicts pioneers and influential leaders of West Texas. The two other artists working on the project, which took two years to complete, were Hurd's wife Henriette and Manuel Acosta.
Meigs became very good friends with Henriette and Peter Hurd. He bought a small adobe house in San Patricio and spent forty years converting it into a 23-room dwelling that Peter Hurd dubbed "Fort Meigs." In about 1968, Hurd and Meigs jointly bought the home in Chapala previously owned by American poet (and friend) Witter Bynner. Although there is no evidence that Chapala influenced Meig's work in any way, the artist visited Chapala on several occasions.
Born in Chicago on 10 May 1916, Meigs only discovered the details of his interesting childhood when he signed up for the Navy during the second world war, and learned that he had been kidnapped by his biological father as a one-year-old and given the assumed surname of MacMillan. Meigs never knew his real mother, but grew up with his father and his father's new partner. They moved frequently, but eventually settled in San Antonio, Texas, where Meigs first became interested in art. His father died in 1931 when Meigs was only 15 years old. Meigs and his foster mother then moved to California where Meigs later attended the University of Redlands.
Meigs worked as a reporter in Los Angeles and Hawaii, and as a designer of houses and clothing. He was one of the earliest designers of Hawaiian aloha shirts, and his shirt designs were the basis of a 1997 exhibit at the Honolulu Academy of Arts. Prior to taking his art seriously and studying with Hurd, Meigs had also served in the U.S. Navy during the second world war.
Meigs went on to become a very successful artist, producing landscape and architectural images in a variety of media, from ink and oil to watercolor and photography. He held over fifty solo exhibitions, in locations ranging from Santa Fe and Roswell in New Mexico to New York City, Lubbock (Texas) and Honolulu.
In 1960, the Society of California Pioneers, based in San Francisco, commissioned him to paint a series of watercolors of Victorian homes in the city for an exhibition at the Society's headquarters later that year.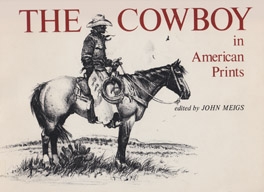 In addition to his art, now found in private, corporate and academic collections, Meigs edited several books about art: Peter Hurd – The Lithographs (1968), Peter Hurd Sketch Book (1971) and The Cowboy in American Prints (1972).
The biography of Meigs by Mark S. Fuller provides chapter and verse of the artistic and social circles in which Meigs developed his career. He could count among his friends the artists Andrew Wyeth, Georgia O'Keeffe and Rolf Armstrong, poet Witter Bynner, oilman and cattleman Robert O. Anderson, and actor Vincent Price.
According to Fuller, the major retrospective show of Peter Hurd's works in 1964-65 came about because Meigs had visited a museum in 1963 to show them his own canvasses but had then asked the museum purchaser why the museum didn't mount a show of Hurd's work.
After Meigs and Hurd bought the Bynner home in Chapala, Meigs visited various times, and gradually brought Bynner's extensive book collection (included in the sale) back to New Mexico. (By the 1970s, Meigs estimated he had 40,000 volumes in his personal library.) Meigs also regularly brought back select handicrafts and ceramic pieces.
In November 1993, a decade before his death in August 2003, Meigs received The Governor's Award for Excellence & Achievement in the Arts from the State of New Mexico.
Sources:
Mark S. Fuller, 2015. Never a Dull Moment: The Life of John Liggett Meigs (Sunstone Press)
Sombrero Books welcomes comments, corrections or additional material related to any of the writers and artists featured in our series of mini-bios. Please email us or use the comments feature at the bottom of individual posts.

Tony Burton's books include "Lake Chapala: A Postcard History" (2022), "Foreign Footprints in Ajijic" (2022), "If Walls Could Talk: Chapala's historic buildings and their former occupants" (2020), (available in translation as "Si Las Paredes Hablaran"), "Mexican Kaleidoscope" (2016), and "Lake Chapala Through the Ages" (2008).