Poet and novelist Arthur Davison Ficke (1883-1945) and his second wife Gladys, an artist, spent the winter of 1934-35 in Chapala. From late November 1934 to late April 1935, they rented a house with fellow poet Witter Bynner and his partner Robert Hunt.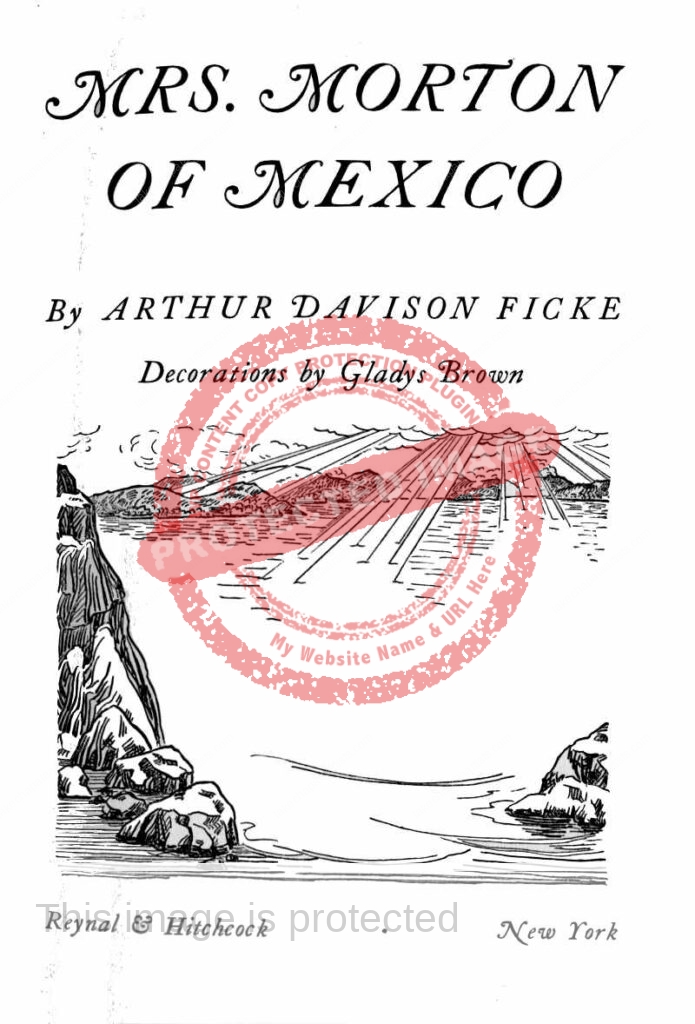 Ficke subsequently wrote a novel, Mrs Morton of Mexico, set at the lake and published in 1939 by Reynal & Hitchcock, New York. It is Ficke's only novel. The novel was illustrated at the heading and end of each chapter with interesting and attractive drawings by Ficke's wife, Gladys Brown.
We take a closer look at the novel in a separate post, but the title character is an octogenarian American expatriate, based in real-life (as Neill James pointed out in her Dust on My Heart), on the persona of Mrs. Hunton, originally from Virginia, the matriarch of a family that first settled in Chapala at the start of the twentieth century.
A poem by Ficke entitled "Lake Chapala" and many of the stories told in the novel, including "The Burro of Chapala", had been published previously, in Esquire. (The poem, illustrated by John Groth, in May 1936, and the short story, with an illustration by Eric Lundgren, in December 1937.)
Arthur Davison Ficke was born on 10 November 1883 in Davenport, Iowa, the son of a lawyer, and died in Hudson, New York, on 30 November 1945. During his childhood, the family traveled to Europe and the Orient, the start of a lifelong interest in Japanese art.
Ficke entered Harvard College in 1900, where he first met Witter Bynner, who became a lifelong friend. After graduating from Harvard in 1904, Ficke then gained a law degree at Iowa State University (1908) while teaching some English classes at the university and having married Evelyn Bethune Blunt in 1907.
He was a prolific poet. Ficke published From the Isles his first collection of poetry in 1907. This was quickly followed by The Happy Princess and Other Poems (1907), The Earth Passion (1908), The Breaking of Bonds (1910), Twelve Japanese Painters (1913), Mr. Faust (1913), Sonnets of a Portrait Painter (1914), The Man on the Hilltop and Other Poems (1915), Chats on Japanese Prints (1915), and An April Elegy (1917).
Ficke was close friends with Bynner, who accompanied the Fickes on a trip to the Far East in 1916-17. This close friendship led to the two poets perpetrating what has often been called "the literary hoax of the twentieth century" in 1916, when they published a joint work, Spectra: A Book of Poetic Experiments, purportedly written by Anne Knish (Ficke) and Emanuel Morgan (Bynner). Intended as a satire on modern poetry, the work was enthusiastically reviewed as a serious contribution to poetry, before the deception was revealed in 1918.
During the first world war, Ficke served in France with the U.S. Army from 1917 to 1919. For a short time in 1922, Ficke accepted a post as curator of Japanese prints and lecturer in Japanese art at the Fogg Art Museum in Boston.
On 8 December 1923, a year after his divorce from Evelyn, Ficke married Gladys Brown, a painter. The couple settled first in New York City but then moved to Santa Fe, New Mexico, until 1928. He published four books in the 1920s: Out of Silence and Other Poems (1924); Selected Poems (1926); Christ in China (1927); Mountain Against Mountain (1929), followed by The Road to the Mountain (1930). Later works include The Secret and Other Poems (1936) and Tumultuous Shore and Other Poems (1942).
A brush with tuberculosis took him to North Carolina and Texas for treatment, after which, in the early 1930s, he traveled to Jamaica and Florida before his visit to Chapala in 1934-35.
"University of Iowa researcher William H. Roba said many writers thought of him as a "poet's poet." Tall, debonair, always impeccably dressed and with perfect manners, he stood out from others. He used traditional forms for most of his poetry — odes, elegies, sonnets — but had a humorous side that sometimes emerged in his writings." – Tom Longden in Desmoines Register.
Source:
Tom Longden

. 2017. Famous Iowans: Arthur Davison Ficke: Poet, art critic, lecturer. Des Moines Register 2017
Sombrero Books welcomes comments, corrections or additional material related to any of the writers and artists featured in our series of mini-bios. Please email us or use the comments feature at the bottom of individual posts.

Tony Burton's books include "Lake Chapala: A Postcard History" (2022), "Foreign Footprints in Ajijic" (2022), "If Walls Could Talk: Chapala's historic buildings and their former occupants" (2020), (available in translation as "Si Las Paredes Hablaran"), "Mexican Kaleidoscope" (2016), and "Lake Chapala Through the Ages" (2008).