The distinguished Black American poet, novelist and educator Al Young visited Lake Chapala sometime in the mid- to late-1960s. It was in Ajijic that he first met Black American artist Arthur Monroe, the beginning of a long artistic friendship.
Al Young subsequently published two works with a direct connection to the lake. "Moon Watching by Lake Chapala" is a prose poem first published in the Berkeley literary journal Aldebaran in 1968, and reprinted in The Song Turning Back Into Itself (1971). The poem was also chosen for the collection We speak as liberators: young Black poets; an anthology, compiled by Orde Coombs (1970).
In 1975, Young's novel Who is Angelina? was published by Holt, Rinehart and Winston. It includes several scenes set at Lake Chapala, with passages relating to Chapala, Ajijic and Jocotepec. (We will consider this novel more closely in a separate post).
Chapala is also mentioned in a 2011 poem, "Elegy for a Live-Loving Friend" written in memory of Edith Eddy (1919-2011), which opens with the lines:
Light-years ago: Chapala afternoons,
a lake-like feel and smell, the way we met,
three children California-born, full moons,
the world not yet as gone as it would get."
Albert James Young was born 31 May 1939 in Ocean Springs on the Gulf Coast of Mississippi. His father, Albert James, was a professional musician and, after the family moved to Detroit, an autoworker. Young's childhood in the rural south gave way to adolescence in urban, industrial Detroit.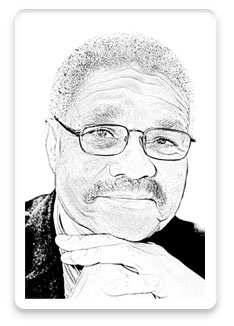 Young attended the University of Michigan at Ann Arbor from 1957-1960 and was co-editor of Generation, the campus literary magazine. In 1961 he moved to the San Francisco Bay Area, and proceeded to have a variety of jobs (folksinger, laboratory aide, disk jockey, medical photographer, clerk typist, employment counselor) before eventually completing an honors degree in Spanish at University of California, Berkeley, in 1969. In 1963, Young married Arline Belck, a freelance artist; the couple's son, Michael James, was born in 1971.
Young's academic life has been grounded in California. In addition to holding a a variety of editorial positions, he taught creative writing classes at Stanford University, 1969-1976, and was a visiting writer-in-residence at the University of Washington, Seattle, 1981-1982. He has also taught at the University of California (at Berkeley, Santa Cruz, and Davis branches), at Bowling Green State University, Foothill College, the Colorado College, Rice University, the University of Washington, the University of Michigan, the University of Arkansas, and San José State University.
In the 1970s, Young worked as a screeenwriter, for Laser Films (New York) in 1972, Stigwood Corporation (London and New York) 1972, Verdon Productions (Hollywood) 1976, First Artists Ltd. (Burbank, California) 1976-77, and for Universal (Hollywood) 1979. His screenplays include Nigger (1972) and Sparkle (1972.)
Young has received numerous awards including National Endowment for the Arts grants in 1968, 1969, and 1974; a Guggenheim fellowship in 1974; two Pushcart prizes, two American Book Awards, a PEN-Library of Congress Award for Short Fiction and a Before Columbus Foundation award in 1982.
In the 1980s and 1990s, Young served as a cultural ambassador for the United States Information Agency, making trips on its behalf to South Asia, Egypt, Jordan, Israel and the Palestinian West Bank.
Al Young's novels include Snakes (1970); Who Is Angelina? (1975); Sitting Pretty (1976); Ask Me Now (1980); Seduction by Light (1988); and Straight No Chaser (1994). Among his short Stories are, "My Old Buddy Shakes, Alas, and Grandmama Claude," published in Nexus (San Francisco), May-June 1965; and "The Question Man and Why I Dropped Out," in Nexus, November-December 1965; "Chicken Hawk's Dream," in Stanford Short Stories 1968 (1968)
Poetry collections by Young, who was Poet Laureate of California 2005-2008, include Dancing (1969); The Song Turning Back into Itself (1971); Some Recent Fiction (1974); Geography of the Near Past (1976); The Blues Don't Change: New and Selected Poems (1982); Heaven: Collected Poems 1958-1988 (1989); and Heaven: Collected Poems 1956-1990 (1992). His works have been translated into many languages, ranging from Spanish and Serbo-Croat to Urdu and Korean.
The distinguished poet and novelist has also published several "Musical Memoirs", including Bodies and Soul (1981), Kinds of Blue (1984), Things Ain't What They Used to Be (1987) and Drowning in the Sea of Love (1995).
In the words of William J. Harris in the Dictionary of Literary Biography, Al Young's art destroys "glib stereotypes of black Americans." Harris adds that "His work illustrates the complexity and richness of contemporary Afro-American life through a cast of highly individualized black characters. Since he is a gifted stylist and a keen observer of the human comedy, he manages to be both a serious and an entertaining author."
Sombrero Books welcomes comments, corrections or additional material related to any of the writers and artists featured in our series of mini-bios. Please use the comments feature at the bottom of individual posts, or email us.

Tony Burton's books include "Lake Chapala: A Postcard History" (2022), "Foreign Footprints in Ajijic" (2022), "If Walls Could Talk: Chapala's historic buildings and their former occupants" (2020), (available in translation as "Si Las Paredes Hablaran"), "Mexican Kaleidoscope" (2016), and "Lake Chapala Through the Ages" (2008).