Californian poet and novelist Jan Richman's poem "Ajijic" was first published in 1994, and included in her first poetry collection, Because the Brain Can Be Talked Into Anything, which won the 1994 Walt Whitman Award from the Academy of American Poets.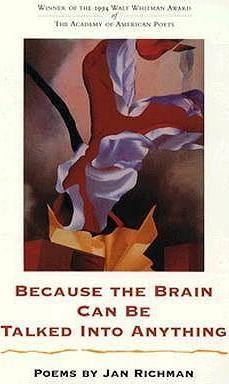 Born in La Jolla, Richman graduated from Torrey Pines High School before studying English and Theatre at University of California, Irvine. She then completed a BA degree in Creative Writing and English at San Francisco State University and a Masters in Creative Writing at New York University.
Richman taught at the City College of San Francisco, and lost a job at the Academy of Art University in San Francisco (following a controversy over a gratuitously violent story written by a student), before working as a freelance proof reader and copy editor. She has also been an associate editor and columnist for SFGate.com (San Francisco Chronicle).
Poems by the multi-award winning Richman have appeared in numerous magazines including The Nation, Ploughshares, Comet, Kenyon Review, The Bloomsbury Review and Luna.
Richman is also the author of the novel Thrill-Bent (2012) in which she gives her own name to the narrator, a writer for BadMouth Magazine, "NYC's Premier Cultural Crap Detector," who is given an assignment to report on roller coasters around the country set for demolition. Her final stop is in California.
Precisely when or why Jan Richman visited Ajijic is currently unknown. Her poem "Ajijic" first appeared in the Winter 1993-94 issue of the literary journal Ploughshares. (The journal is archived online and the poem can be read in its entirety via the link in "Sources")
Here are a few sample lines from "Ajijic" –
I came down to the water
to escape the feuding, infallible generations.
In my grandfather's eye is my father's eye, and so on.
* * *
These clean girls will circle the plaza clockwise,
entwined in pairs, throbbing to be plucked from the wheel.
I'll dance in the bar with Mexican boys
who'll squeeze my ass and tell my white throat, You,
alone, are beautiful.
Sources
Jan Richman. 1994. "Ajijic." Ploughshares, Vol. 19, No. 4, Borderlands (Winter, 1993/1994), 16.
Jan Richman. 1995. Because the Brain Can Be Talked into Anything: poems. Louisiana State University Press.
Jan Richman. 2012. Thrill-Bent. Tupelo Press.
Comments, corrections or additional material related to any of the writers and artists featured in our series of mini-bios are welcome. Please use the comments feature at the bottom of individual posts, or email us.

Tony Burton's books include "Lake Chapala: A Postcard History" (2022), "Foreign Footprints in Ajijic" (2022), "If Walls Could Talk: Chapala's historic buildings and their former occupants" (2020), (available in translation as "Si Las Paredes Hablaran"), "Mexican Kaleidoscope" (2016), and "Lake Chapala Through the Ages" (2008).