Sandra Scofield's first novel, Gringa, was based on the author's extensive travels in Mexico in the 1960s. The novel is set in the violent turbulence of 1968 when, a few weeks before the opening of the Olympic Games in Mexico City, hundreds of students protesting in Tlatelolco Plaza were massacred by soldiers.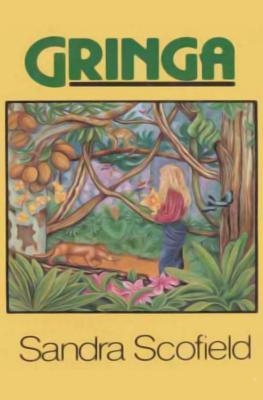 The "gringa" of the book's title is Abilene "Abby" Painter, a 25-year-old Texan who is trapped in "an abusive, torrid relationship" with Antonio Velez, a famous Mexican bullfighter. In the words of Publishers Weekly, "her self-esteem is so paltry that she serves as a sexual doormat for her swaggering lover" whose "pride in his animal trophies points up the obvious analogy between his mistresses and these slain creatures." The student protests and their aftermath finally open Abby's eyes to what she really wants, but can she escape without losing her life? In addition to sex, violence and death, the book explores the full range of animal instincts and the dichotomy between chance and choice in individuals' lives.
Several acclaimed novels later, Scofield's A Chance to See Egypt is (despite its title) also set in Mexico, and was written following a trip to Lake Chapala in the early 1990s. Events in A Chance to See Egypt take place against a backdrop of two villages (Lago de Luz and Tecatitlán) on a fictionalized Lake Chapala. The novel, which won the Best Fiction award from the Texas Institute of Letters in 1996, will be considered in more detail in a separate post.
Though she spent most of her adult life in Oregon and Montana, Sandra Scofield was born in Wichita Falls, Texas, in 1943. She attended Our Lady of Victory Academy in Fort Worth before graduating from Odessa High School in 1960. She then studied at Odessa Junior College and the University of Texas, where she completed a B.A. in Speech in 1964. She first visited Mexico shortly before graduation.
After studying theatre at Northern Illinois University (1967-68), Scofield had a one-year acting fellowship at Cornell University the following year. After divorcing her first husband in 1974, Scofield remarried and moved to Oregon, where she returned to academic life to gain a masters degree related to language education (1977)  and a doctorate (1979) from the University of Oregon.
Scofield taught in high schools and colleges before deciding to write full time in 1983. After establishing her writing career, she occasionally gave classes at writers festivals (such as the Iowa Summer Writing Festival in 1993) and as a visiting lecturer in MFA programs. Scofield later joined the faculty of the Solstice MFA low residency program at Pine Manor College in Maryland.
Her literary awards include a National Endowment for the Arts Fellowship (1991); the Texas Institute of Letters Fiction Award; the American Book Award; and nominations for a National Book Award (1991); the Oregon Book Award and the First Fiction Award from the Academy of Arts and Letters.
Scofield's novels are Gringa (1989), Beyond Deserving (1991), Walking Dunes (1992), More Than Allies (1993), Opal on Dry Ground (1994), A Chance to See Egypt (1996) and Plain Seeing (1997).
More recently, Scofield published three long stories as Swim: Stories of the Sixties (2017). One of these stories, "An Easy Pass," is set in Mexico and relates (in the author's own words) to "an almost hysterical fascination with bullfighters (especially the young beginning ones)."
Scofield's non-fiction works include Occasions of Sin: a Memoir (2004); The Scene Book: A Primer for the Fiction Writer (2007); and The Last Draft: A Novelist's Guide to Revision (2017). She has also written numerous book reviews for major regional publications such as the Dallas Morning News, Chicago Tribune, Newsday, and The Boston Globe.
An archive of papers related to Sandra Scofield and her work are held in the Special Collections Library of Texas Tech University.
Acknowledgment
I am grateful to J. Weston Marshall, Archival Associate of the Special Collections Library of Texas Tech University, for kindly supplying me with a copy of Sandra Scofield's notes describing the genesis of A Chance to See Egypt.
Sources
Alan Cogan. 2001. "A Chance to See Egypt by Sandra Scofield" (review). MexConnect.
Sandra Scofield. 1996. A Chance to See Egypt. Cliff Street Books (Harper Collins).
Sandra Scofield. 2005. "A Chance to See Egypt; writing history explained by Scofield," typescript, 2005, Item 53 in Sandra Scofield Papers, 1958-2005 and undated, Southwest Collection/Special Collections Library, Texas Tech University, Lubbock, Texas.
Comments, corrections or additional material related to any of the writers and artists featured in our series of mini-bios are welcome. Please use the comments feature at the bottom of individual posts, or email us.

Tony Burton's books include "Lake Chapala: A Postcard History" (2022), "Foreign Footprints in Ajijic" (2022), "If Walls Could Talk: Chapala's historic buildings and their former occupants" (2020), (available in translation as "Si Las Paredes Hablaran"), "Mexican Kaleidoscope" (2016), and "Lake Chapala Through the Ages" (2008).