Language educator and writer Katharine ("Katie") Goodridge Ingram was born in Mexico City on 23 June 1938 to American parents. Her father, Ezra Read Goodridge, was a rare book dealer and her mother, Helen Kirtland, a fashion designer.
Katie spent her early childhood in Mexico City. In the mid-1940s, when her parents' marriage came to an end, her mother took Katie (then eight) and her two brothers (two- and ten-years-old, respectively) to live in Ajijic on the shores of Lake Chapala. Her very determined mother began this new phase of her life by becoming an entrepreneur, starting a weaving business and using her design skills to create fashionable clothes and accessories.
Katie's creative non-fiction memoir of her childhood in Mexico City and Ajijic – According to Soledad: memories of a Mexican childhood – has just been published. It is a compelling read. Advance readers have described According to Soledad as a literary equivalent of the award-winning movie Roma (2018), written and directed by Alfonso Cuarón. However, whereas Roma was set in 1970-71, According to Soledad is set earlier, in 1947-52.
Katie was born to write. At the urging of German poet Gustav Regler, a friend of the family, she began to write her autobiography at the age of 9! She still treasures the wonderful response she received after writing about this at the time to another family friend at the University of Michigan. In part, the reply reads: "I am delighted that you haven't yet finished either your book or your life… the latter at any rate really ought to be a fascinating subject. You go ahead and finish the book, anyhow, and I'll bet you can get it published. Certainly you can if your letter is any indication of your auctorial prowess!"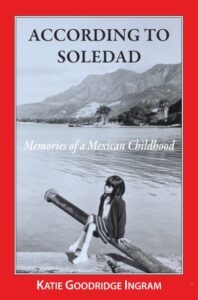 In Ajijic, Katie was educated by a series of private tutors. At the age of 14, after her mother remarried and her father died in a Mexico City nightclub fire, Katie was sent north to The Putney School, an independent high school in Vermont, to complete high school. A bright and precocious student, Katie subsequently graduated from Pomona College, a liberal arts college in Claremont, California, in 1959.
After Pomona, Katie taught at Hamlin School in San Francisco (1959–1961) and Wesley School, Cape Coast, Ghana (1963–1965).
While living in the US, Katie returned to Ajijic every summer. In 1973 she settled in the village full-time with her two children and managed the Galería del Lago art gallery from 1973 to 1978. She then opened her own Mi México gallery in Ajijic which she continued to own until 1992. During her time in Mexico, Katie co-founded the bilingual Oak Hill School at Lake Chapala in 1974. She was also the area's regional correspondent for the Mexico City News, writing a regular weekly column covering local art, culture and current events.
In 1981, Katie moved back to California, where she ran Gallery Bazar El Paseo in Santa Barbara for the next eight years. Katie co-founded the Santa Barbara Poetry Festival in 1990 and was a scholar at the Santa Barbara Writers Conference in 2002 and 2003.
She returned to teaching in the 1990s. While working at Ojai Valley School (1992–1994), she gained a certificate in teaching English as a Second Language from the University California, Santa Barbara. Katie then moved to the Crane School in Santa Barbara, where she chaired the Spanish department from 1997 to 2002.
Katie has regularly contributed poems and stories to collections and anthologies, such as A Bird Black as the Sun: California Poets on Crows & Ravens, edited by Enid Osborn and Cynthia Anderson in 2011, and Solo Novo: Psalms of Cinder and Silt (2019).
Her short story "Swimming Under Salvador", the basis for chapter 14 of According to Soledad, won the nonfiction prize in the New Millennium Awards 26 in 2008. It was summarized on that occasion as "the account of a torrid love affair in Central America from the perspective of a small child whose loyalties are torn when she is rescued from drowning by her mother's lover, a famous sculptor."
Katie lives with her husband, Jim, an artist and retired architect, in Ojai, California.
Lake Chapala Artists & Authors is reader-supported. Purchases made via links on our site may, at no cost to you, earn us an affiliate commission.
Learn more.
According to Soledad, Katie's first full length published work, is available in both print and Kindle editions via Amazon. Print copies are also available at select locations (La Nueva Posada, Mi México) in Ajijic, and at Galería Diane Pearl in Riberas.
Buy your copy today: According to Soledad
Acknowledgment
My sincere thanks to Katie for sharing her memories with me and for entrusting me with helping her publish According to Soledad.
Comments, corrections or additional material related to any of the writers and artists featured in our series of mini-bios are welcome. Please use the comments feature at the bottom of individual posts, or email us.

Tony Burton's books include "Lake Chapala: A Postcard History" (2022), "Foreign Footprints in Ajijic" (2022), "If Walls Could Talk: Chapala's historic buildings and their former occupants" (2020), (available in translation as "Si Las Paredes Hablaran"), "Mexican Kaleidoscope" (2016), and "Lake Chapala Through the Ages" (2008).