Rubén M. Campos's novel Claudio Oronoz includes dozens of pages relating to Lake Chapala. The lake is not only described (in all its glory) but also provides the setting for some memorable discussions between the main characters.
Campos utilizes Lake Chapala as a kind of antidote for, or counterbalance to, life in Mexico City. This is perfectly fitting, especially given the fact that the novel was written at the start of the twentieth century, precisely the time when many of the wealthier businessmen and residents of Mexico City established close ties to Lake Chapala, often setting up second homes there.
The protagonist of this novel is a young man, Claudio Oronoz, who considers himself an artist. (His poems appear at intervals in the novel). At the age of twenty-one, Claudio evades the obligations and responsibilities foisted on him by his family, who want him to enter business, turns his back on materialism, and heads for the capital city in search of like-minded bohemian individuals with whom he can share his thoughts, feelings and concerns. Thus begins his "odyssey of pleasure", which subsequently involves trips to the theater, dinners, "parties and orgies".
To quote Claudio: "I had imagined a distinct area for dreamers, for thinkers, a special neighborhood for musicians, painters, sculptors, poets …" He hoped to find "that blissful neighborhood which this Latin-American metropolis, like Paris, must have" but becomes increasingly disillusioned as he finds instead "the roar of the struggle for life in workshops, in factories, in warehouses, in the daily traffic of the streets, in the haste of passers-by."
Eventually, Claudio does succeed in locating the "bohemian neighborhood and the fierce artists" he had dreamed of, and shares friendship and experiences with other young artists. But Claudio has a serious illness (consumption or tuberculosis) which is gradually sapping his energies. He is torn between a tendency to hedonistic debauchery and reveling in the pure love that he feels for Clara Rionda, the woman who cared for him during one of his serious relapses.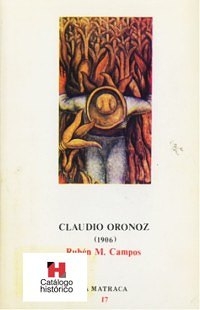 Two of Claudio's other friends share Clara's home with him: José Abreu, the narrator of the novel, and his lover Ana Belmar, Clara's best friend, who was born in Jamay on the shores of Lake Chapala.
After some time enjoying themselves in Mexico City, the group decides to escape the city and go to Lake Chapala. (They return to the city for the final section of the book).
The trip to the lake via train from Mexico City to Ocotlán, and then by lake steam boat (vaporcito) from Ocotlán to Chapala is described at some length, and the text includes many details about the village of Chapala. For instance, the group stays on the second floor of a lakefront hotel: this is a clear reference to the historic Arzapalo hotel that first opened in 1898. The group arrived in early April, apparently well before Easter that particular year, since they are described as being among the first visitors that spring. Even the chalets (with verandas) that characterized the second homes of the wealthy in Chapala at that time are described.
These descriptive details owe nothing to coincidence or chance. As Dulce Diana Aguirre López has shown, the main section of the book about Chapala is based on a straightforward, narrative account that Campos had originally published many years previously, as "En el Chapala". This was actually published twice – first in La Patria (1899) and then, with some variations, in Revista Moderna (1902) – before being suitably modified for the section in Claudio Oronoz: an interesting example of how a regular narrative or travel piece can be recycled as an integral part of a fictional work.
Claudio Oronoz is considered to be Campos's master work in fiction. Campos's portrayal of youthful artistic and intellectual ambitions which ultimately lead his protagonist to disillusionment helped move Mexican novels away from the realism of the end of the 19th century into new, emerging "modern" territory. Mexican literature would never be the same; later Mexican writers would never look back.
Notes :
All quotations are loose translations by the author of this post.
The text of the original novel is included in the thesis (downloadable as a pdf file) linked to below.
Sources
Sombrero Books welcomes comments, corrections or additional material related to any of the writers and artists featured in our series of mini-bios. Please use the comments feature at the bottom of individual posts, or email us.

Tony Burton's books include "Lake Chapala: A Postcard History" (2022), "Foreign Footprints in Ajijic" (2022), "If Walls Could Talk: Chapala's historic buildings and their former occupants" (2020), (available in translation as "Si Las Paredes Hablaran"), "Mexican Kaleidoscope" (2016), and "Lake Chapala Through the Ages" (2008).