Rubén Marcos Campos, though now largely forgotten, was one of the major figures in Mexican literature in the first half of the twentieth century. Campos, a poet, intellectual, novelist and folklorist, was born on 25 April 1871 in Ciudad Manuel Doblado, Guanajuato, and died in Mexico City on 7 June 1945.
His first novel, entitled Claudio Oronoz, was published in 1906 and is considered one of the gems of the so-called modernist prose that was then in vogue. Lake Chapala plays an important part in the novel, as the destination towards which the hedonistic protagonist gravitates.
Campos was well acquainted with Lake Chapala and vacationed there several times over the years. In 1906, for example, we know from contemporary newspapers that he spent the second half of December in Chapala in the company of poet Luis G. Urbina (1864-1934) and painter Leandro Izaguirre (1867-1941).
In 1899, Campos wrote several short travel pieces about the lake for La Patria. We will take a closer look at both Claudio Oronoz and these travel articles in later posts.
Campos lost his mother at an early age, and grew up in León, Guanajuato, before moving to Mexico City in about 1890 to try and make his way as a writer. He was soon accepted into the literary circles of the city which gave him the opportunity to have poems and articles published in many of the major publications of the time, including El Mundo Ilustrado, Nosotros, México, Vida Moderna, El Universal, El Centinela and Revista Moderna. The last named, Revista Moderna, published two of his poems – "Desnudos" and "Ruth" – in its second issue, adding Campos to its distinguished list of contributors alongside Amado Nervo, José Juan Tablada, Luis Gonzaga Urbina and Jesús E. Valenzuela.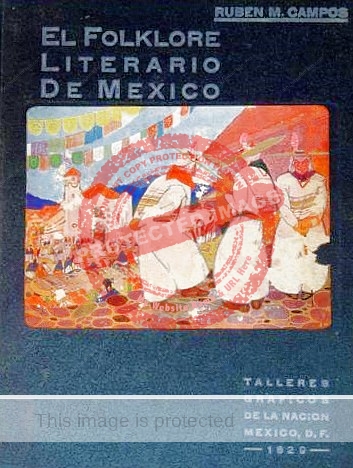 His only published collection of poetry was La flauta de Pan (1900), where many verses suggest or explore eroticism and sensuality. However, Campos's poetry is not very well known, mainly because his essays and studies of popular music and Mexican folklore were already gaining him an enviable reputation for non-fiction writing, based on sound research and skillful use of language.
His most important articles about music and folklore appeared in such specialist publications as Revista Musical de México, Gaceta Musical, México Musical and Boletín Latinoamericano de Música. Among the many books by Campos related to the fields of history, folklore and folk music are Chapultepec, su leyenda y su historia (1922); El folklore y la música mexicana (1928); El folklore literario de México (1929); El folklore musical de las ciudades (1930); La producción literaria de los aztecas (1936); and Tradiciones y leyendas mexicanas (1938).
His keen interest in folklore and its history did not prevent him from continuing to hone his skills as a reporter. Campos produced numerous, elegantly-written pieces about different parts of Mexico, and also wrote several short fictional stories, many of them for El Nacional. A collection of  travel pieces was published in 1922 as Las alas nómadas.
The publication of his first novel Claudio Oronoz in 1906 marked the start of an astonishingly productive period that lasted to his death. The novel was welcomed by critics, despite being quite unlike most of his previous work, and established Campos as an accomplished modernist, quickly hailed as one of Mexico's finest writers of prose of the period.
His versatility knew few bounds and Campos also completed at least three operatic librettos: Zulema (1899); Tlahuicole (1925); and Quetzalcóatl (1928).
He employed pen names at various points in his career; these pen names included Rubén Martínez, R. Martínez Campos, Oro and Rudel.
Given his interest in all aspects of culture and in interpreting the human story, it is not surprising that many of Campos's stories and novels examine the multifarious seedy undersides of life such as sexual abuse, imprisonment, alcoholism, prostitution, murder and abandonment.
Campos managed to combine this prodigious output with a teaching career. At one time or other, he inspired students in the Escuela Normal Preparatoria, the Escuela Nacional de Bellas Artes, the Conservatorio Nacional de Ciudad de México, the Museo Nacional de Arqueología, Historia y Etnografía, and in the Universidad Nacional de México (UNAM)) in a variety of subjects, including art, music, history and Mexican folklore.
In addition to Claudio Oronoz, widely regarded as his master work, Campos also completed two other important novels: Aztlán, tierra de garzas (1935) and El bar: la vida literaria de México, which remained unpublished during his lifetime, but was finally put in print by the Universidad Nacional de México (UNAM) in 2013.
El bar: la vida literaria de México is especially interesting. It explores the bohemian artistic and literary scene of Mexico towards the end of the Porfiriato. It is based on the experiences of Campos and the other members of his literary circles, as well as of artists such as Julio Ruelas and Germán Gedovius, and of musicians including Manuel M. Ponce and Ernesto Elorduy. All of these literary and artistic greats are given their real names in the novel, the only exceptions being the author himself and Alberto Leduc, whose fictitious names – respectively Benamor Cumps and Raúl Clebodet – are anagrams of their real names.
Several works by Rubén M. Campos have been re-released in recent years, making them more available to modern readers.
Sources
Rubén M. Campos. 1906. Claudio Oronoz. Mexico. J. Ballesca y ca.
Dulce Diana Aguirre López. 2015. Edición crítica de Claudio Oronoz, de Rubén M. Campos. Masters thesis, UNAM, 2015.
J. R. Fernández de Cano. undated. Campos, Rubén M. (1876-1945). [http://www.mcnbiografias.com/app-bio/do/show?key=campos-ruben-m]
Sombrero Books welcomes comments, corrections or additional material related to any of the writers and artists featured in our series of mini-bios. Please use the comments feature at the bottom of individual posts, or email us.

Tony Burton's books include "Lake Chapala: A Postcard History" (2022), "Foreign Footprints in Ajijic" (2022), "If Walls Could Talk: Chapala's historic buildings and their former occupants" (2020), (available in translation as "Si Las Paredes Hablaran"), "Mexican Kaleidoscope" (2016), and "Lake Chapala Through the Ages" (2008).