German poet, author and journalist Gustav Regler lived for almost a year in Ajijic from late 1947 or early 1948. Regler had lived several years in Mexico City where he was a close friend of Ezra Read Goodridge, a rare book dealer, and his wife Helen Kirtland (who moved to Ajijic shortly before Regler's visit and later founded the hand looms business Telares Ajijic). Helen's daughter, Katie Goodridge Ingram, a child at the time, has fond memories of Regler who encouraged her early efforts at writing. (Ingram's fascinating memoir of her childhood in Mexico City and Ajijic, According to Soledad, has just been published.)
Regler was born on 25 May 1898 in Merzig (now in Saarland, Germany) and died in India in 1963.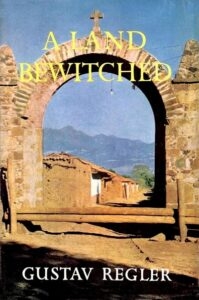 After sustaining serious injuries served his native country in the first world war, he joined the Communist party and lived for a time in the Soviet Union. While working with the International Brigade during the Spanish Civil War he became friends with Ernest Hemingway. He was seriously injured and spent several months in hospital before leaving Spain.
Back in Germany, he gained a reputation as a vocal critic of the Third Reich which banned his books and led to him having to leave the country and move to Mexico.
After living in Ajijic at the end of the 1940s, Regler returned to Mexico City and then established his home on a farm in the small village of Tepoztlán in the state of Morelos. He was traveling in India to receive an award when he died in 1963. (Several other artists associated with Lake Chapala had homes in Tepoztlán in the 1970s and 1980s, including painter and guitarist Gustavo Sendis, sculptor and painter Adolfo Riestra and photographer Toni Beatty.)
Regler wrote several books, including one about the Spanish Civil War: Das große Beispiel ("The great example"), translated, with an introduction by Hemingway, as The Great Crusade (1940).
In Mexico, Regler composed Jungle Hut: a ballad, a 37-page booklet of poetry (in English), published in Mexico City by Ediciones "Fraile" in May 1946 in a limited edition of 2500 copies.
Various documents relating to Regler and Jungle Hut are held in the The New York Public Library Manuscripts and Archives Division in their collection "Mary Maverick Lloyd Papers Gustav Regler Letters, 1939-1959". They include a typescript manuscript entitled "Gandhi" and several pen and ink illustrations. Mary Maverick Lloyd helped Regler evade arrest by Nazi authorities and leave Germany for North America where he settled in Mexico.
In addition Regler authored Wolfgang Paalen (1946), a 69-page book about the German artist, his fellow German exile, also living in Mexico.
A land bewitched
Regler also wrote two books in German about Mexico: Vulkanisches Land (1947) and Verwunschenes Land Mexiko (1954). The latter was translated into English as A land bewitched; Mexico in the shadow of the centuries (1955). The English translation (which mistakenly states that the original title in German was "Verwunsches Land, Mexico") was by Constantine Fitzgibbon. This error by the editor or publisher is pretty much in keeping with the strange use of Spanish throughout the book, with some very non-conventional Spanish spelling, the most glaring example of which is Kazike for cacique. In the book's Spanish-English glossary, all Spanish words are capitalized and some words given in the singular form in Spanish are translated into plural forms in English and vice versa.
A Spanish edition of A land bewitched was released, as País volcánico, país hechizado, in Barcelona and Mexico City in 2003.
A land bewitched is an interesting read. Its five chapters look at Mexican attitudes (as evidenced by a mix of facts, Regler's personal experiences and second-hand anecdotes) about water; death; beliefs and religion; love; and crime and punishment. It offers some excellent insights into the Mexican psyche, even if the quality of writing and level of analysis are inconsistent.
The book, dedicated to Tania and John Midgley does have one tangential link to Lake Chapala. Tania Midgley (1916-2000) was a British photographer who sometimes used her maiden name Tania Stanham professionally. Several of the photographs in Regler's book are credited to her, as are two photos of Lake Chapala in the Folio Society edition of Sybille Bedford's classic A Visit to Don Otavio.
Regler also wrote his memoirs, published as The Owl of Minerva in 1959.
Regler and Hemingway
I have never found any evidence for the claim that Hemingway visited Chapala, a claim made, besides other places in International Living. Certainly, Lake Chapala never gets a mention in any of the many exhaustive biographies of the great writer. It appears that the only significant time Hemingway ventured into Mexico was a visit to Mexico City (from Cuba) in March 1942. This visit later came to the attention of the FBI because he apparently checked into the Reforma Hotel under an assumed name and then met up with Gustav Regler, a friend from his time in Spain during the Spanish Civil War.
Note re Chapala links to the Spanish Civil War
Several other authors and artists associated with Chapala were active in the Spanish Civil War. Members of the International Brigade, besides Regler, included Theodore Rose Cogswell, the second husband of George Marsh; Albert Helman (who wrote the first detailed account of Otto Butterlin's paintings); and Conlon Nancarrow (the husband of artist Annette Nancarrow, whose previous husband, Louis Stephens had a vacation home in Ajijic). Mexican writer Ramón Rubín, author of a novel about Lake Chapala, was not formally a member of the International Brigade, but accompanied a shipment of arms to Spain in 1938. Cinematographer William Colfax Miller was a member of the 3,000-strong Abraham Lincoln Brigade of American volunteers, and Peter Elstob (who lived in Ajijic in the early 1950s) was a volunteer fighter pilot for the Republicans.
Lake Chapala Artists & Authors is reader-supported. Purchases made via links on our site may, at no cost to you, earn us an affiliate commission.
Learn more.
Acknowledgment
My thanks to Katie Goodridge Ingram, author of a fascinating memoir of her childhood in Mexico City and Ajijic, According to Soledad, for sharing her knowledge and memories of Gustav Regler.
Comments, corrections or additional material related to any of the writers and artists featured in our series of mini-bios are welcome. Please use the comments feature at the bottom of individual posts, or email us.

Tony Burton's books include "Lake Chapala: A Postcard History" (2022), "Foreign Footprints in Ajijic" (2022), "If Walls Could Talk: Chapala's historic buildings and their former occupants" (2020), (available in translation as "Si Las Paredes Hablaran"), "Mexican Kaleidoscope" (2016), and "Lake Chapala Through the Ages" (2008).