Diego José Abad (1727-1779) was a Mexican poet and author, born in Jiquilpan, Michoacán (then on the shores of Lake Chapala). His birthplace appears to be the only direct connection that he has to Lake Chapala.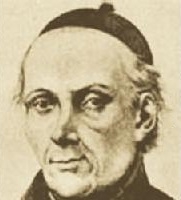 Abad, born on 1 June 1727, was the eldest son in a wealthy ranch-owning family. At twelve years of age, he entered the Colegio de San Idelfonso in Mexico City, where he took classes in grammar, poetry, rhetoric and philosophy, before joining the Jesuit order two years later in 1741. After ordination in 1751, Abad taught rhetoric, philosophy, canon law and civil law in Jesuit seminaries in Mexico City, Zacatecas and Querétaro. He was in poor health for much of his life and spent his free time translating Virgil into Spanish.
In 1767, when King Charles III of Spain ordered all Jesuits out of New Spain, Abad entered exile in Italy, where he died twelve years later. Abad wrote many works, some in Latin, others in Spanish, including: El más embrollado problema de las matemáticas resuelto; De deo deoque homine heroica (1769; the 2nd edition of which was published under the pseudonym of Jacobus Josephus Labbè); El cursus philosophicus (1775); Disertación cómico seria acerca de la cultura latina de los extranjeros (1778); Geografía hidrográfica general, a work about the world's major rivers.
Abad died in Bologna, Italy, on 30 September 1779.
Sombrero Books welcomes comments, corrections or additional material related to any of the writers and artists featured in our series of mini-bios. Please email us or use the comments feature at the bottom of individual posts.

Tony Burton's books include "Lake Chapala: A Postcard History" (2022), "Foreign Footprints in Ajijic" (2022), "If Walls Could Talk: Chapala's historic buildings and their former occupants" (2020), (available in translation as "Si Las Paredes Hablaran"), "Mexican Kaleidoscope" (2016), and "Lake Chapala Through the Ages" (2008).