The most elegant prose related to Lake Chapala ever written is almost certainly that by Sybille Bedford (1911-2006) in her first published work, The Sudden View, a book that New Yorker journalist Joan Acocella quite rightly thought should be read by everyone, whether or not they planned to visit Mexico.
Sybille (she disliked being called "Bedford") was a dedicated if not especially prolific author. By the time of her death, at the age of 94 in 2006, she had completed several semi-autobiographical novels and a handful of non-fiction works including a landmark biography of her early mentor and good friend Aldous Huxley.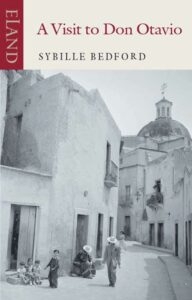 The Sudden View was first published in 1953 and later re-issued as A Visit to Don Otavio, the title by which it is now generally known. The book was based on a trip to Mexico in 1946-47. The book opens in New York as the author and her traveling companion, Esther Murphy Arthur ("E" in the book), start their train journey south. After exploring Mexico City and its environs, they then traveled to Guadalajara via Lake Pátzcuaro and Morelia. The remainder of the book is set almost entirely at Lake Chapala, with several relatively short and adventurous forays to other parts of the country.
Sybille was born on 16 March 1911 in Charlottenburg, near Berlin, Germany. Her German father and English mother named her Freiin Sybille Aleid Elsa von Schoenebeck. Sybille had a peripatetic childhood that precluded formal schooling, though she did pick up several languages. After her father died, she lived with her mother in Sanary-sur-mer in southern France. In the 1930s, Sanary was a magnet for a wave of intellectuals fleeing from other parts of Europe, particularly from Germany. These cerebral refugees, many of them fun-loving bohemians, included Bertolt Brecht, Thomas Mann, Lion Feuchtwanger, and – most importantly for Sybille – Aldous and Maria Huxley who became her mentors and inspiration. Occasional visitors also included D.H. Lawrence and his wife Frieda.
Sybille spent the war years in the United States where she met (and fell in love with) Esther Murphy Arthur, her traveling companion in Mexico.
A Visit to Don Otavio is best characterized as a "fictionalized travelogue." There is no doubting the essential authenticity of Sybille's descriptions of many of the places she and Esther visited in Mexico during their trip. Her accounts of Mexico City, Cuernavaca, Morelia, Mazatlán, Guanajuato, Querétaro, Acapulco, Taxco, Oaxaca and Puebla are convincing.
However, Sybille's descriptions of the various villages at Lake Chapala are as much fantasy as fact. For example, the name of the fictional village San Pedro Tlayacán (where Don Otavio's hacienda is located) may have been derived from the real-life villages of San Pedro Tesistán and San Antonio Tlayacapan.
When I first read A Visit to Don Otavio, more years ago than I care to remember, I thought that Sybille must have stayed at the Hacienda San Martín, located at the western end of the lake, near Jocotepec, but I now accept that her fictional hacienda was based on the Villa Montecarlo in Chapala.
On their first visit to Don Otavio's hacienda, Sybille and Esther had to abandon their borrowed car when the road beyond Chapala gave way to a "rutted trail" that passed "some stucco villas decaying behind tall enclosures. Sixty years ago, during the heydays of the dictatorship, Chapala had been a modish resort." The trail "consisted of two not always parallel ruts of varying depth and gauge, caked hard, strewn with boulders, cut by holes and traversed by ditches." [107-108] This is a very similar description to that given by Ross Parmenter when he drove from Chapala to Ajijic in March 1946.
Sybille Bedford moves her locations and characters around to suit her purposes. Several of the characters said to be living in Jocotepec in the book were people who actually lived in Ajijic. The novel's Richard Middleton and his much younger wife, Blanche, for example, were based on an English couple, Herbert Johnson and Georgette Johnson.
The lake itself is the ever-present backdrop to A Visit to Don Otavio. Sybille found the views across it and its changes of color enthralling. Early in her stay with Don Otavio, she remarks how "In the late afternoon it is smooth like gelatine and shot through with unexpected reverberated colours, ruby and amethyst, cornelian and reseda." [117] Some weeks later, it is dark by the time they return from Mazatlán but the lake is equally beautiful: "On the lake, the night was very clear, and filled with shooting stars. The mild water sparkled, phosphorescent, around our prow. Fish leaped, shone, and fell again. The shore lay softly, half-divined." [179]
By spring 1947, Sybille and Esther were readying themselves to return north. Looking back in her memoirs (Quicksands), Sybille reflected that leaving Mexico was something of a wrench: "Foreigners are apt to get stuck – oh those Anglo-American enclaves: it's the climate, the cheapness of living, the throngs of servants (rumour had got through about people now doing their own washing-up in England)." [Quicksands, 12-13]
By the summer of 1947, Sybille was back in Europe where she began writing her Mexico book in July 1949 while living in Rome. When A Visit to Don Otavio was published in 1953 it was a revelation and established Sybille as a serious writer with an individual style and viewpoint. In many ways it is a stunningly insightful work, penetrating the psyche of Mexicans of diverse backgrounds in a manner that is essentially timeless.
A Visit to Don Otavio marked the beginning of an impressive career, in which periods of self-doubt and introspection were punctuated by lengthy stints of powerful writing. A Visit to Don Otavio was followed in 1956 by Sybille's best-known novel, A Legacy, and a series of other books before she reached her peak with her brilliant work, Jigsaw, which was nominated for the Booker Prize in 1989.
Acknowledgment
My sincere thanks to Fernando Partida-Rocha for helping explain the links between Sybille Bedford and the Villa Montecarlo via an exchange of emails.
Sources
Joan Acocella. 2005. "Piecework: The writings of Sybille Bedford." New Yorker, 18 April 2005.
Sybille Bedford. 1953. The Sudden View (London: Victor Gollancz); reissued as A Visit to Don Otavio (William Collins, 1960). Page numbers for quotations are from the Folio Society edition, 1990.
Selina Hastings. Undated. "Sybille Bedford remembered." The Royal Society of Literature website.  [30 December 2018]
Fernando Partida-Rocha. 2017. "Sybille Bedford, genial autora de "A visit to Don Otavio"". El Informador, 19 June 2017.
Comments, corrections or additional material related to any of the writers and artists featured in our series of mini-bios are welcomed. Please email us or use the comments feature at the bottom of individual posts.

Tony Burton's books include "Lake Chapala: A Postcard History" (2022), "Foreign Footprints in Ajijic" (2022), "If Walls Could Talk: Chapala's historic buildings and their former occupants" (2020), (available in translation as "Si Las Paredes Hablaran"), "Mexican Kaleidoscope" (2016), and "Lake Chapala Through the Ages" (2008).