The renowned Hollywood portraitist Richard Kitchen lived in San Antonio Tlayacapan in the 1970s.
Born in England, the details of Kitchen's early upbringing and education are currently unknown. But by the 1940s he was already well known as a portrait painter in California. For example, the Los Angeles Times reported in December 1943 that Mrs J Howard Hales had held a cocktail party for friends in her Beverly Hills apartment to show off Kitchen's portrait of her.
Two years later, in October 1945, the paper remarked on the unveiling of Kitchen's portrait of Peggy Wood: the portrait "was charming, and was admired by Ronald Colman and wife, Admiral Ike Johnson and wife, Charley Brackett and Lester Donahue, among others."
Later that same month, the paper's society columnist described how another Kitchen portrait had been less well received: "Mrs Smart was showing everyone her son Gillie's new portrait, just completed by artist Richard Kitchen. After a number of "ohs" and "ahs" Nelson Eddy discovered that young Gillie was clutching an American Flag with only 11 stripes in it! Mr. Kitchen is being paged to DO something about this!"
Kitchen painted portraits of dozens of well-known theater personages, including Ilka Chase, Ronald Colman and Richard Barthelmess.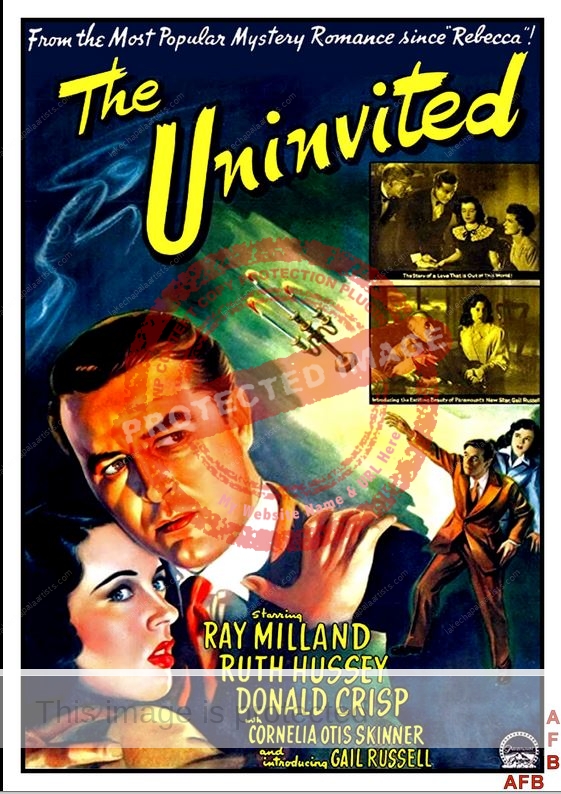 Movie makers in the 1940s also sought Kitchen's expertise. For example, the makers of "The Uninvited," released in 1944, commissioned Kitchen to paint "two huge paintings of Mary Meredith." According to a blog post by film buff Remy Dean, "the two huge paintings of Mary Meredith deserve a mention. One takes up a wall of Stella's bedroom at her grandfather's house. The other is equally huge and dominates Miss Holloway's office at The Mary Meredith Retreat—a kind of polite asylum for overwrought women. It's all we see of this supposedly perfect woman, painted in the style of Thomas Gainsborough by the hugely talented Richard Kitchen. Although uncredited, the sitter for those portraits was Elizabeth Russell, who had bit parts in many of Val Lewton's RKO horror films."
A portrait by Kitchen also featured prominently in another film, the 20th Century Fox crime drama "The Dark Corner" (1946), starring Lucille Ball, Clifton Webb, William Bendix and Mark Stevens. Clifton Webb played a suave art connoisseur named Hardy Cathcart, and Kitchen was commissioned to paint "an 'old master' type oil portrait" of Hardy's wife, Mari, played by Cathy Downs.
A contemporary account explained why this was one of the most challenging assignments the artist had ever had: "The 17th century-type portrait had to be true to the period, yet be a perfect likeness of dimpled brunette Cathy. The picture explains the possessive love of art connoisseur Webb who falls in love with his young bride because she is the living reincarnation of the portrait."
In 1947, Kitchen explained in The Honolulu Advertiser how he thought the second world war had changed "the American face." Whereas the old face, "like the British face… was showing the droopy-mustached, mild-eyed tremble-chinned symptoms of weakness", the post-war face had "deeper-set eyes, stronger constructions of the jaw, larger noses and heavier muscles." Kitchen backed up his assertion that "One war can change the faces of people more than 100 years of evolution," by referring to movie star Tyrone Power: "Even though he was 32 when he put on a marine uniform, the war molded his face into a stronger cast, even to the bone structure. And as a result he is handsomer than ever."
Precisely why, when and how Kitchen came to live with Peter Lilley (one half of writing duo Dane Chandos) in San Antonio Tlayacapan remains unclear but he was certainly resident in the village by 1971. In October 1971 he held a "Magnificent exhibition of paintings," in two rooms of the Palacio Federal. The show, which attracted a great number of visitors, included about 100 oil paintings, mainly portraits of persons well-known in Guadalajara society, and a reviewer praised Kitchen's technique and choice of subjects.
Kitchen held a solo show in Guadalajara's Centro de Arte Moderno (Av. Mariano Otero 375) in May 1976 of works described as "magic realism." If anyone has knowledge of, or a catalog from, this exhibit, please get in touch!
A few months later, a selection of Kitchen's portraits, in oil, pastel and charcoal, was included in a group show titled "Panorama del Arte en Jalisco", held in three rooms of the DIF building in the small village of Teuchitlán, the closest village to the Guachimontones archaeological site. Other artists also exhibiting on that occasion, and with close links to Lake Chapala, included Sabina Foust, Gustel Foust and Ellis Credle Townsend.
Portraits by Kitchen rarely come up at auction, presumably because they are still treasured by the subjects or their families. One exception, described only as "Portrait of Lady" and dating from the 1940s, was auctioned by Fine Estate in San Rafael, California, in 2018.
Kitchen completed portraits of many residents of San Antonio Tlayacapan, and local artist and cultural promoter María Victoria Corona Vega, kindly asked local villagers, on my behalf, what they could recall about Richard Kitchen. Their most dramatic collective memory concerned how the strong feelings between two of Peter Lilley's employees had led to a terrible tragedy, in which the two workers, who "could no longer bear working together for Don Pedro" killed each other in a personal confrontation. At Lilley's request, Richard Kitchen subsequently painted a mural of the two men together on the living room wall.
Please get in touch if you have a portrait by Richard Kitchen, or can supply more details about his life.
Note
My gratitude to Binky Chater for sharing with me her memories and the photograph of Richard Kitchen, and to María Victoria Corona Vega for her research assistance.
Lake Chapala Artists & Authors is reader-supported. Purchases made via links on our site may, at no cost to you, earn us an affiliate commission.
Learn more.
Sources
Remy Dean. 2018. "Film Review THE UNINVITED (1944)." Blog post dated 15th October 2018.
El Informador: 24 Oct 1971, 4-A; 25 Oct 1971, 11.
Guadalajara Reporter: 15 May 1976, 11; 23 Sep 1978, 6.
Los Angeles Times: 1 Dec 1943, 23; 2 Oct 1945, 11; 23 Oct 1945, 17.
The Honolulu Advertiser: 2 Feb 1947, 44.
Shamokin News-Dispatch (Shamokin, Pennsylvania): 26 Jun 1946, 9.
Comments, corrections and additional material are welcome, whether via the comments feature or email.

Tony Burton's books include "Lake Chapala: A Postcard History" (2022), "Foreign Footprints in Ajijic" (2022), "If Walls Could Talk: Chapala's historic buildings and their former occupants" (2020), (available in translation as "Si Las Paredes Hablaran"), "Mexican Kaleidoscope" (2016), and "Lake Chapala Through the Ages" (2008).