Taylor Caldwell (1900-1985), a prolific author of best-selling novels, spent two weeks at the Touch of Eden health spa in the Hotel Real de Chapala in 1978. At the time of her visit, Janet Miriam Holland Taylor Caldwell (her birth name) was married to Robert Prestie and going by her married name.
Lake Chapala Artists & Authors is reader-supported. Purchases made via links on our site may, at no cost to you, earn us an affiliate commission.
Learn more.
[A brief history of the Touch of Eden health spa is included in chapter 42 of Foreign Footprints in Ajijic: Decades of change in a Mexican village (2022)]
Caldwell was born in Manchester, UK, on 7 September 1900. Her family moved to the US when she was a child, and she died in the US on 30 August 1985.
Many of Caldwell's fiction works were historical and incorporated the idea that the world was secretly run by a cabal of wealthy men. Numerous of her books were translated, and several were adapted for TV series.
She was a prolific writer from childhood, despite a number of family problems and long-term health issues. After a brief period of service in the US Navy Reserve, Caldwell married William Combs in 1919. She graduated from the University of Buffalo in 1931 and divorced him the same year to marry Marcus Reback. That marriage lasted 40 years to his death in 1971. Shortly before she lost her husband, Caldwell had become fascinated by the idea of reincarnation. Under hypnosis she recalled eleven past lives, including one on the lost continent of Lemuria.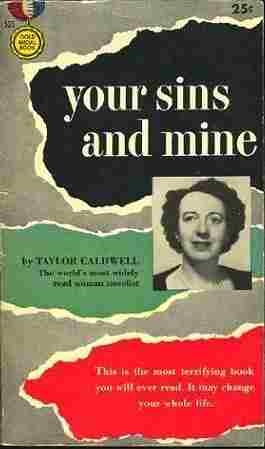 After the death of her second husband, Caldwell had a brief marriage with William Stancell before marrying Canadian William Robert Prestie in 1978.
Caldwell's writing talents were 'discovered' by Max Perkins, the iconic Scribner's editor responsible for publishing the travel books of Petticoat Vagabond Neill James, who had settled in Ajijic in the 1940s. It is unclear if the two women ever met.
Caldwell's first major literary success was Dynasty of Death, written in collaboration with her husband and published in 1938. Early in her career, most readers assumed that Taylor Caldwell was a man. By the time she died, she had published more than 40 other novels, many of which made the New York Times Fiction Best Seller list. According to Time, her husband burned the manuscripts of a further 140 unpublished novels.
Her best-known works include Dynasty of Death (1938) and its sequels The Eagles Gather (1940) and The Final Hour (1944); The Balance Wheel (1951), The Wide House (1945), Let Love Come Last (1949), A Prologue to Love (1962), Captains and the Kings (1972), and Bright Flows the River (1978).
Her 1952 novel The Devil's Advocate was set in a dystopia where North America had become a Communist dictatorship. In a prophetic article about a fictitious country named "Honoria" she ended by writing: "It is a stern fact of history that no nation that rushed to the abyss ever turned back. Not ever, in the long history of the world. We are now on the edge of the abyss. Can we, for the first time in history, turn back? It is up to you."
Less than a year after visiting Ajijic, Caldwell (who had lost her hearing following an accident in the mid-1960s) signed a two-novel deal with G.P. Putnam and Sons worth almost 4 million dollars. Unfortunately, she then suffered a stroke which left her also unable to speak, though she could still write.
Caldwell won several major writing awards, including a gold medal from The National League of American Pen Women.
Sources
Time. "Books: What the People Want." Time, 19 May 1947.
New York Times. 1985. "Taylor Caldwell, prolific author, dies." New York Times, 2 September 1985.
Guadalajara Reporter, 29 July 1978, 19.
Nellie Blagden. 1980. "Silenced by a Stroke, Author Taylor Caldwell Becomes the Focus of a Bitter Family Feud." People Magazine, 21 July 1980.
Peter B. Gemma. 2019. "Of Love, Hate, and Book Reviewers: A Tale of Taylor Caldwell." Medium.com, 25 March 2019.
Comments, corrections or additional material related to any of the writers and artists featured in our series of mini-bios are welcomed. Please use the comments feature at the bottom of individual posts, or email us.

Tony Burton's books include "Lake Chapala: A Postcard History" (2022), "Foreign Footprints in Ajijic" (2022), "If Walls Could Talk: Chapala's historic buildings and their former occupants" (2020), (available in translation as "Si Las Paredes Hablaran"), "Mexican Kaleidoscope" (2016), and "Lake Chapala Through the Ages" (2008).