The second strand of the pen name Dane Chandos, and indeed the originator of the name, was Peter Lilley. How, when and where Lilley first met Nigel Millett is currently unknown but they became literary collaborators and good friends during their time in Ajijic.
Peter Lilley, whose birth name was James Gilbert Lilley, was the only child of James Cecil Lilley (1878-1948) and Madeline Clare Angus Thomas (1890–1979). He was born in Clacton-on-Sea, Essex, on 25 July 1913.
Lilley's father was a director of Lilley and Skinner, a famous London shoe brand (manufacturing, wholesale and retail), founded by his great grandfather.
Peter Lilley attended Stowe School (in Buckinghamshire) from 1927 to 1932 and was captain of the school tennis team in 1931. He remained an avid tennis player throughout his life and built a grass court at his home in San Antonio Tlayacapan (mid-way between Ajijic and Chapala).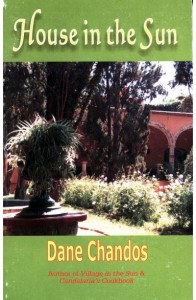 Lilley is not known to have published anything under his own name, or any nom de plume, prior to the books about Ajijic.
The name Dane Chandos was conjured up by Lilley himself, since it combined his nickname at Stowe – "Dane", on account of his blond hair and square, Danish-looking jaw – with Chandos, the name of one of the school's boarding houses. Interestingly, though, Lilley had actually spent his own school years in a different house, Grafton.
If shipping and immigration records accurately reflect his travels to North America, Peter Lilley first visited the U.S. in 1938, at the age of 24, traveling with an older cousin, Thomas. The following year, he revisited the U.S. en route to Toronto, Canada. In 1940, he again traveled to New York, arriving on 7 July 1940. It remains unclear precisely when Lilley first visited Lake Chapala.
The first Dane Chandos book, Village in the Sun, was written by Peter Lilley and Nigel Millett and published in the U.S. in the fall of 1945. Because Nigel Millett died the following year, it is often argued that the second Dane Chandos book – House in the Sun, first published in the U.S. in 1949 – must have been the result of a different collaboration, with Millett replaced by Anthony Stansfeld as Lilley's writing partner. For a number of reasons, including similarities of style and subject matter, I do not consider this at all likely but believe that House in the Sun, like Village in the Sun, was co-written by Lilley and Millett.
This opinion is supported by the fact that Stansfeld himself, in a letter many years ago to the house's current owner, laid no claim to authorship of either book, writing only that he and Lilley had collaborated from 1950 onwards.
Village in the Sun tells the story of building a house (located in real life in San Antonio Tlayacapan). The house was Peter Lilley's home in Mexico. The book is an interesting, keenly observed and reflective account of life in Ajijic in the 1940s, full of curious tidbits alongside anecdotes about local superstitions and habits. When it was finally published in the U.K. in 1948, English author and linguist Rodney Gallop, who had visited Ajijic in the 1930s, praised its use of colorful characters to paint a picture of Ajijic that was sympathetic and "penetrated to the very heart of Mexico." Among the central characters is Candelaria, the cook, who "seemed to delight in piling up obstacles and then making an enormous fuss surmounting them and then with a pleased tired smile viewing her achievement."
In House in the Sun the author has added extra rooms for guests and taken on the role of amateur hotelier, "held hostage by maddening servants and equally unpredictable and maddening guests."
The two books share many of the same characters, including Candelaria and the other household help. Some of the characters are based on real residents or visitors while others stem from the authors' imaginations. A line near the start of House in the Sun – "An Englishman had built a long, low house fronted by a superb garden, which blazed with color the year round" – is a public nod to Herbert Johnson and his wife, Georgette, and their wonderful lakefront garden in Ajijic.
The final Dane Chandos book
Peter Lilley continued to live in his beautiful "house in the sun" in San Antonio Tlayacapan until well into the 1970s. He spent his final weeks in his native England where he died at the London Clinic in Westminster on 17 April 1980. Leslie Chater and his wife, Moreen, long-time friends of Lilley, subsequently became the new owners of the house in San Antonio Tlayacapan.
A chance find there in a desk drawer by Moreen Chater caused her to revive the Dane Chandos brand in 1997, long after all three original Dane Chandos authors had died. Chater stumbled across a "scruffy folder" containing a manuscript of recipes "faintly typed and badly eaten by mice." Providentially, these proved to be Candelaria's original recipes, with notes and anecdotes added by Lilley. Chater used them to compile Candelaria's Cookbook, an unusual bilingual book of more than forty recipes (and related stories) sold as a fund-raiser to support projects benefiting children in San Antonio Tlayacapan.
References
Dane Chandos. 1945. Village in the Sun. New York: G. P. Putnam's Sons.
Dane Chandos. 1949. House in the Sun. New York: G. P. Putnam's Sons.
Rodney Gallop. 1948. "Rural Mexico: Village in the Sun. By Dane Chandos." (Review), The Spectator, 17 June 1948, 22.
Catherine A. MacKenzie. 2011. "Three Authors in the Sun", Lake Chapala Review, vol 13 #1, 15 January 2011.
Sophie Annan Jensen. 1999. "Candelaria's Cookbook" (review) on MexConnect.com –
[25 May 2018]
Comments, corrections or additional material related to any of the writers and artists featured in our series of mini-bios are welcomed. Please use the comments feature at the bottom of individual posts, or email us.

Tony Burton's books include "Lake Chapala: A Postcard History" (2022), "Foreign Footprints in Ajijic" (2022), "If Walls Could Talk: Chapala's historic buildings and their former occupants" (2020), (available in translation as "Si Las Paredes Hablaran"), "Mexican Kaleidoscope" (2016), and "Lake Chapala Through the Ages" (2008).