In about 1937, English author Rodney Alexander Gallop (1901-1948) visited Ajijic, where he met Nigel Stansbury Millett  and another (unnamed) young Englishman. Gallop recalled this chance encounter in 1948, shortly before his death when he reviewed the book Village in the Sun for The Spectator.
Gallop recognized that the book's supposed author – Dane Chandos – was actually a pen name, but ascribed it to Millett alone. It is now accepted that the Dane Chandos name was a joint partnership between Millett and Peter Lilley, who may have been the other young Englishman Gallop met in Ajijic, though no proof has yet emerged placing Lilley there prior to the early 1940s.
Gallop was born in Folkestone, England, in 1901, and died on 25 September 1947. He was an accomplished ethnomusicologist and linguist, fluent in several languages, including Spanish and German. In 1922-23, while studying at King's College, Cambridge, he attended classes given in Spain by German basque expert Hermann Urtel, the beginning of a lifelong interest in Basque culture. After university, Gallop entered the U.K. diplomatic service, which led to successive postings in Belgrade, Athens, Lisbon, Mexico and Copenhagen.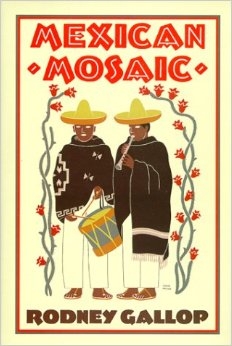 Wherever he served, he sought local traditional folklore in dances, poetry, song, and art. He made important collections of items relating to local culture in Greece, Portugal and Mexico. These collection were later donated by his widow, Marjorie Gallop, to the Horniman Museum and Gardens, in south London. The first part of the collection, items from Yugoslavia, Albania, Greece, Portugal and Mexico was donated in 1960, followed by several Mexican dancing masks in 1967, and a pair of earrings from Pahuatlán, Puebla, Mexico, in 1977.
Gallop wrote extensively about his findings and experiences. As a result of his diplomatic assignment to Portugal, Gallop wrote the well-received A Book of the Basques (1930), Six Basque Folksongs, with adaptation in English verses (1931) and Portugal, a Book of Folk Ways (1936). Gallop was also a frequent contributor to the journal Folklore. He helped revive an interest in international dancing in the U.K., organizing, with the help of Violet Alford, the International Folk Dance Festival in 1935. This led, indirectly, to the founding of The International Council for Traditional Music in 1947.
Gallop illustrated his major work about Mexico, Mexican Mosaic: Folklore and Tradition (London: Faber and Faber, 1939), with his own photographs, together with drawings by Marjorie, his wife. The following short extracts relate to Ajijic and Chapala:
An hour's drive to the south-east brings one to Lake Chapala, a great stretch of opaque water, glinting with opalescent light, sixty miles long and from eight to twelve wide. Here D. H. Lawrence chose to set some of the scenes of The Plumed Serpent. Cloud-topped mountains slope down to its western and southern shores, some of them in Jalisco, others in Michoacan, where one hears stories, never properly investigated, of Indian tribes with fair skins and grey eyes.

In Ajijic, at least, we found no lighter colouring, but golden skins and the features which one would expert in Indians who, though they have lost their language, belong to the great Nahua family. They fish with seines in long dug-out canoes, cultivate the slopes rising steeply from the shore and carry merchandise across the lake in heavy square-sailed craft well able to ride the seas whipped up by Chapala's sudden storms. From Spain by way of Guadalajara, they have borrowed the custom of el coloquio en la reja, the lover's tryst at the barred window. The young man who wishes to honour both the custom and the lady of his choice is required to present himself at the Presidencia Municipal an hour before his tryst and at the cost of a peso to take out a license showing that he is sober. This does not mean that the Mayor thinks he must be drunk to wish to serenade any girl in Ajijic. On the contrary, it is a practical measure aimed at preventing brawls, and the high charge not only brings money into the municipal coffers but increases the value of the compliment to the lady."
Gallop returned to Europe as the second world war was starting and devoted himself to making broadcasts in Danish for the BBC, aimed at boosting the morale of Danish resistance against the occupying forces. For this work, he was later made a Companion of the Order of St. Michael and St. George.
[A minor rewrite of the introduction of this profile was made in July 2018]
Sources:
Philippe Veyrin: "Rodney A. Gallop (1901-1948)", in Eusko Jakintza, 3 (1949), 79-88.
Rodney Gallop: "Rural Mexico: Village in the Sun. By Dane Chandos", review in The Spectator, 17 June 1948, 22.
Sombrero Books welcomes comments, corrections or additional material related to any of the writers and artists featured in our series of mini-bios. Please email us or use the comments feature at the bottom of individual posts.

Tony Burton's books include "Lake Chapala: A Postcard History" (2022), "Foreign Footprints in Ajijic" (2022), "If Walls Could Talk: Chapala's historic buildings and their former occupants" (2020), (available in translation as "Si Las Paredes Hablaran"), "Mexican Kaleidoscope" (2016), and "Lake Chapala Through the Ages" (2008).