German-American psychoanalyst Karen Horney (1885-1952) worked on a book during her stay of several weeks in Ajijic in 1945. Horney lived in New York and the local Guadalajara newspaper El Informador (27 August 1945) reported that she was visiting Ajijic in order to complete the manuscript of her next book.
Surrealist painter Sylvia Fein, who was living in Ajijic at that time, recalls meeting Horney and a male colleague who was collaborating with the book. Horney was staying at the modest guesthouse of the Heuer siblings on the lakeshore. It seems likely that the male colleague is the fictional "Dr. Borman" described in Barbara Compton's thinly disguised autobiographical novel To The Isthmus. The novel's protagonist, Peg, stays several weeks at Casa Heuer, having heard about it from one of her husband's colleagues (Dr. Borman) who "was down here not long ago, with a woman friend. She was an analyst too. They were writing a book together, and in the evenings used to try out their latest chapter on me. They seemed to think I was normal, or normal enough to try it out on." [ To The Isthmus, p 153]
Horney was born in Blankenese, Germany, on 16 September 1885. Her full maiden name was Karen Clementina Theodora Danielson. She entered medical school in 1906. On 30 October 1909, in the middle of her medical studies at the universities of Freiburg, Göttingen, and Berlin, Karen Danielson married Heinrich Wilhelm Oskar Horney (1882-?), a law student, in Dahlem, Germany. The couple had three daughters: Brigitte (1911-1988), Marianne (born in 1913) and Renate (1916-2009).
[Brigitte Horney (1911-1988) became a German theater and film actress who eventually moved to the U.S. after the second world war. Her first husband (from 1940 to 1953) was movie producer Konstantin Irmen-Tschet (1902-1977); her second husband (from 1953 to 1985) was Hanns Swarzenski (1903-1985).]
[Marianne Horney (born in 1913) studied medicine and became a psychoanalyst like her mother.]
[Renate Horney (1916-2009) lived with her husband, cinematographer Alfredo Bolongaro-Crevenna, and their three children in Cuernavaca, Mexico, from 1939 onwards. Karen Horney was a regular visitor. While staying with her family in Cuernavaca, in 1944, Horney wrote Our Inner Conflicts (1945). In her later years, Karen Horney would visit Renate and family in Cuernavaca for up to several months at a time.]
In 1926, Karen Horney left her husband, Oskar, and moved to the U.S. The couple finalized their divorce in 1937.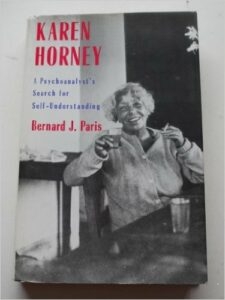 In the U.S., Horney practiced as a psychiatrist and developed theories of sexuality that were at odds with the then traditional Freudian views. Horney, usually classified as a Neo-Freudian, is credited with having founded the field of feminist psychology. She had also founded the Association for the Advancement of Psychoanalysis (AAP) and became Dean of the American Institute of Psychoanalysis. She later left these positions in order to teach at the New York Medical College.
Horney had published several books prior to visiting Lake Chapala, including The Neurotic Personality of our Time (Norton, 1937); New Ways in Psychoanalysis (Norton, 1939,) Self-analysis (Norton, 1942) and Our Inner Conflicts (Norton, 1945).
The book Horney was working on in Ajijic was presumably Are You Considering Psychoanalysis?, which she edited for Norton and which was published in 1946.
Several biographies of Karen Horney have been written. They include:
Hitchcock, S. T.  Karen Horney: Pioneer of Feminine Psychology (Chelsea House Publishers, 2004).
Quinn, S. A mind of her own: The life of Karen Horney, New York: Summit Books, 1987).
Paris, Bernard J. Karen Horney: A Psychoanalyst's Search for Self-Understanding (Yale University Press, 1996). The cover illustration shows Karen Horney in Ajijic in 1947.
Rubins, J. L. Karen Horney: Gentle rebel of psychoanalysis, New York: The Dial Press, 1978).
Her life and work are also featured in American Women Scientists: 23 Inspiring Biographies, 1900-2000, by Moira Davison Reynolds (McFarland, 1999).
Dr. Karen Horney, one of the twentieth century's more remarkable women, died in New York on 4 December 1952.
Sombrero Books welcomes comments, corrections or additional material related to any of the writers and artists featured in our series of mini-bios. Please email us or use the comments feature at the bottom of individual posts.

Tony Burton's books include "Lake Chapala: A Postcard History" (2022), "Foreign Footprints in Ajijic" (2022), "If Walls Could Talk: Chapala's historic buildings and their former occupants" (2020), (available in translation as "Si Las Paredes Hablaran"), "Mexican Kaleidoscope" (2016), and "Lake Chapala Through the Ages" (2008).