What was Ajijic like in 1967? Fortunately for us, that was the year when long-time journalist Ellis E. 'Bill' Reed reported from Ajijic on the status of the village's sister city relationship with his home base of Studio City, California.
Reed, then the Executive Editor of the Valley Times in San Fernando, first highlighted the size difference between the two communities, explaining that Studio City had six times as many inhabitants as Ajijic, which he described as "a picturesque fishing village on beautiful Lake Chapala… now a community of 5,000." He then explained to his readers how two Dane Chandos books—Village in the Sun and House in the Sun, both published in the 1940s—had introduced Ajijic to the English-speaking world: "Ajijic first gained fame as a Bohemian Center, but this has generally been replaced by a colony of serious writers and artists."
Had this influx of foreigners had any impact on Ajijic? Reed noted that "Far from taking over the Americans have blended into the landscape and the only way you can tell their homes form those of the natives is by the screens on the windows. They have, however, brought in telephones and electricity."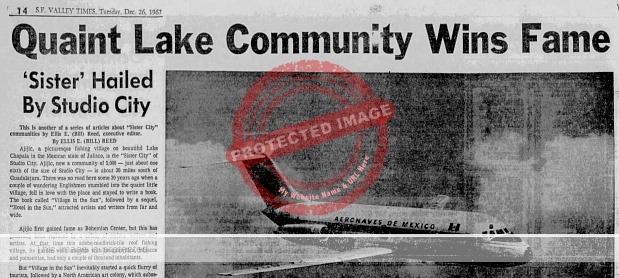 He also commented that "The bar at the Posada Ajijic is now in the earnest hands of former Hollywood producer Sherman Harris" and that "Climbing a hill at Chula Vista… is a Palm Springs-like subdivision of more than 100 lots, about 75 of them with occupied houses bearing names like 'Dream's End.'"
Photos accompanying Reed's article illustrated a concert in a lakeshore park; fruit vendors, and two women cooking over an open fire on the beach.
The sister city program was one strand of the People-to-People initiative started by former US president Dwight D. Eisenhower in 1956. The executive board of People to People held a lunch meeting at the Villa Montecarlo in Chapala in 1964, a meeting attended by Eisenhower's son (John D. Eisenhower), Mexican President Adolfo López Mateos, former president Miguel Alemán, the Jalisco state governor Juan Gil Preciado, who listened to a keynote address by Walt Disney (who claimed "Jalisco" was his favorite song).
In writing about the sister city connection between Ajijic and Studio City, Reed recalled how a contingent of Studio City residents and merchants had traveled to Ajijic in 1964 and decided that their efforts should be concentrated in youth programs, where the need was greatest. Funds were raised in Studio City funds to help remodel the boys school in Ajijic and provide uniforms for a youth soccer team. The following year a ten-person delegation from Ajijic visited Studio City. The Studio City Chamber of Commerce sponsored a letter writing exchange between students of the twinned communities and helped initiate a daily school breakfast program for 200 children in Ajijic. See also:
Long after Reed's visit, this sister city connection was still going strong. For example, in 1977, Studio City residents organized a donation of medical supplies, including adjustable hospital beds, examination tables and assorted operating room equipment for Ajijic's first public health clinic. They also raised funds to speed up construction of the village's first purpose-built secondary school, which opened in 1983.
And who was Bill Reed?
Bill Reed had edited several other publications before joining the Valley Times, including the Daily Star-Progress in Brea-La Habra and the Daily Independent in Corona. Prior to living in California, Reed had worked as an editor and public relations executive in New York, where he had also taught marketing classes at New York University.
In an unusual claim to fame, Reed directed the first postwar tour of the landing beaches and battlefields of France in 1946, following which the entire group was invited by the Duke and Duchess of Windsor (Wallis Simpson) to visit their chateau on the French Riviera. Reed had also been secretary of the International Management Congress in Brussels and a consultant to the United Nations Economic and Social Council.
Though I have yet to locate any details, Reed also apparently wrote several plays, texts on marketing and a regular syndicated column, "Broadway to Main Street."
Sources
Citizen-News, 24 April 1967, A-9.
Ellis E. (Bill) Reed. 1967. "Quaint Lake Community Wins Fame." San Fernando Valley Times (North Hollywood, California), 26 Dec 1967, 14.
Lake Chapala Artists & Authors is reader-supported. Purchases made via links on our site may, at no cost to you, earn us an affiliate commission.
Learn more.
Foreign Footprints in Ajijic: Decades of Change in a Mexican Village offers a detailed account of the history of Ajijic, focusing primarily on the great changes that occurred between 1940 and 1980.
Comments, corrections or additional material related to any of the writers and artists featured in our series of mini-bios are welcomed. Please use the comments feature at the bottom of individual posts, or email us.

Tony Burton's books include "Lake Chapala: A Postcard History" (2022), "Foreign Footprints in Ajijic" (2022), "If Walls Could Talk: Chapala's historic buildings and their former occupants" (2020), (available in translation as "Si Las Paredes Hablaran"), "Mexican Kaleidoscope" (2016), and "Lake Chapala Through the Ages" (2008).