Bruce Douglas was the pen-name of Theodore Wayland Douglas, who was born in Indianapolis 29 May 1897 and died in Mexico in about 1961.
Bruce Douglas is reported to have been a recent visitor to Ajijic in Neill James' article about life in Ajijic published in 1945, so we can safely assume he visited in 1944 or very early in 1945. It is unknown if Douglas returned later to the Lake Chapala region, though he  resided full-time in Mexico City from at least as early as 1943 until his death.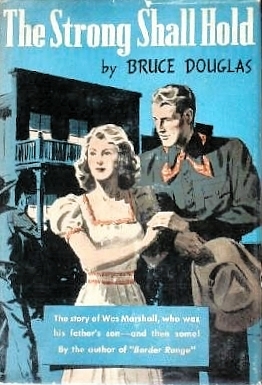 Douglas served in the U.S. Navy during the first world war. Shortly after the war, he was awarded his bachelor's degree from Miami University, Oxford, Ohio, in 1918. In 1922, he received his Masters degree in English from the University of Illinois. He worked as a reporter on the Indianapolis Star 1919-20.
Douglas began his writing career after many years teaching in universities. From 1920 to 1932, he undertook postgraduate work while also teaching English at a series of universities, including Indiana University, the University of Illinois, the University of Chicago, and the University of Oregon. He also taught at the University of Texas and the State College of Washington.
Douglas married twice. His first marriage was in 1922 to Lucretia Lowe in Champaign, Illinois. His second marriage, in about 1929, was to a Mexican girl, Lee Patricia Bohan, born in 1906. The couple had one son. It appears likely that Bohan was a student, or university colleague of Douglas. She gained a B.A. in French from the Southern Methodist University in Texas in 1927, and then presented her Master's Thesis the following year at the University of Chicago. (Her thesis was entitled: "Fielding's Portrayal of the Country Squire (Henry Fielding)". Bohan died in California in 1984.
Douglas was a prolific writer of short stories during the 1930s and 1940s. His first success in getting stories published was in May 1930 when Ace-High Magazine accepted "The Ghost of Oro Gulch". That same year, he also saw at least three other short stories in print: "Code of the Range" in Western Rangers, "The Cowpoke from Coyote" in Western Trails and "For Love of a Bandit" in Ranch Romances.
After 1932, Douglas dedicated himself full-time to his fiction writing. Between 1930 and 1954, he had more than sixty short stories and several short novels published in the U.S., Canada and U.K.
His books include Border Range (1942) and The Strong Shall Hold (1943), in which "Wes Marshall fights for his father's spread" (both western novels) as well as a thriller Tropical maze, published in the U.K. in 1948.
In 1934, one of his stories, "Holdup at Dry Wells" appeared in the same issue of Cowboy stories (vol. 26, no. 3) as "Off the westbound freight", by John Mersereau, another author associated with Ajijic.
Main Source:
Ronald Hilton (ed) Who's Who In Latin America: Part I Mexico (1946)

Tony Burton's books include "Lake Chapala: A Postcard History" (2022), "Foreign Footprints in Ajijic" (2022), "If Walls Could Talk: Chapala's historic buildings and their former occupants" (2020), (available in translation as "Si Las Paredes Hablaran"), "Mexican Kaleidoscope" (2016), and "Lake Chapala Through the Ages" (2008).