Alice Jean Small (1918-2009) lived for at least four years at Lake Chapala, from 1962 to 1966. During her lifetime, she is reputed to have sold more than 6000 works, making her a likely candidate for the title of "most prolific painter ever to have lived at Lake Chapala".
Small was born in Sandpoint, Idaho, on 11 December  1918. Her passing, on 8 November 2009 in Monterey, California, was commemorated by an art exhibition and celebration of her life.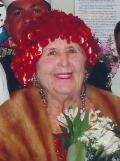 Small began painting from an early age and attended the Derby School of Art before completing a Master of Fine Arts degree at the University of Washington. She also studied at Cranbrook Academy of Arts (Michigan), Chicago School of Design, University of California at Berkeley, the University of Havana and the University of Tokyo.
She studied under many great artists including French cubist painter Amédée Ozenfant, Mexican muralist Emilio Amero, painter and sculptor Fernand Léger, and Ukrainian avant-garde artist Alexander Archipenko, as well as Kiyoshi Saitō of Japan and Hungarian aritst László Moholy-Nagy.
In the 1950s, Small spent two years serving with the U.S. Army as Regional Arts and Crafts Director in the Far Eastern Theater. She was a renowned art teacher, and taught painting and design in several U.S. public schools, the University of Washington, West Virginia University and the University of Tampa.
It is unclear precisely what drew Small to relocate in 1962 to Lake Chapala, where she took a house mid-way between Ajijic and Jocotepec: Casa Alicia, Piedra Barrenada. Her stay in Mexico was marred by a personal tragedy. Her young son Edward died at the age of six in 1966 in a hospital in Guadalajara following a brief illness. (Another son, Laird, outlived her).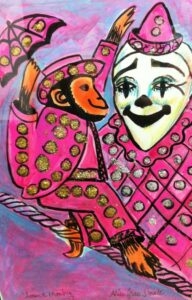 Known not only for paintings, but also for prints and illustrations, Small exhibited her work in numerous galleries around the world from New York (the Riverside Gallery) to Japan and Mexico (Monterrey, Saltillo, Hermosillo). She held more than 500 one-woman shows and won first prize awards for oils (Florida Art Fair); watercolors and lithographs (Wisonsin Art Fair). An inveterate traveler, and honorary president of the National Association of Women Painters, Small was known as the "traveler with a sketch book."
Her work in Mexico was sponsored by the U.S. Information Service (USIS). Her exhibitions in Mexico were well received. For example, the Mexico City Times said that, "Diplomatic with an easel, this famed artist paints to span nations with the Bridge of Beauty." One of her exhibitions in Mexico, in 1963, comprised fifty-five paintings illustrating an imaginary trip around the world; it was first shown at the University of Sonora in Hermosillo.
The following year, fifty of her "Around the World" paintings were on display for both HRH Prince Phillip, the Duke of Edinburgh, and former US president Dwight D. Eisenhower, when they visited Guadalajara within a few days of each other. It is presumed that this display was the exhibit which opened at the Casa de la Cultura in Guadalajara on 29 October 1964, but it is probable that some of Small's paintings were also on display at the Hotel Montecarlo in Chapala.
[HRH Prince Phillip, the Duke of Edinburgh, visited the Hotel Montecarlo with his entourage for lunch on 28 October 1964, while three days later, President Adolfo López Mateos hosted a banquet there in honor of the members of the People to People executive. The People to People ("De Pueblo a Pueblo") initiative was begun by Dwight D. Eisenhower in 1956 to strengthen non-governmental connections. Eisenhower himself was at the meetings in Guadalajara but did not attend the Montecarlo function, where his son John D. Eisenhower, stood in for him. Walt Disney was another of the many noteworthy dignitaries at this event.]
Small held another exhibit in Guadalajara in June 1965, at the Instituto Mexicano-Norteamericano de Jalisco, at the opening of which she referred to Mexico as "her second home".
Possibly partly as a result of her time in Mexico, Small developed a passionate interest in the circus and would spend the next forty years bringing circus characters and scenes to life on her canvasses. Fifty of her clown paintings are on permanent display at the Adaptive Physical Education building, Monterey Peninsula College, California. Her portfolio of clown and circus stories, paintings and poems are in the Special Collections in various libraries of the University of California, as well as at Tufts University and Ringling Brothers Barnum and Bailey Clown College in Venice, Florida.
She was reportedly a very friendly woman, full of kindness and good humor, and fond of donning colorful clothes and hats.
Small published at least three books showcasing her work: Clowns (1988), Painted poems (1995) and Pierre and his present (1997).
Main Sources:
Monterey Peninsula Herald, California, 14 March 1966
Colony Reporter (Guadalajara) 21 May 1963
Sombrero Books welcomes comments, corrections or additional material related to any of the writers and artists featured in our series of mini-bios. Please email us or use the comments feature at the bottom of individual posts.

Tony Burton's books include "Lake Chapala: A Postcard History" (2022), "Foreign Footprints in Ajijic" (2022), "If Walls Could Talk: Chapala's historic buildings and their former occupants" (2020), (available in translation as "Si Las Paredes Hablaran"), "Mexican Kaleidoscope" (2016), and "Lake Chapala Through the Ages" (2008).