Famous American photographer and photojournalist Horace Bristol lived in Ajijic from 1967 to 1976.
Born in Whittier, California, on 16 November 1908, Bristol studied architecture at the Art Center of Los Angeles, before moving to San Francisco in 1933 to work as a commercial photographer. By chance, Ansel Adams lived near Bristol's studio and the two became friends. Bristol was introduced to other leading photographers and artists including Edward Weston and Imogen Cunningham.
In 1936, Bristol became one of Life Magazine's founding photographers. He went on to produce half a dozen Life covers. His photos also appeared in the pages of Time, Fortune, Sunset, and National Geographic.
In 1938, Bristol worked with John Steinbeck to document the plight of migrant farmers in California's central valley during the Great Depression. Life turned down the story and Steinbeck opted to write his findings as a novel, The Grapes of Wrath. Bristol's photographs from this time were later known as "The Grapes of Wrath" collection.
When the U.S. entered the second world war in 1941, Bristol was recruited to the U.S. Naval Aviation Photographic Unit. He traveled to Africa and Japan, helping to document the invasions of North Africa, Iwo Jima and Okinawa.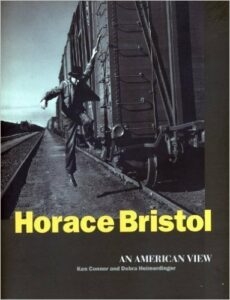 After the war, Bristol settled in Tokyo, Japan, sold photographs to magazines in Europe and the U.S. and became the Asia correspondent for Fortune Magazine. Bristol published several books (on Japan, Korea and Bali) and established the East-West Photo Agency.
This productive period of his life came to an abrupt end in 1956 with the death by suicide of his first wife, Virginia, following a hysterectomy. Bristol was so distraught, he burned many of his negatives, packed his photos away and retired from commercial photography.
The following year, he married Masako, a Japanese librarian 20 years his junior. A decade later, the couple moved with their young daughter, Akiko, to Lake Chapala, where their second child, Henri, was born. During their years in Ajijic (1967-1976) Bristol worked as an architect, designing and building several lakeside houses.
In 1976, the family moved to Ojai, California, because Bristol and his wife decided that they did not want to bring up their two children as expatriates. Almost a decade later, Henri, then 15 years old, had a high school assignment to read The Grapes of Wrath. This prompted Bristol to look through his photo archive and he began to regret his decision all those years earlier to put away his camera. He brought his surviving negatives out of storage and resumed his photography career.
In later years, his work was the subject of several retrospective exhibitions.
Bristol continued to make his home in Ojai, California, until his death on 4 August 1997 at the age of 88. Bristol's photographs will not be forgotten, since Bill Gates now owns the digital rights to most of Bristol's 16,000 negatives.
Bristol's work is included in many major collections, including those of the Getty Museum and the Los Angeles County Museum of Art, and is the subject of the 2006 documentary, The Compassionate Eye: Horace Bristol, Photojournalist, written and directed by David Rabinovitch.
Artistic success clearly runs in the family. In 2006, son Henri Bristol opened East/West Gallery in Santa Barbara, California.
Sombrero Books welcomes comments, corrections or additional material related to any of the writers and artists featured in our series of mini-bios. Please email us or use the comments feature at the bottom of individual posts.

Tony Burton's books include "Lake Chapala: A Postcard History" (2022), "Foreign Footprints in Ajijic" (2022), "If Walls Could Talk: Chapala's historic buildings and their former occupants" (2020), (available in translation as "Si Las Paredes Hablaran"), "Mexican Kaleidoscope" (2016), and "Lake Chapala Through the Ages" (2008).