Willa Gibbs (1917-1999) was already a much published writer by the time she arrived in Chapala from Palm Springs, California in the winter of 1965/66, to spend some time at the historic Nido Hotel, the building now used as Chapala town hall. It is unclear whether or not Gibbs was working on a novel at the time, though it seems unlikely.
Relatively little is known about the early life of Willa Elizabeth Gibbs though one of her fans, Amy Murphy, has compiled an extensive website – Finding Willa Gibbs, Author 1917-1999 – describing her own quest to find out more. Kudos to Ms Murphy for her work; this mini-bio draws heavily on the material available at her site.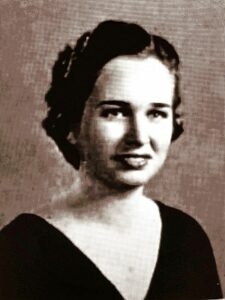 Gibbs was born 25 September 1917 in Hanna, a remote town in Alberta, Canada to a young Californian lawyer Guy Vernon Gibbs and his wife Estella G. Harris. Gibbs would later claim, perhaps accurately, that her mother had given birth in "a tavern because there was nowhere else for me to be born in Hanna."
Her parents had moved to Hanna six months previously with Willa's brother Guy Vernon Jr., who was 3 years old at the time of Willa's birth. Tragedy struck before Willa's second birthday. Her father was stricken with influenza and died on 6 January 1919.
The following year, the family returned to California, which became Gibbs' home for the rest of her life.
Willa Gibbs was a precocious writer. By the age of 12, she had "found two hobbies: writing and Napoleon". It is, therefore, no coincidence than several of her later novels are set in Napoleonic times. A newspaper piece (Chester Times, 23 November 1931) about Gibbs, when she was 14, said that she had written poetry from the age of 7 and had just completed a 70,000-word manuscript about the French Revolution.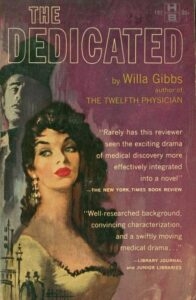 Her Napoleonic era novels include The Twelfth Physician, published in 1954, and set in the period immediately following the French Revolution. In the novel, "Charlot Florian, alone of the handful of physicians who had survived, dared to risk disaster by taking over secretly the instruction of a handful of dedicated youths."
After graduating from school in Woodland, California, Willa Gibbs became a newspaper reporter, but also worked as a taxi driver and as a horse breaker.
In 1957, Gibbs announced her religious conversion, and several of her books written after that date have a religious theme.
Novels by Willa Gibbs include, Tell Your Sons: A Novel Of The Napoleonic Era  (1946); Seed of Mischief (1953); The Twelfth Physician (1954); The Tender Men (1955), about San Francisco newspapermen, and later reissued as Fruit of Desire; All the Golden Doors (1957); The Dean (1957); The Dedicated (1959), a romantic novel about the 18th century battle against smallpox; Simon of Leicester (1960); According to Mary (1962); A Fig in Winter (1963); The Shadow of His Wings (1964).
Sources:
Guadalajara Reporter, 6 January 1966
Sombrero Books welcomes comments, corrections or additional material related to any of the writers and artists featured in our series of mini-bios. Please email us or use the comments feature at the bottom of individual posts.

Tony Burton's books include "Lake Chapala: A Postcard History" (2022), "Foreign Footprints in Ajijic" (2022), "If Walls Could Talk: Chapala's historic buildings and their former occupants" (2020), (available in translation as "Si Las Paredes Hablaran"), "Mexican Kaleidoscope" (2016), and "Lake Chapala Through the Ages" (2008).