Hazel Emma Wilson, a prolific author of children's books, visited Lake Chapala in 1971, "doing research for a Mexican book". At that point in her career she had already written 19 books. Unfortunately, it remains maddeningly unclear whether or not any book based on her Mexican research was ever published!
Wilson (née Hutchins) was born in Portland, Maine, on 8 April 1897 (some sources claim 1898). She earned her AB from Bates College in Lewiston, Maine, in 1919 and a B.S. in Library Science from Simmons College, Boston, Massachusetts, in 1920. She worked as a librarian in various educational institutions: Portland High School, Maine; Kirksville State Teacher's College, Missouri; Bradford Academy, Massachusetts; the American Library in Paris, France (1926-1928); and was supervisor of school libraries in Denver, Colorado.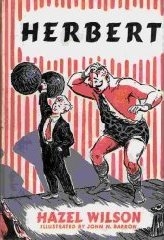 She married Dr. Jerome William Wilson (1884-1963) and settled in Washington D.C. in 1930. Their son, Jerome Linwood Wilson, was born in 1931. He went on to become a member of the New York State Senate (from 1963 to 1966) and the Political Editor of the TV station WCBS-TV.
Hazel Wilson is best known for her series of stories about Herbert, a 10-year-old whose antics were based on the real-life experiences of her son and his friends.
Wilson was also a lecturer at George Washington University, Washington, D.C. (1956-1957) and taught at one time at Georgetown University. For some years, she wrote monthly reviews for the now defunct Washington Evening Star newspaper. She was a founder of the Children's Book Guild of Washington and a member of the American Newspaper Women's Club and Women in Communication.
Wilson's books include The Red Dory (1939)-her first book for children; The Owen Boys (1947); Island Summer (1949); Herbert (1950); Thad Owen (1950); The Story of Lafayette (1952); The Story of Mad Anthony Wayne (1953); More Fun with Herbert (1954); His Indian Brother (1955); The Little Marquise: Madame Lafayette (1957); Tall Ships (1958); Jerry's Charge Account (1960); Herbert's Homework (1960); Herbert Again (1962); The Seine River of Paris (1962); The Last Queen of Hawaii: Liliuokalani (1963); The Years Between: Washington at Home at Mount Vernon, 1783-1789 (1969); Herbert's Stilts (1972); and Herbert's Space Trip (1973).
Among other honors, Wilson won the Ohioan Award for Island Summer (1949); the Boys' Clubs of America Junior Book Award for Thad Owen (1950); the Edison Award for His Indian Brother (1955); and the 1955 New York Herald Tribune Spring Book Festival Honor Award for Herbert.
Hazel Wilson died in Bethesda, Maryland, on 20 August 1992.
Sources:
Sombrero Books welcomes comments, corrections or additional material related to any of the writers and artists featured in our series of mini-bios. Please email us or use the comments feature at the bottom of individual posts.

Tony Burton's books include "Lake Chapala: A Postcard History" (2022), "Foreign Footprints in Ajijic" (2022), "If Walls Could Talk: Chapala's historic buildings and their former occupants" (2020), (available in translation as "Si Las Paredes Hablaran"), "Mexican Kaleidoscope" (2016), and "Lake Chapala Through the Ages" (2008).