The Jesuit philosopher and author José Sánchez Villaseñor was born in Sahuayo, Michoacán, on 6 September 1911 and died on 18 June 1961, shortly before what would have been his fiftieth birthday.
José was the fifth child in a large and very religious family, whose home in Sahuayo was at Madero #60, one block north of the town's plaza. The family moved away before José's third birthday when revolutionaries took Sahuayo and caused massive disruption, closing schools and businesses.
The family moved to Guadalajara. In 1914, this involved a long, arduous, full day of travel. First, they rode on horseback for four hours from Sahuayo across the marshes bordering the lake to reach the small fishing village of La Palma. At 1 pm, the steamboat, "The Maid of Honor", left La Palma on its regular one-hour crossing of the lake to Ocotlán. From Ocotlán it was a four-hour train ride to Guadalajara.
[This family relocation via La Palma is very similar to that undertaken in about 1897 by the family of José Rubén Romero (1890-1952) and described in detail in Romero's Apuntes de un lugareño (1932). The relevant extract, with commentary, is included in my Lake Chapala Through the Ages, an Anthology of Travelers' Tales.]
Lake Chapala Artists & Authors is reader-supported. Purchases made via links on our site may, at no cost to you, earn us an affiliate commission.
Learn more.
José Sánchez Villaseñor completed his primary school education in 1925. There was no secondary school at that time, so he immediately started classes at the Instituto de Ciencias, a Jesuit-run preparatoria.
Family summer holidays (July and August) in José's childhood years were spent at the Las Gallinas ranch in Michoacán, south of Cojumatlán. Situated some 600 m above Lake Chapala, it afforded commanding views over the new recently-reclaimed farmland  and across the lake to the northern shore, from San Juan Cosalá in the west to La Barca in the east.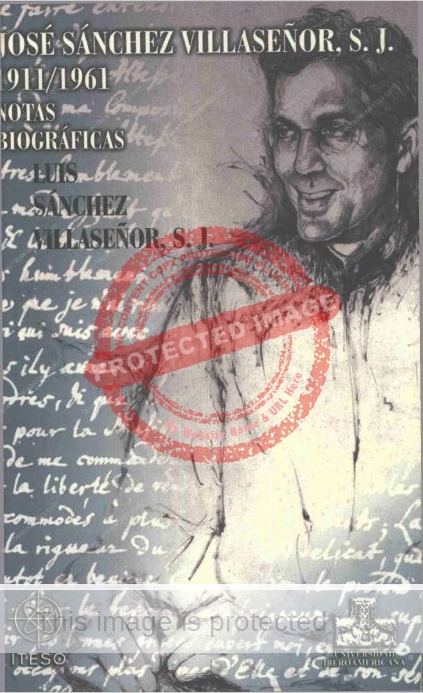 Sánchez Villaseñor left Guadalajara in 1927, a year before his mother's death, and, at the age of sixteen, joined the Jesuits. He spent most of the next nine years studying at Ysleta College in El Paso, Texas, where the classes ranged from theology and ancient languages to science and philosophy.
He then returned to the Instituto de Ciencias in Guadalajara, where he taught for a few years, before being sent to Italy in 1939 to continue his education at the Universidad Gregoriana in Rome. Two months after he arrived, the second world war began. In 1941, Sánchez Villaseñor was hospitalized with pneumonia. He returned to Mexico, still very ill, on a Venezuelan ship and received treatment in the Sanatorio Español in Mexico City.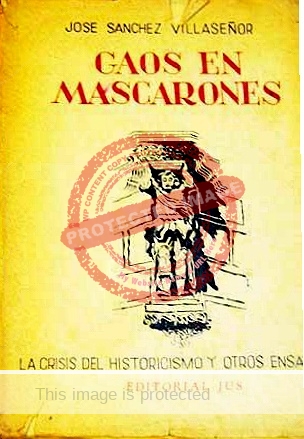 Once recovered, he studied for a doctorate in philosophy at the National University (UNAM) in Mexico City, completing a thesis on the work of José Gaos. According to his contemporaries, he saw philosophy as an experimental activity, one that was based on non-transferable experiences and was both subjective and dependent on the historical moment when they occurred.
After Mexico City, he was then sent to West Baden College, Indiana, to complete his theological studies. He was ordained on 13 June 1946, and gave his first mass in Mexico the following year when he returned to teach briefly in Mexico City before being sent to Montevideo, Uruguay, for a year (1948-1949).
In the 1950s, and despite suffering from ill health, Sánchez Villaseñor was active in the foundation of Mexico City's Ibero-American University (Universidad Iberoamericana de la ciudad de México). At that institution, he established the career paths of Industrial Relations (1953), Business Administration (1957) and a Bachelor's degree in Communication Sciences (1960), the earliest such program in Mexico.
As a multilingual Jesuit philosopher, he published several books, including El sistema filosófico de Vasconcelos: ensayo de crítica filosófica (1939); Pensamiento y trayectoria de José Ortega y Gasset (1943); Gaos en Mascarones: La crisis del historicismo y otras ensayos (1945); and Introducción al pensamiento de Jean-Paul Sartre (1950). An English edition of his work on José Ortega y Gasset, translated by Joseph Small, was published in 1949 by the Henry Regnery Company, New York, as Ortega y Gasset Existentialist – A Critical Study of His Thought and Its Sources.
In addition to his academic works, he also wrote poetry, including one entitled "Tristezas y recuerdos" which recalls his youthful summer vacations overlooking Lake Chapala. The poem, roughly translated, opens as follows:
I would like the beauty of the Michoacán woods,
And the perfume of her lilies, which in my childhood hours
I gathered in her fields when the sun was already declining,
And its dying rays reflecting in the waters
Of the great Lake Chapala with gold and purple iridescence.
I would like that sky to show signs of scarlet,
The silence of its valleys, and the blue of its mountains.
I would like from her woods, the weeping of the waterfall,
The bleating of sheep, and the lowing of the cattle.
In short, I would like to see the summits of oaks crowned,
The daring silhouettes that rise into the sky
And weave with her fond memories a garland . . .
This profile relies heavily on the extended biography of José Sánchez Villaseñor written by his brother Luis, a fellow Jesuit priest.
Source:
Luis Sánchez-Villaseñor. 1997. José Sánchez Villaseñor, S.J: 1911-1961. Notas biográficas. (Tlaquepaque, Jalisco: ITESO.) (Editorial Conexión Gráfica, June 1997,)
Sombrero Books welcomes comments, corrections or additional material related to any of the writers and artists featured in our series of mini-bios. Please email us or use the comments feature at the bottom of individual posts.

Tony Burton's books include "Lake Chapala: A Postcard History" (2022), "Foreign Footprints in Ajijic" (2022), "If Walls Could Talk: Chapala's historic buildings and their former occupants" (2020), (available in translation as "Si Las Paredes Hablaran"), "Mexican Kaleidoscope" (2016), and "Lake Chapala Through the Ages" (2008).