Dorothy Garlock (1919-2018), the best-selling American author of romantic novels, used Lake Chapala as a setting for parts of Amber-eyed Man, first published in 1982.
Garlock, who also used the pen names Johanna Phillips, Dorothy Phillips and Dorothy Glenn, wrote more than 50 novels in total. She was born in Grand Saline, Texas, on 22 June 1919 and died in Clear Lake, Iowa, on 6 April 2018.
It is unclear how much personal knowledge the author had of Chapala but she had the reputation throughout her writing career of being a meticulous fact checker.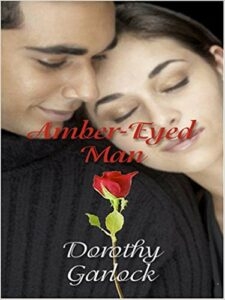 In Amber-eyed Man, originally written under the nom de plume Johanna Phillips, "When chance forces Meredith Moore to seek refuge at Ward Sanderson's Mexican estate, she thinks the worst is behind her. But her host, magnetic and mysterious, is alternately cold, then kind. Winning the trust of Ward's small daughter and invalid bother, Meredith discovers the warmth that she, a foster child, never knew. Yet is it Ward's love she craves, and the passion smoldering in the depths of his amber eyes …"
Early in the novel, Ward explains to his young daughter that, "There's an American colony in Chapala. They bring in American movies occasionally." His right-hand man, Luis Calderón, later asks Meredith if "Perhaps you would be interested in joining me to see the surrounding countryside. Lake Chapala is very beautiful, you know."
Subsequently it emerges that "the estate there at Chapala was a lettuce ranch that employed a large number of people." This sounds like pure invention; I have never come across any other reference to a lettuce farm in the Lake Chapala area, certainly not one large enough to employ a large number of workers.
Returning to the novel, Ward was immensely wealthy and "divided his time between the Rancho de Margarieta (sic!), the lettuce ranch at Chapala, Tulsa, and the plant in Guadalajara." The latter is an electronics plant. Bearing in mind that the book was written in 1982, this signaled the start of the Guadalajara region's reputation as Mexico's Silicon Valley.
Much later in the story, Ward and Meredith returned to "the hacienda in Chapala."
In combination with a second novel – The Planting Season (1984) – Amber-eyed Man was reprinted in 2008 as Promisegivers.
Garlock's books were incredibly popular. Translated into 18 languages, she sold an estimated 20 million print copies in total. Seven of her books made the New York Times best seller list and Garlock was named one of the ten most popular writers of women's fiction for four consecutive years from 1985 to 1988.
Like Barbara Bickmore, Garlock did not set out to have a writing career at a young age. She worked as a reporter and bookkeeper for the Clear Lake Mirror Reporter for 14 years and only began her writing career when she and her husband traveled to the southern U.S. in 1976 to escape the northern winter.
She later recalled that she became so bored on the trip that she bought a second-hand manual typewriter for $50 and drafted an entire book before she returned home. She had completed three more before entering one in a local contest. She won the contest, after which one of the judges, an agent, sold the rights to it and her other completed manuscripts to a New York publisher. Garlock never looked back.
Garlock's books include: Love and Cherish (1980); The Searching Hearts (1982); Glorious Dawn (1982); A Love for All Time (1983); Homeplace (1991); A Gentle Giving (1993); Tenderness (1993); Forever Victoria (1993); She Wanted Red Velvet (1996); This Loving Land (1996); More Than Memory (2001); Train from Marietta (2006); On Tall Pine Lake (2007); Will You Still Be Mine? (2007); The moon looked down (2009).
Sources
Comments, corrections or additional material related to any of the writers and artists featured in our series of mini-bios are welcome. Please use the comments feature at the bottom of individual posts, or email us.

Tony Burton's books include "Lake Chapala: A Postcard History" (2022), "Foreign Footprints in Ajijic" (2022), "If Walls Could Talk: Chapala's historic buildings and their former occupants" (2020), (available in translation as "Si Las Paredes Hablaran"), "Mexican Kaleidoscope" (2016), and "Lake Chapala Through the Ages" (2008).