Bruce Buckingham (a pseudonym of Dane Chandos, the first pseudonym of the writing duo of Peter Lilley and Anthony Stansfeld) was the author of two detective mysteries set in Mexico:
Three Bad Nights (London: Michael Joseph, 1956; Penguin edition, 1961) and
Boiled Alive(London: Michael Joseph, 1957; Penguin edition, 1961)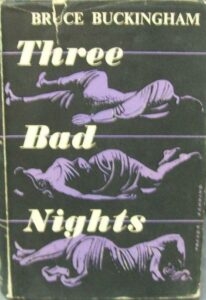 Three Bad Nights introduces a Mexican detective, Don Pancho (short for "Francisco de Torla Saavedra, Marqués de Langurén y Orandaín"), an eccentric, laid-back, huarache-wearing former federal detective who, with his manservant sidekick Crisanto, solves jewel thefts, murders and other glamorous international crimes.
The designer of the hardback's jacket (see image) was English artist, sculptor and writer Trevor Denning (1923-2009). Denning was born in Birmingham, UK., and was a key figure in the post-war Birmingham contemporary art scene.  According to Jonathan Watkins, the current director of the city's Ikon Gallery, "Trevor Denning was vitally important for the post-war Birmingham art world. His incisive mind, his radical skepticism and commitment to cultural life here made an enormous difference. Ikon will always be in his debt."
The setting of Three Bad Nights is the fictional Quinta de las Rosas hotel on the shores of the equally fictional Lake Zirapan. While there are insufficient clues to claim that this is anything other than an invented locale, the authors were extremely familiar with the Lake Chapala region of western Mexico, and the Posada Ajijic hotel in Ajijic. Since the book refers to Don Pancho's "big hacienda in Jalisco" named La Chavinda Paz, it seems likely that the authors intended readers to infer that Lake Zirapan was  somewhere in the same state.
The hotel's owner is Doña Lola, who one Xmas twenty years earlier, in England, had killed someone in self-defense with a paper knife. The hotel staff include the superstitious Juana, nightwatchman Rosario, house-boy Pablo and Senoña Delfina, the cook. The guests, each of whom comes under suspicion of murder at one point or another, include:
Light-fingered American tourist Mrs. Singer, who has left three ex-husbands in her wake, and is traveling with her niece Isobel Hesler
Lady Kendon, an English aristocrat, long separated from her philandering husband, who is accompanied by her two Aberdeen terriers, Scotch and Soda.
Colonel Rawlins who is due to meet his wife and daughters in Chicago within a few days, and who behaves more drunk that he really is at a hotel party.
Carlotta, "a beautiful Buenos Aires belle", with valuable jewels to match, traveling with her "brother" Valentino.
Leslie King, a young American, who considers himself Isobel's boyfriend, turns up part-way through the action.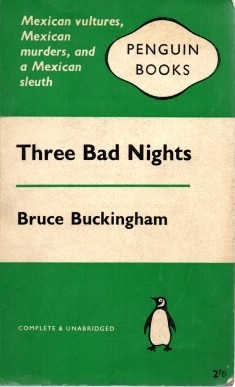 Within a few pages, the first body is found. It turns out to be the hotel nightwatchman Rosario, whose body has been hidden in the reeds at the edge of the lake. The next morning, following a party that roared into the early hours, a second body is found. This time it is Carlotta, whose jewellery box has been broken into.
The food-loving Inspector Tovar (aka El Capitano) arrives from the big city to take charge of the investigation. As he, Don Pancho and Crisanto begin to investigate, they quickly find that everyone has something to hide. The following day, the body of Mrs. Singer turns up in the lakeshore reeds.
Slowly, patiently and methodically, Don Pancho manages to piece together what really happened, and who is responsible.
While the details are less keenly described than in the second Don Pancho book, this is a fun whodunit. It has long been out-of-print, but copies can still be found quite easily via secondhand book sites such as abebooks.com
Historical curiosity
In Three Bad Nights, the local mayor refers to the "twenty-eight United States of the Republic of Mexico" (Penguin edition, page 47). Assuming that the mayor kept up with the times, this dates the events in the book to sometime prior to January 16, 1952 when Baja California became the 29th state in Mexico.
Sombrero Books welcomes comments, corrections or additional material related to any of the writers and artists featured in our series of mini-bios. Please use the comments feature at the bottom of individual posts, or email us.

Tony Burton's books include "Lake Chapala: A Postcard History" (2022), "Foreign Footprints in Ajijic" (2022), "If Walls Could Talk: Chapala's historic buildings and their former occupants" (2020), (available in translation as "Si Las Paredes Hablaran"), "Mexican Kaleidoscope" (2016), and "Lake Chapala Through the Ages" (2008).