Bruce Buckingham (a pseudonym of Dane Chandos, the first pseudonym of the writing duo of Peter Lilley and Anthony Stansfeld) was the author of two detective mysteries set in Mexico:
Three Bad Nights(London: Michael Joseph, 1956; Penguin edition, 1961) and
Boiled Alive (London: Michael Joseph, 1957; Penguin edition, 1961)
Both novels feature a Mexican detective, Don Pancho (short for "Francisco de Torla Saavedra, Marqués de Langurén y Orandaín"), an eccentric, laid-back, huarache-wearing former federal detective who, with his manservant sidekick Crisanto, solves jewel thefts, murders and other glamorous international crimes. Both books also feature the British aristocrat Lady Kendal.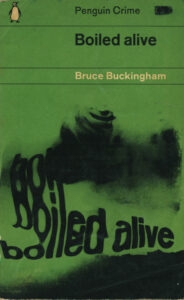 The cover design of the Penguin Crime edition of Boiled Alive is by acclaimed illustrator and book jacket designer Romek Marber.
Mike Grost, an American writer of detective stories, has published some interesting thoughts about the possible influence of Ngaio Marsh on Bruce Buckingham. For example, Grost cites the fact that both Boiled Alive and Marsh's earlier Colour Scheme (1943) are "set in an exotic resort area centered around hot springs. Both novels mix international characters and visitors with members of the host country (New Zealand in Colour Scheme, Mexico in Boiled Alive). Both novels mix international intrigue with mystery fiction." (For more, scroll down http://mikegrost.com/ngmarsh.htm to "Bruce Buckingham").
According to Grost, Boiled Alive "is set in the apparently imaginary locale of Tuxpan, Mexico. There are at least four real-life cities in Mexico named Tuxpan; this book does not seem to be set in any one of them specifically."
Actually, there can be no doubt that the setting of Boiled Alive is the hotel of San José Purua, once Mexico's foremost spa-hotel, near the towns of Tuxpan and Jungapeo in Michoacán. The hotel is close to "La Curva de la Gringa (The American Woman's Curve)."
Boiled Alive takes some liberties (as you would expect) with place names, but the hotel described in the book is undoubtedly San José Purua (see photo).
The plot of Boiled Alive is relatively straightforward, but the authors certainly show a keen eye for detail and for characterization, making this an enjoyable read. The group staying at the "Gran Hotel Balneario de Tuxpan" include an American millionaire John Belton, accompanied by his wife, daughter, mining engineer and chauffeur. Belton is staying at the hotel to negotiate the mining rights to the residual mercury left behind after silver refining in colonial-era mines. Hoping to outbid Belton is tall British aristocrat Sir Nigel Heathcote, who arrives with his son Tom. A couple of Hollywood starlets, a young American journalist and assorted other guests are also present.
Belton disappears and his body later turns up in one of the local hot springs. There is no shortage of action in this book with its mix of international intrigue, kidnapping, murder and subterfuge.
As Grost points out, two characters in Boiled Alive invite some gender-based speculation. The female friend of "the flighty Hollywood starlet" is nicknamed Butch, while the elderly spinster Miss Cloud is apparently an occasional cross-dresser.
It is tempting to suggest that this character may be a reference to the famous Mexico City "charwoman-businessman" Conchita Jurado, aka Don Carlos Balmori. It is quite probable that Peter Lilley would have been familiar with this sensational example of gender deception since it was featured in a 1945 issue of Time magazine.
Among those duped by Jurado was Mexico's top detective of the day, Valente Quintana. Quintana had been invited by "Don Carlos Balmori" to a soiree because the host feared that someone there was actually an imposter. The detective assured Balmori that he was confident he would spot and unmask the trouble-maker before any mischief took place. However, when he was forced to admit defeat, Don Carlos revealed himself as Conchita, saying, as she always did in the denouement, "Nothing is exactly as it seems to be. Nothing is real. The truth is always hidden." Despite his damaged pride, the detective saw the funny side, and subsequently joined the "Balmoris" in enthusiastically planning further adventures.
The San José Purua spa-hotel, world-famous in its day, opened in the early 1940s and was the epitome of luxury living, with European chefs and its own small night club for visiting cabaret and touring acts from all over the world. It was also the base for director John Huston in 1947 when he filmed The Treasure of the Sierra Madre, starring Humphrey Bogart, in the surrounding hills.
The hotel closed many years ago, but its grounds and pools can still be admired. Attempts to relaunch the hotel as a luxury resort have so far proved fruitless.
Sombrero Books welcomes comments, corrections or additional material related to any of the writers and artists featured in our series of mini-bios. Please use the comments feature at the bottom of individual posts, or email us.

Tony Burton's books include "Lake Chapala: A Postcard History" (2022), "Foreign Footprints in Ajijic" (2022), "If Walls Could Talk: Chapala's historic buildings and their former occupants" (2020), (available in translation as "Si Las Paredes Hablaran"), "Mexican Kaleidoscope" (2016), and "Lake Chapala Through the Ages" (2008).