Elizabeth L. Kuzell (1895-1986), better known as Betty Kuzell, lived in Chula Vista, Lake Chapala, for many years with her husband Dudley Kuzell (1896-1969). The Kuzells, both accomplished musicians, were active in the local community and instrumental in founding the Lakeside Little Theater, which has proved to be an enduring success. They arrived at Lake Chapala in about 1961.
Betty Kuzell was born Elizabeth Laird in California on 22 November 1895 and died in Chicago in 1986, on her 91st birthday. (Her mother was the cutely named Pocahontas Glazebrook). Betty married Dudley Francis Kuzell in Los Angeles, on 2 March 1918. The couple had one child, James Elgar Kuzell, born  in about 1923.
Versions of the founding of the Lakeside Little Theater differ, according to source. According to June Nay Summers, Betty Kuzell founded the theater in 1964, a date echoed in the short book Ajijic, 500 Years of Adventures (DAR, 2011). Summers claimed that the first production of the theater group was held in the building that was the former Chapala Railway Station on 14 August 1965, and was a musical written and directed by Betty entitled  "From Kokomo to Mexico". Sadly, these details do not appear to be substantiated.
Based on the pages of the Colony (Guadalajara) Reporter (a weekly first published in December 1963), the story begins in early 1964, following an evening of musical entertainment (featuring Betty on the organ, Paul Carson on the piano, with Dudley Kuzell, William Stelling and Kenneth Rundquist as singers) at the Kuzells' home. (This was quite a distinguished gathering since Rundquist was scheduled to sing at the World's Fair in New York a few months later.) (CR, 2 April 1964)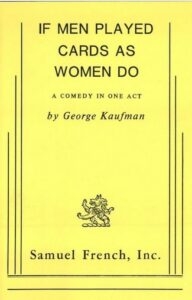 A week later, anyone interested in forming a Little Theater Group was invited to meet at the "Chapala Country Club on Friday 10 April at 4 p.m". Clearly the meeting was a success since, on 20 June 1964, "the first little theater production to be presented by the Chapala Country Club" (based at the time in the former Chapala Railway Station) opened. A cast of four (Bob Owens, Floyd Wilson, Mike Bieselt and Dick Peppin), under Betty Kuzell's direction, put on George S. Kaufman's brilliant satire, If Men Played Cards as Women Do.
Early the following year, on 18 February 1965, a columnist reports that "Lakeside Little Theater became an independent and solid entity with its first business meeting held last week at Chapala Country Club." The group adopted by-laws and Betty Kuzell became founding director. Regular membership was set at $25 pesos a year (two dollars at the then rate of exchange); sponsor members had four free tickets included in their $100 peso membership fee. (CR, 18 February 1965)
By June, the Lakeside Little Theater had 130 members, and announced it would close membership at 150. In mid-June, it presented "The Saddle Bag Saloon, Duke Reagan, Prop." at the Chapala Country Club. The play, with a cast of over 40, was written and directed by Betty Kuzell, who also arranged the music. The set included a nude painted by Bob Snodgrass. At this time, the group was variously called either the Lake Chapala Little Theater or the Lakeside Little Theater in different articles and places.
In August 1965, the Colony Reporter (19 August) announced "another hilarious Lakeside Little Theatre workshop program next Monday… when Ken Kirk… will present "Courtship in 1830″ at the Chapala Country Club.
Relatively little is known about the Kuzells prior to their time in the Lake Chapala region, though a trawl through old newspapers reveals some snippets related to their musical prowess.
For example, the 18 September 1950 edition of The Van Nuys News from Van Nuys, California, describes a "sisterhood event" held at the Valley Jewish Community Center, at which Betty sang with the Sisterhood Choir.
Sombrero Books welcomes comments, corrections or additional material related to any of the writers and artists featured in our series of mini-bios. Please email us or use the comments feature at the bottom of individual posts.

Tony Burton's books include "Lake Chapala: A Postcard History" (2022), "Foreign Footprints in Ajijic" (2022), "If Walls Could Talk: Chapala's historic buildings and their former occupants" (2020), (available in translation as "Si Las Paredes Hablaran"), "Mexican Kaleidoscope" (2016), and "Lake Chapala Through the Ages" (2008).