Famed Hollywood writer Lorenzo Semple Jr. lived at Lake Chapala in the 1950s and returned several times thereafter. While living in Ajijic, Semple wrote The Golden Fleecing, a play that was produced on Broadway and subsequently turned into a movie. Semple is best-known for creating the big-screen and TV character Batman.
Lorenzo Elliott Semple Jr., whose uncle Philip Barry wrote Holiday and The Philadelphia Story, was born in New Rochelle, New York, on 27 March 1923 and attended Yale University for two years. He dropped out of Yale in 1941 to join the Free French forces led by General de Gaulle. He won the Croix de Guerre for ambulance-driving in the Libyan desert. Semple later served in the U.S. Army and won a Bronze Star.
After the second world war, Semple finished his degree at Columbia University before starting his writing career in the early 1950s as a critic for Theater Arts magazine and contributor of short stories to The Saturday Evening Post, Collier's, Women's Home Companion and Ladies' Home Journal.
Even though the precise dates when Semple lived in Ajijic remain unclear, before the 1950s had ended, he had written two Broadway plays – Tonight in Samarkand (1955) and The Golden Fleecing (1959), which was later adapted for the screen as The Honeymoon Machine, starring Steve McQueen – as well as several scripts for the small screen, including The Alcoa Hour (1955); Target (1958); and Pursuit (1958).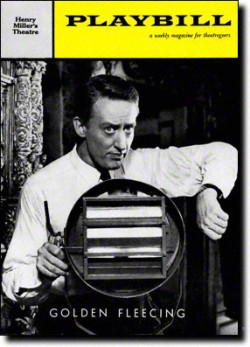 The strongest evidence that he wrote The Golden Fleecing in Ajijic comes from a short piece by Anita Lomax in the Guadalajara Reporter in 1967 in which she laments that Ajijic is losing its reputation as "sin city" and is becoming too respectable. She cites the case of a "Young playwright whose play, written here, was produced on Broadway and subsequently made a small fortune from the movie rights which he promptly spent. But he now lives in a Beverly Hills mansion with his beautiful wife and children since creating T.V.'s sensational Batman series." The same newspaper reported in 1971 that Semple had returned to Lake Chapala for the first time in eight years, vacationing with his wife Joyce and their three children in Chula Vista, at the home of Dick Reiner. Semple told the Reporter correspondent that he thought people were getting tired of having to pay $3 to see a movie!
Semple married Joyce Miller in 1963. Their eldest daughter, Johanna, was born in Guadalajara in April 1963. A year later, they had their second daughter, Maria. The family moved to Spain in 1965. Following their return to Hollywood, they had a third child, Lorenzo ("Lo"), born in about 1967. Later, the family lived for more than two decades in Aspen, Colorado, before eventually moving back to Los Angeles.
It was while the family was living in Spain (1965-66) that Semple was asked by producer William Dozier to develop a television series based on the Batman comic books. The series was an immediate hit. Semple wrote the first four episodes, consulted on all the first season's scripts and also wrote the screenplay for the feature film version, released in 1966.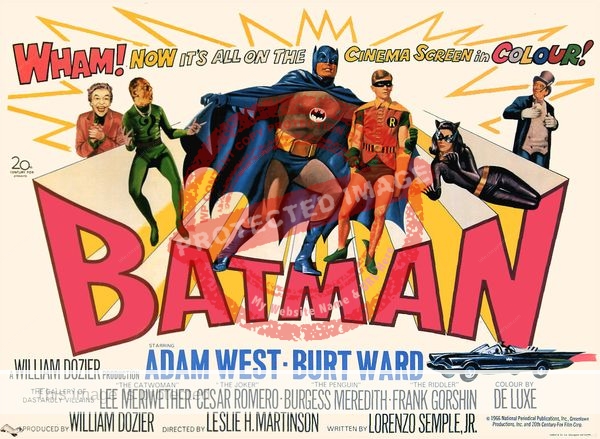 After Batman, Semple completed numerous movie screenplays, often in association with other writers, including Pretty Poison (1968), which won best screenplay at the New York Film Critics Awards; Daddy's Gone A-Hunting (1969); The Sporting Club (1971); The Marriage of a Young Stockbroker (1971); Papillon (1973); The Super Cops (1974); The Parallax View (1974); The Drowning Pool (1975); Three Days of the Condor (1975); King Kong (1976); Hurricane (1977); Flash Gordon (1980); Never Say Never Again (1983), in which Sean Connery reprised his former role as James Bond; Sheena (1984); and Never Too Young to Die (1986).
From 1984 to 1990, Semple taught graduate screenwriting at New York University. His students included John Fusco (Young Guns and Hidalgo), Susan Cartsonis (What Women Want) and Stan Seidel (One Night at McCool's).
Lorenzo Semple Jr. died of natural causes at his Los Angeles home on 28 March 2014, one day after his 91st birthday.
Maria Semple (Semple's middle child) is also a novelist and screenwriter. She has written several novels – including This One Is Mine (2008), the best-selling comedy novel Where'd You Go, Bernadette (2012), and Today Will Be Different (2016) – as well as TV scripts for Beverly Hills, 90210, Mad About You, Saturday Night Live, Arrested Development, Suddenly Susan and Ellen.
Sources:
Sombrero Books welcomes comments, corrections or additional material related to any of the writers and artists featured in our series of mini-bios. Please email us or use the comments feature at the bottom of individual posts.

Tony Burton's books include "Lake Chapala: A Postcard History" (2022), "Foreign Footprints in Ajijic" (2022), "If Walls Could Talk: Chapala's historic buildings and their former occupants" (2020), (available in translation as "Si Las Paredes Hablaran"), "Mexican Kaleidoscope" (2016), and "Lake Chapala Through the Ages" (2008).