Garland Franklin Clifton was an American author who lived in the Chapala area in the 1960s. He wrote Wooden Leg John. Satire on Americans living in Mexico (apparently privately printed in Washington D.C., 1971). While the book is not set at Lake Chapala, it is highly probable that parts, or all of it, were written or conceived while Clifton was living there.
Wooden Leg John is written as a series of 20 letters dated from Christmas Day 1967 to Christmas Day 1968 from Bullard A. Loney (Bull A. Loney) to his "Uncle Sam". "The "Bull" has deserted his wife and is living it up in Mexico and on the U.S.-Mexico border. The book includes many verses and lyrics.
Clifton also wrote American meccas in Mexico: Guadalajara, Chapala-Ajijic, Manzanillo: a detailed discussion of these three vacation and retirement areas of Mexico, a 27-page booklet published in Laredo, Texas, in 1966.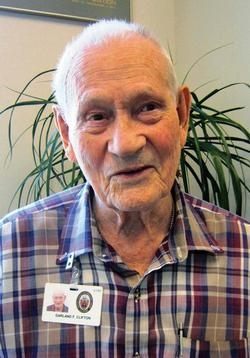 Clifton was born 6 December 1922 in Yardelle, Arkansas, USA, and died 29 December 2013 in Gulfport, Mississippi. In the preface to Wooden Leg John, Clifton describes himself as a "Scotch-Irish native-born Arkansas Mountaineer and the tenth of 14 children."
He joined the U.S. military in September 1940 and retired from military service in November 1960, having served overseas in New Guinea, the Philippines, Germany, Japan and Korea, by which time he had been awarded numerous decorations and ribbons and risen to be a U.S. Air Force master sergeant.
Not long afterwards, he married a Mexican girl, María. The couple had four children, and lived for some time in Chapala, before moving, in 1967, to Douglas, Arizona. By 1971, he was living in Washington D.C. with wife Maria (then aged 26), Manuel (8), Laura (7), Carmen (5) and Armando (1).
Clifton's quirky, sometimes piquant, sense of humor enlivens Wooden Leg John. Satire on Americans living in Mexico. Judging by his writing, Clifton would have been a highly entertaining, if somewhat provocative, dinner party guest.
Note: This is an updated version of a post first published on 30 May 2014.
Sources:
Garland Franklin Clifton. 1971. Wooden Leg John. Satire on Americans living in Mexico. Privately printed in Washington D.C.

Ruby Woods-Robinson, M.S.L.S. "Garland Franklin Clifton" [accessed 30 October 2023]

Tony Burton's books include "Lake Chapala: A Postcard History" (2022), "Foreign Footprints in Ajijic" (2022), "If Walls Could Talk: Chapala's historic buildings and their former occupants" (2020), (available in translation as "Si Las Paredes Hablaran"), "Mexican Kaleidoscope" (2016), and "Lake Chapala Through the Ages" (2008).