New York-born author John Sinclair was already the successful author of a "Western cowboy" novel, published by MacMillan, when he decided to hide out in Ajijic for a few weeks in 1946-47 to write his next novel.
According to a newspaper article in December 1946, Sinclair planned to:
"write another novel in Ajijic, which is a hamlet of 2,000 Mayan-Indians and 14 white people, three of whom are from Europe. Sinclair said he was inspired to move to Ajijic for at least six months by the book "Village in the Sun." It is by the late Dane Chandos, an English writer. Sinclair pronounced the book, which is published by Putnam, an English classic."
We can quibble about details ("Mayan-Indians") and ponder precisely who was included in the "14 white people, three of whom are from Europe," but clearly Sinclair was keeping up with the latest books. Village in the Sun had been published in fall the previous year, and Nigel Millett—one half of the "Dane Chandos" writing duo—had died unexpectedly in March 1946, only months before Sinclair announced his intention to travel to Lake Chapala.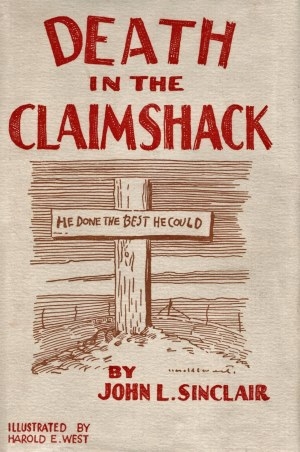 Getting to Ajijic in 1946 was not that simple. Sinclair, who was based in Santa Fe, New Mexico, took a bus to Tucson, followed by a train to Guadalajara, bus to Chapala and finally a small launch to Ajijic, where he planned to stay several months. However, less than two months later, it was reported that Sinclair was on his way back to Santa Fe, earlier than anticipated, "because he has important mail communication with his publishers in the East and wanted to be sure of deliveries, going and coming."
Apparently, Sinclair had already completed his next book, Death in the Claimshack, announced in February 1947, despite also writing regular "fascinating letters of the beauty and charm of the life on the edge of Lake Chapala, in the land of perpetual Indian summer."
Sinclair had an adventurous upbringing. Born to a wealthy family in New York City in 1902, his father died when he was young and he was brought up from age 10 by a grandfather and uncle, both in Scotland. Sinclair graduated from Cambridge University and completed an apprenticeship in animal husbandry before returning to North America, where his family was prepared to finance the establishment of a family-owned ranch in British Columbia. A stop-off in New Mexico, where he fell instantly in love with saddle ponies, cowboys and the landscape, completely changed his life. When he told his family of his intention to live in New Mexico, he was disinherited.
Sinclair worked as a cowboy for fourteen years in New Mexico, before turning his hand to writing. By 1936, he was living in the growing literary community of Santa Fe. He worked for the Museum of New Mexico and established the Lincoln Historic Site in the old courthouse of Lincoln, while working on his first novel, In Time of Harvest, published in 1943. He wrote his other novels while employed as superintendent of the Coronado State Monument near Bernalillo. He described his life as "like that of Thoreau, one of simplicity and solitude."
Sinclair's other novels were Cousin Drewey and the Holy Twister (1980) and The Night the Bear came off the Mountain (1991). He also wrote several non-fiction works, including New Mexico, The Shining Land (1980), Cowboy Riding Country (1982), and A Cowboy Writer in New Mexico: The Memoirs of John L. Sinclair (published posthumously in 1996), as well as articles and short stories for the New Mexico Magazine and The Saturday Evening Post.
Among the many awards he won for his writing were two Western Heritage Wrangler Awards, the Western Writers' Golden Spur Award, a New Mexico Governor's Award for Excellence and Achievement in the Arts, and an honorary life membership in the Cowboy Hall of Fame.
John Sinclair died in Albuquerque, New Mexico, in December 1993.
Sources
Ben E. Pingenot. 1998. "Review of A Cowboy Writer in New Mexico: The Memoirs of John L. Sinclair By John Sinclair." Great Plains Quarterly, Spring 1998 (University of Nebraska – Lincoln).
The Santa Fe New Mexican (Santa Fe, New Mexico), 06 Dec 1946, 11; 22 Jan 1947, 5;
Los Angeles Times, 20 Dec, 1993, 199.
Comments, corrections or additional material related to any of the writers and artists featured in our series of mini-bios are welcome. Please use the comments feature at the bottom of individual posts, or email us.

Tony Burton's books include "Lake Chapala: A Postcard History" (2022), "Foreign Footprints in Ajijic" (2022), "If Walls Could Talk: Chapala's historic buildings and their former occupants" (2020), (available in translation as "Si Las Paredes Hablaran"), "Mexican Kaleidoscope" (2016), and "Lake Chapala Through the Ages" (2008).