According to his birth certificate, painter and art educator Luis Sahagún Cortés was born in the town of Sahuayo, Michoacán, on 20 November 1900 (and not on 20 May as stated in some online biographies). His parents were well educated: his mother (Petra Cortés, or Cortéz as on his birth certificate) was a teacher and his father (Pascual Sahagún) a doctor. In 1900, Sahuayo was situated on the southern shore of Lake Chapala; during the artist's childhood, the eastern third of the lake was drained and 'reclaimed' for agriculture, causing Sahuayo to lose its proximity to the lake.
Luis Sahagún studied art in Guadalajara from the age of 18 with José Vizcarra (1868-1956) and then at the Escuela Libre de Bellas Artes in Mexico City before moving to Rome, Italy, in 1925 to study at the Academy Libre de Desnudo, where his teachers included Rómulo Bernardini. Sahagún also attended art classes and workshops in Turkey, Palestine, Egypt and Morocco.
Sahagún returned from Europe in 1932 and married Italian-born Adela Appiani Panozzi (c.1907-1964) in Mexico City on 5 November 1936; the couple never had children.
Sahagún dedicated his life to his art and art education. As an educator, he was Professor of Art at the National Fine Arts School (Escuela Nacional de Artes Plásticas) in Mexico City, where he had a studio in the colonia Postal, from 1932 to 1976. He also led the Departamento de Restauración Artística del Instituto Nacional de Bellas Artes (INBA) for more than 20 years.
Among the many students of his who went on to enjoy distinguished careers as professional artists were Raul Anguiano, José Luis Cuevas, Humberto Peraza, Luis Nichizawa and Martha Chapa.
Sahagún held more than 40 one-person exhibitions, in locations from France, Spain and Cuba to New York and Philadelphia, and was commissioned to complete official portraits of numerous ex-Presidents. During the presidency (1934-1940) of Lázaro Cárdenas, Sahagún was appointed official painter to the president, commissioned to complete official portraits of numerous former presidents and asked to paint several murals, including some in Los Pinos (formerly the official residence of the president), and the Palacio Nacional (National Palace).
In addition to his oil paintings, his charming well-executed drawings are much sought after by collectors. Drawings and paintings by Sahagún are on permanent display in the Gallery of the Società Dante Alighieri in Rome, Italy, and can be found in collections in New York, London, the Dutch Royal Academy, Denmark, Monaco, the Oval Office of the U.S., Cuba, and many other places, including, now, the Ajijic Museum of Art.
Sahagún never relinquished his attachment to Sahauyo and moved back there in 1975 to live out his final years. His paintings can be admired in the city's Santuario de Guadalupe, and in the Museo Luis Sahagún museum (part of the Casa de la Cultura Petrita Cortés de Sahagún).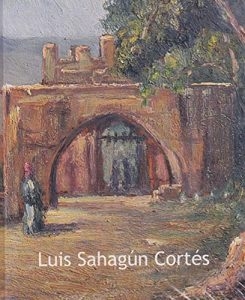 His most well known works in Sahuayo are the fourteen unique stations of the cross, using Venetial mosaics and commemorating the Cristero martyrs, embedded in niches beside the stairway leading up to the Cristo Rey monument. Sahagún's depictions feature Purepecha Indians; this is perhaps the only Way of the Cross in the world to have truly indigenous motifs.
Sahagún died in Sahuayo on 24 February 1978. In his memory, Mexico's Lotería Nacional issued tickets bearing his portrait, and (in 1999) a series of Ladatel phone cards with illustrations of his paintings was issued.
A short book about his life and work was published in 2006 by the Consejo Nacional para la Cultura y las Artes (CONACULTA).
Several fine examples of drawings by Luis Sahagún Cortés are in the permanent collection of the Ajijic Museum of Art (AMA).
Sources
Ma. del Carmen Alberú Gómez. 2006. Luis Sahagún Cortés : pincel del equilibrio. Mexico City: Consejo Nacional para la Cultura y las Artes (CONACULTA).
2-minute Facebook video: Via Crucis de Cristo Rey en Sahuayo, Michoacán.
El Informador: 12 November 1998, 53.
Lake Chapala Artists & Authors is reader-supported. Purchases made via links on our site may, at no cost to you, earn us an affiliate commission.
Learn more.
Comments, corrections or additional material related to any of the writers and artists featured in our series of mini-bios are welcomed. Please use the comments feature at the bottom of individual posts, or email us.

Tony Burton's books include "Lake Chapala: A Postcard History" (2022), "Foreign Footprints in Ajijic" (2022), "If Walls Could Talk: Chapala's historic buildings and their former occupants" (2020), (available in translation as "Si Las Paredes Hablaran"), "Mexican Kaleidoscope" (2016), and "Lake Chapala Through the Ages" (2008).