Peter Everwine (born in Detroit, 14 February 1930) is an American poet who spent a sabbatical year in Mexico in 1968-1969. While living in the Lake Chapala area, Everwine (who had traveled previously in Mexico) became friends with (Don) Shaw and Tom Brudenell, both then living in Jocotepec.
Of all Everwine's poems, the one most obviously related to Lake Chapala is "The Fish/Lago Chapala", which was published in Keeping the night: poems (Atheneum, 1977) and reprinted several years later in From the Meadow: selected and new poems (University of Pittsburgh Press, 2004). "The Fish/Lago Chapala" opens with the following stanza:
Sunrise, the tiny
almost transparent fish of Chapala
drawn in nets.
All afternoon shining and steaming
on the roadsides, scattered
or in small mounds
like fingers of broken glass.
The poem goes on to depict a child's funeral procession, before ending with a more abstract third section.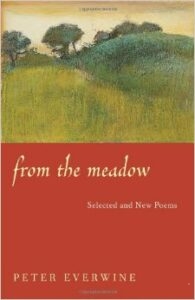 Everwine was raised by his Italian-speaking grandmother in western Pennsylvania. He earned his BS from Northwestern University in 1952 and served in the Army from 1952 to 1954. After military service, Everwine undertook graduate studies in English at the University of Iowa, which awarded him a PhD in 1959.
After teaching English at the University of Iowa from 1959 to 1962, he taught English and creative writing at California State University, Fresno, retiring from that post in 1992. He was a senior Fulbright lecturer in American poetry at the University of Haifa, Israel, and in 2008, was a visiting writer at Reed College, Portland.
Everwine's poetry has appeared in The Paris Review, Antaeus, The New Yorker, and American Poetry Review, and he has published seven collections of poetry, including Collecting the Animals (1972), described by one reviewer as "calmly dazzling poems", Keeping the Night (1977), Figures Made Visible in the Sadness of Time (2003), From the Meadow: Selected and New Poems (2004) and Listening Long and Late (2013).
His work has brought him numerous awards, including Guggenheim and National Endowment for the Arts fellowships; the Lamont Poetry Prize in 1972; a Horizon Award in 2008; Best American Poetry 2008; and Pushcart Prize XVII.
Everwine has also published two books of translations of Nahuatl poetry: In the House of Light (Stone Wall Press, 1969) and Working the Song Fields (2009), and is responsible for translations of two works by controversial Israeli poet Natan Zach: The Static Element (1982) and The Countries We Live In: The Selected Poems of Natan Zach 1955-1979 (2011).
Everwine's work is included in several poetry anthologies, including The geography of home: California's poetry of place (edited by Christopher Buckley, Gary Young for Heyday Books, 1999) and How Much Earth: The Fresno Poets (edited by M. L. Williams, Christopher Buckley and David Olivera for Heyday Books, 2001).
Sombrero Books welcomes comments, corrections or additional material related to any of the writers and artists featured in our series of mini-bios. Please use the comments feature at the bottom of individual posts, or email us.

Tony Burton's books include "Lake Chapala: A Postcard History" (2022), "Foreign Footprints in Ajijic" (2022), "If Walls Could Talk: Chapala's historic buildings and their former occupants" (2020), (available in translation as "Si Las Paredes Hablaran"), "Mexican Kaleidoscope" (2016), and "Lake Chapala Through the Ages" (2008).