Novelist and acclaimed creative writing instructor Smith Kirkpatrick spent several summers in Ajijic, with his wife Barbara, in the early 1960s and at one point was apparently working on a novel set in the village. The novel was never published.
Kirkpatrick was born near Paris, Arkansas, on 28 November 1922, and passed away in Gainesville, Florida, on 6 June 2008. As a child he became fascinated with natural history and determined to make his career based on writing. A former merchant seaman, he served in both World War II and Korea as a U.S. naval aviator, flying torpedo planes. He apparently survived seven crash landings before ending up in a VA hospital. Following his discharge in the mid-1950s, he studied English at the University of Florida in Gainesville, under novelist and critic Andrew Lytle, who had established the Creative Writing program there in 1948.
Kirkpatrick, known simply as "Kirk" by many of his students, became a creative writing instructor at the university in 1956, took over from Lytle as Director of the Creative Writing Program in 1961 and finally retired from teaching in 1992. In the interim, he had taught an entire generation of students, many of whom went on to become fine writers. Perhaps his most famous student was Harry Crews, author of more than twenty novels. Crews' first novel, The Gospel Singer, was dedicated to Kirkpatrick. While his liberal teaching style was not always appreciated by the university administration, the tributes paid to him after his death by former students speak for themselves.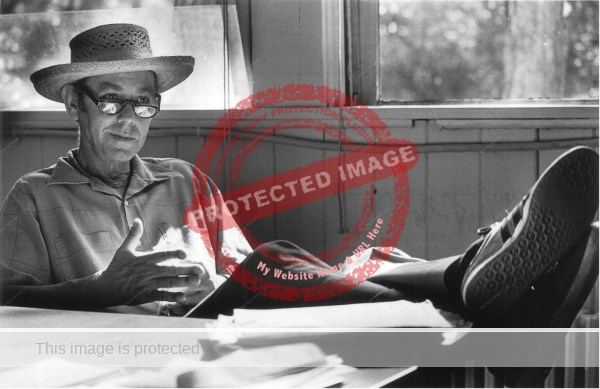 Among other accomplishments during his tenure, Kirkpatrick founded The Florida Writers' Conference, an annual week-long symposium attracting participants from far afield, including not only writers, but also agents and editors.
Kirkpatrick only published one novel, The Sun's Gold: A Novel of the Sea (Boston: Houghton, Mifflin, 1974), which was favorably received by critics. The novel, partly autobiographical, is about a young Arkansas boy (named "No Name") who goes to sea aboard the "Ekonk", a particularly undistinguished merchant vessel, seeking adventure. The ship, with her cast of memorable characters, is bound for a war-torn port in Africa, carrying munitions and beer. The youth's voyage is one of self-discovery, becoming much more complicated after he kills a man in a brawl ashore. As the Kirkus reviewer summarizes, Kirkpatrick's point "is that a worm-ridden mankind can turn to gold in the sun".
Kirkpatrick also wrote several published essays and short stories, including "Silence," (The Southern Review, Winter 1968) and had plans at one stage for a book of children's poems.
Sources:
Sources include the inaugural issue of The Christendom Review, which was dedicated to the memory of Smith Kirkpatrick.
Sombrero Books welcomes comments, corrections or additional material related to any of the writers and artists featured in our series of mini-bios. Please use the comments feature at the bottom of individual posts, or email us.

Tony Burton's books include "Lake Chapala: A Postcard History" (2022), "Foreign Footprints in Ajijic" (2022), "If Walls Could Talk: Chapala's historic buildings and their former occupants" (2020), (available in translation as "Si Las Paredes Hablaran"), "Mexican Kaleidoscope" (2016), and "Lake Chapala Through the Ages" (2008).