Clark Hulings, an acclaimed American realist painter, visited Mexico on numerous occasions. The precise timing of his visit or visits to Lake Chapala remains unclear, but in 1975 he completed the painting Chapala Fruit Vendor (below). He also painted several other works related to Lake Chapala and Ajijic. The dates of his visits are uncertain because, as his daughter Elizabeth explains:
"he didn't always produce a painting of a particular place right after a visit. First of all, he concocted compositions in his studio with source material from different locations all the time. Second, he would revisit things, sometimes years later. AND, he most likely went through the Chapala area a few different times."
Hulings was born in Florida on 20 November 1922. His mother died of tuberculosis when he was still an infant and Clark and his sister, Susan, spent the next three years living with their maternal grandparents in New Jersey. In 1925, after their father moved to Valencia, Spain, and remarried, the youngsters joined him and his new wife, the daughter of the local British Consul.
The family relocated to the U.S. in 1928 and settled in Westfield, New Jersey. His father encouraged a love of paintings and Hulings took classes from the age of twelve with Sigismund Ivanowski, a Ukrainian-born portraitist and landscape painter. He also studied at the Art Students League of New York with George Grant Bridgman, the celebrated Canadian-American teacher of figure drawing.
Persuaded by his father to study for a "real" career as opposed to one in art, Hulings attended Haverford College, Pennsylvania, from where he graduated in 1944 with a degree in physics. His recurring ill health (lung issues stemming from infancy) prevented him from taking up a job offer to work on the Manhattan Project in Los Alamos, New Mexico. Instead, he began to make his living by painting portraits (especially of children) and landscapes. He had his first major one-person show (of landscapes) in 1945 at the New Mexico Museum of Fine Art.
The following year, Hulings moved to Baton Rouge, Louisiana, where he had a solo show at the Louisiana Art Commission. This show established his credentials as a portrait painter. It was at about this time that Hulings also became seriously interested in design and illustration work and so he returned to the Art Students League in New York from 1948-1951 to take classes with Frank Reilly.
During the early 1950s Hulings became immersed in designing paperback book covers (examples can be seen here, here and here) and drawing magazine illustrations but never lost his love of travel and landscape painting.He also designed album covers including that for Percy Faith's Viva: The Music of Mexico: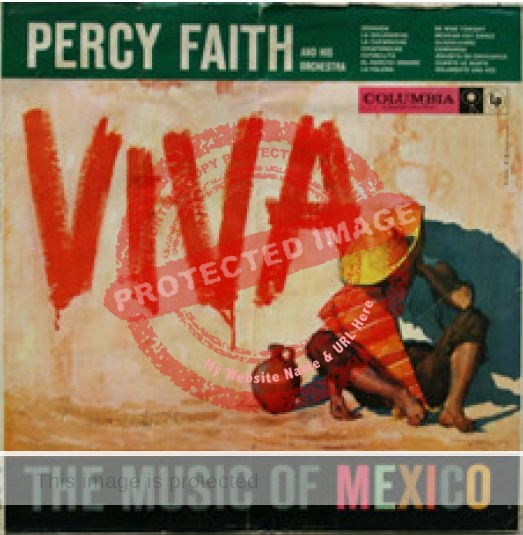 Hulings spent four months in Europe in 1954 and returned in 1958 for a trip that lasted three years and took him as far north as the Arctic Circle and as far south as southern Egypt. In the course of this trip, he studied figure painting in Florence and abstract design in Düsseldorf.
On his return to New York in 1961, Hulings made his living from illustrations while continuing to work on his more serious easel paintings. His career took off when his work was accepted by the Grand Central Art Galleries, which accorded him one-person shows in 1965 and 1967.
Hulings married Mary Belfi in 1966 and their daughter, Elizabeth, was born two years later. In 1972, Hulings took his doctor's advice and moved away from the pollution of New York and back to Santa Fe.
Hulings had made his first visit to Mexico in 1964, traversing the entire length of the country, with a stop in San Miguel de Allende to visit his artist friend Mort Künstler, and ending up in Guatemala. When he was living in Santa Fe, visiting Mexico was much simpler. Accompanied by his wife and daughter, Hulings made several more visits to Mexico, lasting up to a month at a time, eagerly searching out new places to paint. His daughter, Elizabeth, believes that these visits to Mexico provided her father with the confirmation and validation he sought as a self-styled "backdoor painter", one who loved to depict the everyday scene, the down-to-earth view of the back door, rather than the more carefully-constructed "curb appeal" view of the front door.
Hulings' realist art has won numerous competitive awards, including The Council of American Artists' award at the Hudson Valley Art Association, a gold medal from the Allied Artists of America and the first ever Prix de West award at the National Academy of Western Art (NAWA) in Oklahoma City in 1973. He subsequently won several more gold and silver medals at NAWA shows, part of the National Cowboy & Western Heritage Museum. Following a solo show in 1976 at the Cowboy Hall of Fame (associated with NAWA) in Oklahoma City, Hulings was presented with the Hall's Trustees' Gold Medal for his "distinguished contribution to American art".
In 1978, Huling's work was the subject of a comprehensive retrospective in Midland, Texas. His work was also shown at the C.M. Russell Museum, Great Falls, Montana (1981). Hulings held several one person shows, including Nedra Matteucci Galleries in Santa Fe, New Mexico; Bartfield Galleries in New York (2007); Morris & Whiteside Galleries in Hilton Head, South Carolina (2007); and Forbes Galleries, New York (2011).
Hulings' keen eye for details, especially of people as they engaged in their daily activities, led him to produce powerful, realistic paintings of street and market scenes. In the course of his career, Hulings traveled numerous times to Mexico. Many of his Mexican paintings include a donkey or two, even though he was once told by a New York gallery owner that there was no market for paintings of Mexico or for paintings of donkeys!
Huling's reputation is such that his works have been acquired by dozens of major museums and collectors and now command high prices when resold.
Clark Hulings died in Santa Fe, New Mexico, on 2 February 2011. The artist's daughter, Elizabeth Hulings Diamond, maintains this highly informative website: Clark Hulings and his art. In his honor, the Clark Hulings Fund was established to help professional visual artists with business support, training, and targeted financial assistance.
Acknowledgment:
My sincere thanks to Elizabeth Hulings Diamond, Director of the Clark Hulings Fund, for her help in writing this profile, and for permission to reproduce several of her father's works.
Sources:
Clark Hulings. 2006. A Gallery of Paintings by Clark Hulings (2nd edition).  White Burro Pub, 2006.
Sombrero Books welcomes comments, corrections or additional material related to any of the writers and artists featured in our series of mini-bios. Please use the comments feature at the bottom of individual posts, or email us.

Tony Burton's books include "Lake Chapala: A Postcard History" (2022), "Foreign Footprints in Ajijic" (2022), "If Walls Could Talk: Chapala's historic buildings and their former occupants" (2020), (available in translation as "Si Las Paredes Hablaran"), "Mexican Kaleidoscope" (2016), and "Lake Chapala Through the Ages" (2008).