Michael Hargraves, a long time researcher at the J. Paul Getty Museum in California, is a writer of screenplays, literary surveys, bibliographies and literary criticism. He was a frequent visitor to Lake Chapala in the 1970s and 1980s, usually staying for two or three months at a time.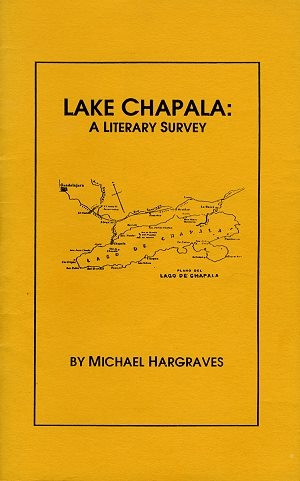 He is included in this on-going series of profiles because in 1992, he self-published a 48-page booklet entitled Lake Chapala: A literary survey; plus an historical overview with some personal observations and reflections of this lakeside area of Jalisco, Mexico. The book was dedicated to Robert and Eileen Bassing. Hargraves included brief biographies of about forty different authors and artists who lived and worked at Lake Chapala. Most of the characters mentioned were active in the 1950s or 1960s.
The book has proved to be a valuable starting point for my own attempts to document the history of the artists and authors associated with Lake Chapala. Curiously, however, I have failed to find out much about Michael Hargraves himself beyond what can be gleaned from his book about Lake Chapala.
According to the bio in the book, Michael Hargraves was born on 29 February 1952 at Jacksonville, Florida. His mother died when he was only eleven years old. He registered as a conscientious objector during the Vietnam conflict, attended the University of Florida, and graduated in 1974 with a B.S. in broadcast journalism/cinema.
The story behind Hargraves' first visit to Mexico, believed to be the summer before he entered the University of Florida, involves a personal tragedy. As he tells it,
"My introduction to the South of the Border came about due to a busted, never-to-be-consummated marriage to a Japanese woman, whom I had met years earlier in San Francisco and reconnected with in Paris during a much needed sojourn. She did herself in after I caught her in the sack with her Japanese boss. I returned home to ponder my life, my future."
On his return to the U.S., he was asked by a friend, the famed Scottish novelist and screenwriter Alan Sharp (1934-2013), if he would fly down to Mexico, go to Tlaquepaque, and collect some handicrafts Sharp had purchased while visiting Mexico in 1970 for the soccer World Cup.
The lure of a round-trip ticket and expenses was sufficient to convince Hargraves to accept the offer. He stayed a few days in Guadalajara, but took an almost instant dislike to the city. After he had made arrangements to collect the handicrafts, he still had a few days to relax and explore. While viewing the Orozco murals in the Cabañas Cultural Institute in Guadalajara, he met an American couple who extolled the virtues of Lake Chapala, so Hargraves took a bus down to Chapala and stayed there for a day or two. He enjoyed this initial visit and returned several times over the next decade, usually for two or three months at a time.
"The best thing about my times at Chapala has been the solitude. Naturally you can be with people there, with good options: all Americans, all Mexicans, or a combination of the two. However, my biggest pleasure comes from being anonymous. Over the years I have befriended all types. But not having lived there for a true extended period, say for a year or so, I can come and go as I please, do what I want, think what I will, see what I want. I don't know if my love for Chapala would be the same if I felt like a "prisoner" there, like many of the retired Americans or the poverty-stricken Mexicans."
Hargraves has written numerous books and screenplays and has catalogued several major collections of rare books and photographs.
His published works include: Henry Miller Bibliography with Discography (1980); Triple-Decker Kiosk (poetry) (1981); Harry Crews: A First Bibliography (1981); The Hamlet Additions: The Unpublishing of The Henry Miller-Michael Fraenkel Book of Correspondence called Hamiet (1981); Times, Things Change (poetry) (1983); Eight Obscure Literary Autographs (1983); Harry Crews: A Bibliography (revised edition) (1986); Robert Gover: A Descriptive Bibliography (1987); Henry Miller's Hamiet Letters (1988).
Hargraves' screenplays include Kiki of Montpamasse (with Frederick Kohner) (1977); Confusión (with Jacques Tati) (1978); The Man Who Thought He Was Groucho (based upon the novel Madder Music by Peter De Vries) (1980); Overkill [1982); Love in the Ruins (based upon the novel by Walker Percy) [1983); Murder City (based upon the novel by Oakley Hall) (1984); Coming Into Focus (1985); Restaurant: The Motion Picture (1992).
Hargraves also published some limited edition works, including Ishmaelite Scrolls by Benjamin Barry Hollander (1979); The Cagliostro Arcane by Jack Hirschman (1981); Bring Me the Head of Rona Barrett by Robert Gover (1981); A Chapter from Blind Tongues by Sterling Watson (1983); Tropico, the City Beautiful. Photographs by Edward Weston (Facsimile edition) (1986).
Source:
Michael Hargraves. 1992. Lake Chapala: A literary survey; plus an historical overview with some personal observations and reflections of this lakeside area of Jalisco, Mexico. (Los Angeles: Michael Hargraves). 48 pp.
As always, Sombrero Books welcomes comments, corrections or additional material related to any of the writers and artists featured in our series of mini-bios. Please email us or use the comments feature at the bottom of individual posts.

Tony Burton's books include "Lake Chapala: A Postcard History" (2022), "Foreign Footprints in Ajijic" (2022), "If Walls Could Talk: Chapala's historic buildings and their former occupants" (2020), (available in translation as "Si Las Paredes Hablaran"), "Mexican Kaleidoscope" (2016), and "Lake Chapala Through the Ages" (2008).