Novelist Oakley Hall was a professor of English at the University of California, Irvine, and directed its creative writing program.
Hall and his wife Barbara Edinger Hall, a photographer, lived at Lake Chapala for about six months in 1952, during which time, according to Michael Hargraves in A literary Survey of Lake Chapala, Hall was working on his third novel, Corpus of Joe Bailey, published by Viking in New York the following year. Hall visited Mexico several times over the years and more than one of his novels is set in Mexico.
Oakley Maxwell Hall was born on 1 July 1920 in La Jolla (near San Diego), and died in Nevada City, California, on 12 May 2008.
After his parents divorced, Hall lived with his mother in Honolulu, Hawaii, but later returned to California to complete his high school education at San Diego's Hoover High School. Hall then attended the University of California at Berkeley. After graduating from Berkeley in 1943, he served in the Marines during the second world war.
He married Barbara Edinger in 1944. The couple moved to New York so that Hall could study writing at Columbia University but Hall left as soon as he sold his first novel, Murder City, which he claimed to have written in only two weeks. They then spent 18 months in Europe where Hall studied in England, Switzerland, and at the University of Paris, aided by the G.I. Bill. In 1950 he earned a Masters degree in Fine Arts (creative writing) from the Iowa Writers' Workshop.
Hargraves writes that Hall was at Lake Chapala for six months in 1952 and quotes him as saying that the British novelist Christopher Veiel was also living at Lake Chapala at that time. Little is known about Hall's (or for that matter Veiel's) time at Chapala beyond these scant details.
Hall's distinguished teaching career included a spell at the Iowa Writer's Workshop before he joined the University of California, Irvine, in 1968. In 1969 he co-founded the Squaw Valley Community of Writers, a summer program linking published and unpublished writers. Hall and his wife divided their time each year between San Francisco and Squaw Valley.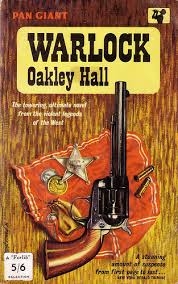 Hall retired from UC Irvine in 1990. Through his teaching, Hall had a profound influence on California literature. His students included Michael Chabon, Richard Ford and Amy Tan. Amy Tan, in particular, credits Hall with having given her the necessary support to become a well-known writer: "Oakley was the reason that I found my confidence as a writer… the Halls are a remarkable family. They are deep-hearted and stalwart, generous and kind and giving."
Oakley Hall's two best-known works are Warlock (1958) and The Downhill Racers (1963). Warlock, a western tale set in the fictional 19th century town of Warlock, was a finalist for the 1958 Pulitzer Prize and was adapted for a film of the same name, released in 1959. The Downhill Racers was the basis for the movie Downhill Racer (1969) starring Robert Redford.
Hall received numerous awards including lifetime achievement awards from the PEN Center USA and the Cowboy Hall of Fame.
California poet Al Young (who lived in Ajijic for several years in the 1960s and whose novel Who is Angelina? includes several scenes set at Lake Chapala) was a friend of Oakley Hall for more than thirty years. Following Hall's death, Young was quoted as saying that, "Oakley Hall was a master storyteller who loved the West…. His novels and stories reflect the landscapes that he inhabited most of his life: the Pacific islands of his youth, the foothills and ski slopes of the Sierra and the streets and neighborhoods of San Francisco."
Early in his career, Hall wrote several mystery novels using the pen name Jason Manor: Too Dead to Run (1953); The Red Jaguar (1954); The Pawns of Fear (1955); The Tramplers (1956).
Hall's nonfiction books included The Art and Craft of Novel Writing (1994); Heroes Without Glory: Some Good Men of the Old West (with Jack Schaefer, 1987); and How Fiction Works (2000). He also had short stories published in numerous magazines, including Playboy, Tri-Quarterly, The Hawaii Review, and The Antioch Review.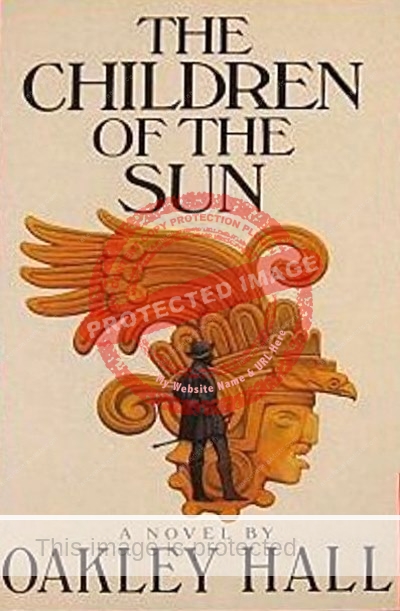 Hall's major works of fiction included Murder City (1949); So Many Doors (1950); Corpus of Joe Bailey (1953); Mardios Beach (1955); Warlock (1958); The Downhill Racers (1963); The Pleasure Garden (1966); A Game for Eagles (1970); Report from Beau Harbor (1971); The Adelita (1975); The Bad Lands (1978); The Children of the Sun (1983); The Coming of the Kid (1985); Apaches (1986); Separations (1997), about the discovery of the Colorado River; Ambrose Bierce and the Queen of Spades (1998); Ambrose Bierce and the Death of Kings (2001); Ambrose Bierce and the One-Eyed Jacks (2003); Ambrose Bierce and the Trey of Pearls (2004); Ambrose Bierce and the Ace of Shoots (2005); and Love and War in California (2007).
Several of these books have links to Mexico. These include his Ambrose Bierce series of mysteries which had the legendary San Francisco newsman and satirist Ambrose Bierce as main protagonist. Bierce (author of The Devil's Dictionary) had significant ties to Mexico. In December 1913, when he was in his seventies, Bierce disappeared in Mexico in mysterious circumstances. After allegedly joining Pancho Villa's army as an observer, he was never seen again.
In his review of The Adelita (1975), blogger Steven Zoraster writes that:
"The narrator in this novel is Michael MacBean Palacio, son of an American father and a Mexican mother… a child of privilege, graduate of Andover, graduate of Harvard, and leader of a band of guerrilla cavalry during the war to overthrow the Mexican dictator Huerta. He is also the lover of Adelita, the woman of the title, the living symbol of the revolution, whose name is also that of the Mexican soldier's wife in a famous and very real ballad of the Mexican Revolution."
. . .
"Oakley Hall is unparalleled in the portrayal of the American frontier, where the law is distance and tenuous. Here it is up to the protagonists to establish their own law. To establish it with great difficulty and often with bloodshed, and always with uncertainty about the cost that must be paid. In "The Adelita" the necessity of establishing the rule of law is extended to an entire country, Mexico, a country Mr. Hall seems to have understood very well."
. . .
"In 1968, witnessed by MacBean, the Mexican government, in which his son has an important role, orders the pre-Olympic massacre of protesting students at Tlatelolco in Mexico City. And thus MacBean is drawn back into the unfinished struggle for some sort of justice or righteousness or legality in Mexico."
In Children of the Sun, Hall spins a story based on "The famous journey of Cabeza de Vaca through northern Mexico (1535-36), and its treasure-seeking aftermath–in an intelligently fictionalized version that turns the story into a morality play involving greed, religion, racism, and ambition." (Kirkus Review). [That story is part of chapter 11 of my Mexican Kaleidoscope: myths, mysteries and mystique]
After these two books on Mexico – The Adelita and Children of the Sun – Hall had begun a third book, provisionally entitled Independencial, an historical novel set during Mexico's 1810-1821 War of Independence. In an interview late in life Hall recalled that his publishers had not displayed any enthusiasm for further books relating to Mexico since, "Books about Mexico don't make enough money."
Sadly, some things clearly haven't changed!
Sources:
Heidi Benson. 2008. "Oakley Hall, author of 'Warlock,' dies at 87", San Francisco Chronicle, Wednesday, May 14, 2008
Michael Hargraves. 1992. Lake Chapala: A Literary Survey (Los Angeles: Michael Hargraves).
Kirkus Review. 1983. "Review of Oakley Hall's "Children of the Sun"".
Robert J Ray. 1986. Profile: UCI's Oakley Hall. (Interview of Hall). Orange Coast Magazine, July 1986.
Steven Zoraster. 2011. "A Review of "The Adelita", by Oakley Hall, 1975". 4 June 2011.
Sombrero Books welcomes comments, corrections or additional material related to any of the writers and artists featured in our series of mini-bios. Please use the comments feature at the bottom of individual posts, or email us.

Tony Burton's books include "Lake Chapala: A Postcard History" (2022), "Foreign Footprints in Ajijic" (2022), "If Walls Could Talk: Chapala's historic buildings and their former occupants" (2020), (available in translation as "Si Las Paredes Hablaran"), "Mexican Kaleidoscope" (2016), and "Lake Chapala Through the Ages" (2008).