Eileen and her second husband Robert (Bob) Bassing, both writers of some distinction, lived in Ajijic between 1950 and 1954.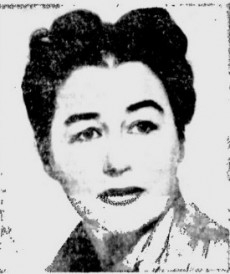 Eileen was born 6 March 1918 in Boston, Massachusetts, and educated in New York, Ohio and California. She married young, at age 16, and had two sons from her first marriage, before marrying Bob in 1948. She died aged 58 in February 1977 in Los Angeles, California.
Owing to the unauthorized and uncredited use of material from this post on a third-party website, this article has been removed from public view.
If you have a genuine interest in the subject matter, please contact us via the comments section and we can discuss terms and conditions.
Sombrero Books welcomes comments, corrections or additional material related to any of the writers and artists featured in our series of mini-bios. Please email us or use the comments feature at the bottom of individual posts.