Eileen and her second husband Robert (Bob) Bassing, both writers of some distinction, lived in Ajijic between 1951 and 1954.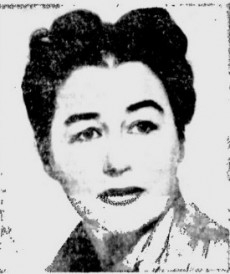 According to US Social Security records, Eileen was born 6 March 1918 (Bob says she was actually born two years earlier) in Boston, Massachusetts, and educated in New York, Ohio and California. She married young and had two sons from her first marriage, before marrying Bob in 1948. She died aged 58 (or 60) in February 1977 in Los Angeles, California.
In the early 1950s, Eileen and Bob Bassing left their Hollywood careers and moved to Ajijic with her two sons (then aged 11 and 14 respectively) to focus on their writing. The family lived in a $5 a month home in Ajijic, and supplemented their income by selling home-made fudge and operating a small shop and lending library, "Simple Pleasures," of English-language books they had shipped from California.
Eileen Bassing, a brunette with green eyes, recalled in a 1957 newspaper interview that "It was an amazing success even though most of our books were texts on psychiatry and philosophy. We were only open three hours a day but out of our returns we supported our family, a maid, a cook, a laundress and a gardener. We rented everything—even the New York Times, section by section, at 15 centavos per section. And those who borrowed the crossword puzzle had to promise to erase it when the page was returned." (The Marion Star, Ohio, 10 March 1957, p 18).
While in Ajijic. the Bassings started a theater group, the Lakeside Players (forerunner of the Lakeside Little Theater). The first production was the comedy You Can't Take It With You, staged in the open patio of a small inn, La Playita, in Chapala in 1953.
Home Before Dark
Eileen Bassing's first novel, Home Before Dark (New York: Random House, 1957), was originally written in California and then rewritten in Ajijic. It was later made into a Warner Brothers movie (1958) based on a screenplay written by Eileen and her husband, and directed by Mervyn Le Roy.
Home Before Dark is the story of a young woman (Charlotte Bronn) suffering from bi-polar disorder who has been confined to a mental hospital. She leaves the Maraneck State Hospital after a year to resume her life at home with her emotionally repressed professor husband. Making her life even more difficult, they share their home with Charlotte's attractive step-sister Joan and Joan's mother, as well as a Jewish philosophy professor boarder and a servant.
With her marriage floundering, and suspecting her husband of being overly interested in Joan, Charlotte looks to be headed for another breakdown when she attends a faculty dinner dressed and made up to look like Joan. Her husband finally reveals his true feelings. Summarized as a study of "a mind and marriage at a crisis point", both book and movie were generally well received and are still very readable today. The book was translated into French as Retour avant la nuit (1958) and into Italian.
Where's Annie?
Eileen Bassing's second novel, Where's Annie? (Random House, New York, 1963) is set entirely in Ajijic at Lake Chapala. It grew out of a series of unpublished short stories written in Ajijic, and was completed after the couple's return to California in 1954. It was chosen for the Book-of-the-Month Club; a French translation by France-Marie Watkins and Spanish translation appeared in 1964. This very interesting novel is looked at in more detail in this post. A screenplay for this novel was written by Eileen and Bob Bassing, but plans to realize the movie never worked out.
The dust jacket of Where's Annie refers to a third novel "in progress" in Malibu at the time of publication of Where's Annie, but this was apparently never published.
It may have met the same fate as some of her earlier unpublished works. An in-depth newspaper interview published in the 14 April 1963 edition of The Bridgeport Post in Connecticut, quotes Eileen Bassing as saying that, "My working habits are deplorable… I am not an organized writer. I work all the time, and I work very hard. It is impossible to measure the time I spend at the typewriter. There may be two days or so when I just stare and think. And those are the days when I really work." The article goes on to say that "Several years ago. Mrs. Bassing did what some would consider a rash thing. She burned considerable unpublished work—short stories, three novels, including the first draft of "Home Before Dark," and poetry written over a two-year period. "I wanted to have done with them so I wouldn't go back and lean on them. I wanted to start anew."
Excerpts of the first two chapters of Where's Annie? appeared in The Saturday Evening Post in 1963. Bassing also had other short stories published, including "Our Strange Stay at Miss Pickering's" in the 14 May 1955 issue of Maclean's.
Children's Books
Before embarking on her novels, Eileen Bassing had written four "Jamie" books for children, under the name Eileen Johnston: Jamie and The Fire Engine (New York: Harper & Brothers, 1940); Jamie and The Dump Truck (New York: Harper & Brothers, 1943) with pictures by Ora Brian Edwards; Jamie and The Tired Train (New York: Harper & Brothers, 1946), illustrated by Ora Brian Edwards; and Jamie and The Little Rubber Boat (New York: Harper & Brothers, 1951) with illustrations by Lys Cassal.
Acknowledgment
My sincere thanks to Bob Bassing for clarifying, correcting and expanding on the original version of this profile, first published 15 September 2014.
Sources:
Jack Gaver. 1963. "Eileen Bassing a "Bleeding" Type", in The Bridgeport Post, Connecticut, 14 April 1963, p 44
"It Paid Them To Get Away From It All", Cedar Rapids Gazette, Tuesday, March 19, 1957
"Couple Leaves Movie Capital and Finds Success in Mexico", The Marion Star, Ohio, 10 March 1957, p 18
Lake Chapala Artists & Authors is reader-supported. Purchases made via links on our site may, at no cost to you, earn us an affiliate commission.
Learn more.
Several chapters of Foreign Footprints in Ajijic: Decades of Change in a Mexican Village offer more details about the history of the literary and artistic community in Ajijic.
Comments, corrections or additional material related to any of the writers and artists featured in our series of mini-bios are welcomed. Please use the comments feature at the bottom of individual posts, or email us.

Tony Burton's books include "Lake Chapala: A Postcard History" (2022), "Foreign Footprints in Ajijic" (2022), "If Walls Could Talk: Chapala's historic buildings and their former occupants" (2020), (available in translation as "Si Las Paredes Hablaran"), "Mexican Kaleidoscope" (2016), and "Lake Chapala Through the Ages" (2008).