American artist Alfred Rogoway (1900–1990) was born in Portland, Oregon, on 4 April 1900. His father was a playwright and mother an artist. Rogaway lived much of each year in Ajijic in the 1940s and 1950s.
While still only a teenager, Rogoway served with the U.S. Navy (1916-1920). His ship was torpedoed and Rogoway was lucky to survive. He subsequently studied art at the University of California at Berkeley, at the Oakland College of Arts and Crafts (with Hamilton Wolf), with summer sessions at Mills College, Oakland, (with Lyonel Feininger and, later, Fernand Leger) and with José Clemente Orozco in Mexico.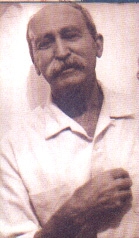 In his late thirties, Rogoway had paintings selected by the San Francisco Museum of Modern Art's open competition in three consecutive years (1939-1941), which led to wider acceptance of his work in the art world.
He followed many other talented artists to Santa Fe, New Mexico, in the 1940s, and it was here where he met and married archaeologist Marjorie Goldbert. The Rogoways would live in several countries, including France, Mexico and Spain. Wherever they went they entertained on a lavish scale, throwing legendary parties for fellow artists, intellectuals and state officials.
The young couple moved to France in 1947 with their infant daughter Esther. In Europe, Alfred became friends with Pablo Picasso; the two regularly exchanged ideas. Not long afterwards, they relocated to Ajijic in Mexico, so that Rogoway could devote himself full time to his art. While living in Ajijic, they made regular summer visits to New Mexico to visit friends.
Katie Goodridge Ingram, who owned an art gallery in Ajijic for many years, is a huge fan of his work, and remembers "Rog" well, as a "dramatic, expansive man… with a saint of a wife". Ingram is particularly fond of Rogoway's more representational, less abstract, art that characterized his time in Mexico. Ingram possesses several of his palette paintings on masonite from the 1950s, including "Mother and Child" (see image), "Lovers" and "Horses".
She recalled that on one occasion, when the Rogoways were living in a house with a second-story viewpoint (mirador), Alfred Rogoway had imbibed one too many and suddenly announced his intention to try to fly:
"He flew off the mirador, broke perhaps an arm, a leg, ribs and who knows what else. So he made tables in bed from the small mosaic tiles from Mexico which my mother found for him in Guadalajara. My mother, Helen Kirtland, was then the happy recipient of two of his tables created during his LONG convalescence."
In 1950, the Rogoways spent some time in Big Sur, California, and became friends with Henry Miller, who provided encouragement for decades. Rogoway's work at this time was "somnambulist", with ethereal elongated figures invoking a dream-like state. No-one was more aware of that than Miller, who said of Rogoway in 1955:
He paints as other men must dream, and his visions take him back thousands of years of world subconsciousness. He belongs to no one medium but to all. His is the gentleness of the large man who cannot touch something small for fear of crushing it, yet all subtleties of his nature find expression on canvas."
By 1955, Rogoway had decided that his best chance of true success in the art world lay in spending more time in New York, where "modern art" was all the rage. His paintings sold well in New York galleries, such as that owned by Laura Barone, and Rogoway's work was hung in the city's Museum of Modern Art alongside works by Braque, Miro and Picasso. The Rogoways eventually purchased a large home in Sag Harbor, Long Island, and divided their time between Mexico and New York.
In 1958, the family chose to leave Mexico behind and make their new home on a mountain top in Mijas, Spain, high above the Mediterranean. Mijas would be their home for more than twenty years. They continued to entertain on a grand scale and while in Spain, Rogoway's work was regularly shown at the Grosvenor Gallery in London.
After Marjorie passed away in 1983, Alfred Rogoway moved back to the U.S. to live with daughter Esther and her family in Tucson, Arizona, where he had the use of small studio behind the family home. He continued to paint there right up to the day he died, 11 August 1990.
His numerous exhibitions included Oakland Art Gallery, Oakland, California (1939); San Francisco Museum of Modern Art (1939, 1940, 1941); Laura Barone Gallery, New York (1953–1960; and Grosvenor Gallery, London, U.K. (1972).
His works can be found in the permanent collections of numerous major museums and galleries, including the Grosvenor Gallery in London; the Copenhagen National Museum; the American Gallery in Los Angeles; and the Universities of Illinois, Arizona and New Mexico.
Alfred Rogoway's daughter, Esther, who spent much of her childhood in Ajijic, is also an artist. She studied at the Tunbridge Wells School of Art in England and at the Art Institute of Barcelona, Spain. Esther and her husband Larry Fitzpatrick operate The Pink Door Studio and Gallery in downtown Tucson, Arizona.
More images of Rogoway paintings [viewed at https://www.lanningallery.com/alfred-rogoway/?rq=rogoway in October 2015]
Sources:
Kaya Morgan. Alfred Rogoway (1900-1990): A Somnambulist Who Dreams in Paint. [http://www.islandconnections.com/edit/rogoway.htm, 8 Oct 2015]
Edan Hughes, Artists in California, 1786-1940.
Katie Goodridge Ingram: personal correspondence via email.
Sombrero Books welcomes comments, corrections or additional material related to any of the writers and artists featured in our series of mini-bios. Please email us or use the comments feature at the bottom of individual posts.

Tony Burton's books include "Lake Chapala: A Postcard History" (2022), "Foreign Footprints in Ajijic" (2022), "If Walls Could Talk: Chapala's historic buildings and their former occupants" (2020), (available in translation as "Si Las Paredes Hablaran"), "Mexican Kaleidoscope" (2016), and "Lake Chapala Through the Ages" (2008).