Leanne Averbach is a Canadian writer, performance poet and experimental filmmaker, whose first collection of poems, fever (Mansfield Press, 2005; 79 pp) includes a mention of Chapala in the final stanza:
Here, in Chapala, Mexico,
where the poverty is general
my secrets do not translate
that well.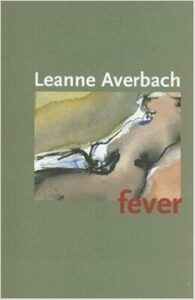 We do not currently know more about the circumstances or timing of her visit or visits to Chapala.
The publisher's description of fever is, "Erotic and absurdist, Leanne Averbach's fever docu-rides a life examined through multifarious experiences. Through her iconoclastic lens, life as a former left-wing activist and trade union organizer takes shape with indelible moments spent in factories or incarcerated in jail cells. Averbach's work contains vivid tales of love, family encounters, and the mad poetry of harsh international realities. With its unique blend of the personal and the political, fever burns with the engagement of the most committed poetry." The book was shortlisted for the Gerald Lampert Memorial Prize in 2006.
American poet ruth weiss, who also has connections to Ajijic and Chapala, became famous for reciting her poetry to live jazz, and Averbach does the same. A companion CD fever is a fusion of her spoken words with the blues/jazz accompaniment of Astrid Sars' band Indigo.
Averbach was awarded an MA from Simon Fraser University in British Columbia and also holds an MFA from The New School, New York. She has taught at the University of British Columbia Language Institute and has performed her poetry to live jazz in Canada, New York and Italy.
Averbach's second volume of poetry, Come Closer, was published by Tightrope Books, Toronto, in 2010.
Her poetry has  been published in numerous magazines and anthologies, including Prism International, Best Canadian Poetry in English Anthology, The Fiddlehead, Poetry New Zealand, Poetry London, Court Green (Chicago), Sub-TERRAIN, The Smoking Poet, MiPoesias, Arabesque (Paris-Tangiers), Seven Deadly Sins Anthology, Pottersfield Portfolio, Canadian Women's Studies, Love in the Media Age Anthology, Poesia de-Amore (Italy), TheAntigonish Review, The New Quarterly and Poetry in Performance.
Averbach has also produced several video-poems and short films. Her short film, Teacups & Mink, based on her poetry, was selected as Best Short International Film, Poetic Genre, and Best Directorial Debut at the New York International Independent Film & Video Festival in 2008.
Want to read more?
Sombrero Books welcomes comments, corrections or additional material related to any of the writers and artists featured in our series of mini-bios. Please use the comments feature at the bottom of individual posts, or email us.

Tony Burton's books include "Lake Chapala: A Postcard History" (2022), "Foreign Footprints in Ajijic" (2022), "If Walls Could Talk: Chapala's historic buildings and their former occupants" (2020), (available in translation as "Si Las Paredes Hablaran"), "Mexican Kaleidoscope" (2016), and "Lake Chapala Through the Ages" (2008).