Stephen Schneck was born 2 January 1933 in New York and died on 26 November 1996 in Palm Springs, California. He led a varied life, including stints as a novelist, author, actor and screenwriter, among other pursuits.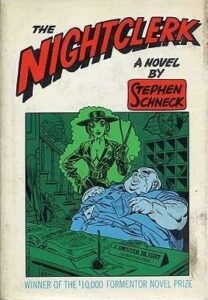 Schneck studied at the Carnegie Institute of Technology, and then spent several years traveling around Mexico, where he lived in the Lake Chapala area from about 1954 to 1957) and Central America. According to Michael Hargraves in his 1992 booklet, Lake Chapala: A Literary Survey, Schneck claimed "to have written some of his best short stories and spent the better days of his youth while there".
In 1960, Schneck apparently founded the American Beauty Studios, on 42nd Street, New York. It was during the 1960s that Schneck worked as a reporter for such "underground" periodicals as Ramparts and Mother Jones.
He subsequently moved to San Francisco, where he wrote his first, and best known, novel, "The Nightclerk" (Grove Press, 1965). The novel's hero is an overweight hotel clerk (weighing 600 lbs), described by one reviewer as "the fattest man in American literature". The hotel is a seedy San Francisco establishment. The clerk whiles away the long night hours reading erotic paperbacks, cutting up old magazines, and reminiscing about his beautiful and corrupt wife, Katy. The clerk's real life lies in his "erotic, pornographic, sado-masochistic, orgiastic, unnameable" fantasies. This somewhat surrealistic novel became an international counterculture favorite, and won the $10,000 Formentor Novel Prize.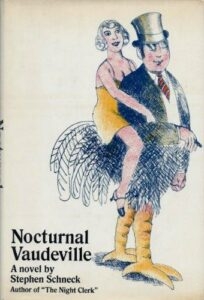 Schneck followed this with a second novel, Nocturnal Vaudeville (E. P. Dutton, 1971), but then turned to non-fiction works and screenplays.
In the second half of the 1970s, he wrote several non-fiction books for pet lovers, including The complete home medical guide for cats (Stein and Day, 1976) and, with Nigel Norris, The complete home medical guide for dogs (Stein and Day, 1976). The two authors co-wrote A. to Z. of Cat Care (Fontana Press, 1979) and A-Z of Dog Care (Fontana, 1979).
By that time, Schneck was gaining success as a screenwriter. He wrote or co-wrote Inside Out (1975); Welcome to Blood City (1977), which won first prize at the 1976 Paris Science Fiction Film Festival; High-Ballin' (1978), which starred Peter Fonda; and Across the Moon (1995), in which he also played the part of a prison chaplain.
TV credits included two episodes of The Paper Chase (1985-1986), an episode of In the Heat of the Night (1992), as well as episodes of All in the Family, Archie Bunker's Place, and Cheers.
Sombrero Books welcomes comments, corrections or additional material related to any of the writers and artists featured in our series of mini-bios. Please use the comments feature at the bottom of individual posts, or email us.

Tony Burton's books include "Lake Chapala: A Postcard History" (2022), "Foreign Footprints in Ajijic" (2022), "If Walls Could Talk: Chapala's historic buildings and their former occupants" (2020), (available in translation as "Si Las Paredes Hablaran"), "Mexican Kaleidoscope" (2016), and "Lake Chapala Through the Ages" (2008).