Dr. Arvid Shulenberger (1918-1964), who taught English at The University of Kansas for many years, wrote academic works, poetry and at least one novel. Shulenberger lived in Ajijic for part of 1955. In his 1992 booklet, Lake Chapala: A Literary Survey, Michael Hargraves, who inadvertently curtails the author's surname to Schulenberg, wrote that the professor "lived at Ajijic in the late 1940's—early 1950's but apparently was never published."
Arvid Leroy Shulenberger was born on 9 September 1918 in Wessington Springs, South Dakota. He married Margaret Louise Anderson on 24 November 24, 1942; the couple had four children.
During the second world war, Shulenberger served in the U.S. Air Force in the 548th Night Fighter Squadron. A 1947 book, "American Jews in World War II", by I. Kaufman, describes "the rare combat exploit of Lt. Arvid Shulenberger", who piloted the U.S. Black Widow night fighter plane which brought down a pilot-less B-29 headed for the American base on Iwo Jima. Arvid's son Eric Shulenberger, an oceanographer, is the author of Deny Them the Night Sky: A History of the 548th Night Fighter Squadron, which details the story of his father's squadron.
After the war, Arvid Shulenberger studied at Yankton College in South Dakota, and then at the University of Chicago which awarded him a PhD in English Literature in 1951. He taught as a professor of English at the University of Kansas, in Lawrence, from 1952 to 1964.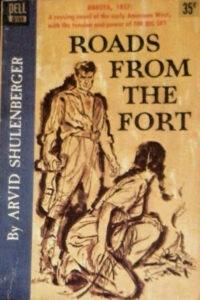 In 1954, he published his first novel, Roads From The Fort. Described as a serious novel of the Old West, Kirkus Review called it, "A first novel of contagious sincerity." The novel was a Book-of-the-Month recommendation.
Following publication of his novel, and of a serious academic work, Cooper's Theory of Fiction: His prefaces and their relation to his novels. (University of Kansas press, 1955), Shulenberger took a year off from teaching and spent the latter half of 1955 in Ajijic on Lake Chapala.
A profile of Shulenberger in the 11 December 1955 issue of the Salina Journal in Kansas, says that he "has just returned with his family after spending five months in Mexico – writing another novel…. Before attempting his first novel Shulenberger, broad-shouldered and soft-spoken, had not written a single short story, but had limited himself to criticism and poetry." I have been unable to find any evidence that this second novel was ever published.
A collection of poems by Shulenberger, entitled Ancient Music and Other Poems, was published by Allen Press in 1960. Shulenberger had several poetry credits in The New Yorker and in the magazine Poetry. He also wrote "The Orthodox Poetic," (1963), an article in which he compared four important worldviews: the classical Greek, the Old Testament ("Hebraic"), the Christian, and the "modern".
Shulenberger died in an auto accident on 23 June 1964, in Leavenworth, Kansas, on his way home from teaching night classes in English literature to inmates of Leavenworth Federal Penitentiary.
Sombrero Books welcomes comments, corrections or additional material related to any of the writers and artists featured in our series of mini-bios. Please email us or use the comments feature at the bottom of individual posts.

Tony Burton's books include "Lake Chapala: A Postcard History" (2022), "Foreign Footprints in Ajijic" (2022), "If Walls Could Talk: Chapala's historic buildings and their former occupants" (2020), (available in translation as "Si Las Paredes Hablaran"), "Mexican Kaleidoscope" (2016), and "Lake Chapala Through the Ages" (2008).