Chester ("Chet") P. Hewitt (1923-1980) lived in Ajijic for a time in the early to middle 1950s, according to Michael Hargraves in his 1992 booklet, Lake Chapala: A Literary Survey. Hewitt wrote The Gilded Hideaway, a novel set in Mexico (though not at Lakeside) published in New York by Ace Books in 1955, under the pseudonym of Peter Twist. The novel appears to be Hewitt's only published work.
The front cover of the book proclaims that "He sought solace in the arms of a murderess!" A publicity quote says that the protagonist "longed for easy money, beautiful women and lush living. All he needed was one big haul." The cover art is thought to be by Robert Maguire.
Chester Peter Hewitt was born in New York City on 4 November 1923 and grew up in Manhattan. After graduating from Lawrence High School, he completed only one year of college, and was still unmarried when he enlisted in the U.S. Air Corps on 18 March 1943.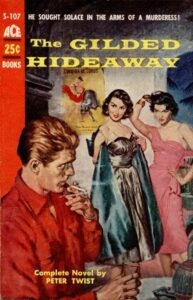 It seems likely that Hewitt was only in Ajijic for a relatively short time, before relocating to the US Virgin Islands. By 1967, according to a Waco-Times article, Hewitt was a "slender, mustachioed", 43-year-old, "retired civil engineer", who had saved enough money from working in construction in St. Thomas for many years to move to Mexico City. After nine months there, he and his wife, Lucy, moved to Acapulco, where they "took over a four bedroom house overlooking the ocean, with a swimming pool in the front yard."
The focus of the Waco-Times article was Hewitt's humanitarian role in assisting American and Canadian prisoners locked up in the Acapulco jail. Apparently, Hewitt had been detained overnight following a vehicle accident outside a prominent hotel, and while there compiled a list of foreign prisoners, the charges they faced, and contact details for their families. On his release, he set about contacting families and trying to arrange for some of the prisoners to have fines or other debts paid and thereby gain their release. In many cases, his efforts proved successful. Hewitt visited the prisoners regularly, twice a week, with "books, food and hope".
Even though The Gilded Hideaway is not set at Lake Chapala, it was almost certainly written in Ajijic. Hewitt's links to Ajijic were strengthened by his marriage to Jane Twist (1914-2011) in the early 1950s, shortly after she divorced her second husband, the "9-fingered" violinist John Langley, who also had close ties to Ajijic.
"Peter Twist"—the pseudonym used for his only novel—combined Hewitt's middle name with his wife's maiden name.
After Hewitt's marriage to Jane Twist also ended in divorce, she reportedly moved to Florida.
In 1961, Hewitt married Lucy Hamilton Prendergast (1923-1980); that marriage lasted until 1974. Chester Hewitt died in the U.S. Virgin Islands on 15 December 1980 at the age of 57.
Please contact us if you are able to add any more details about the life and work of this noble novelist.
[Note: This is an updated version of a post first published 2 May 2016]
Sources
Kevin M. Kelleghan. 1967. "Brings Them Hope: He may not be a "do-gooder" but those in Acapulco jail think so." Waco-Times, 20 July 1967, 11.
Sombrero Books welcomes comments, corrections or additional material related to any of the writers and artists featured in our series of mini-bios. Please email us or use the comments feature at the bottom of individual posts.

Tony Burton's books include "Lake Chapala: A Postcard History" (2022), "Foreign Footprints in Ajijic" (2022), "If Walls Could Talk: Chapala's historic buildings and their former occupants" (2020), (available in translation as "Si Las Paredes Hablaran"), "Mexican Kaleidoscope" (2016), and "Lake Chapala Through the Ages" (2008).