Chester ("Chet") P. Hewitt lived in Ajijic for a time in the early to middle 1950s, according to Michael Hargraves in his 1992 booklet, Lake Chapala: A Literary Survey. Hewitt wrote The Gilded Hideaway. a novel set in Mexico (though not at Lakeside), which was published in New York by Ace Books in 1955, under the pseudonym of Peter Twist. The novel appears to be Hewitt's only published work.
Hewitt was born in New York City on 7 November 1922 and, after a single year of college and as yet unmarried, enlisted in the U.S. Air Corps on 18 March 1943.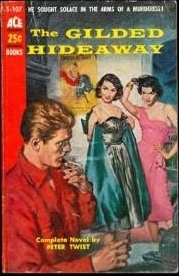 It seems likely that Hewitt was only in Ajijic for a relatively short time, since, if an article in the Waco-Times for 20 July 1967 is to be believed, Hewitt left the U.S. for St. Thomas (U.S. Virgin Islands) in about 1952. The article describes Hewitt as a "slender, mustachioed", 43-year-old "retired civil engineer", who worked in construction in St. Thomas and saved enough money to move to Mexico City, and then, nine months later, to Acapulco, where he and his wife Lucy "took over a four bedroom house overlooking the ocean, with a swimming pool in the front yard".
The scant evidence from immigration records shows that he entered St. Thomas on 5 December 1957, presumably from Mexico, on a return trip to the island.
The focus of the Waco-Times article is Hewitt's humanitarian role in assisting American and Canadian prisoners locked up in the Acapulco jail. Apparently, Hewitt was detained overnight following a vehicle accident outside a prominent hotel, and, while there, compiled a list of foreign prisoners, the charges they faced, and contact details for their families.
On his release, he set about contacting families and trying to arrange for some of the prisoners to have fines or other debts paid and thereby gain their release. In many cases, his efforts proved successful. Hewitt visited the prisoners regularly, twice a week, with "books, food and hope".
Please contact us if you are able to add more details about the life and work of this noble novelist.
Sombrero Books welcomes comments, corrections or additional material related to any of the writers and artists featured in our series of mini-bios. Please email us or use the comments feature at the bottom of individual posts.